Gift your valentine soft skin this Valentine's Day with these Valentine DIY Lotion Bars.  Natural ingredients leave skin smooth and nourished in these cute heart containers perfect for Valentine gifts!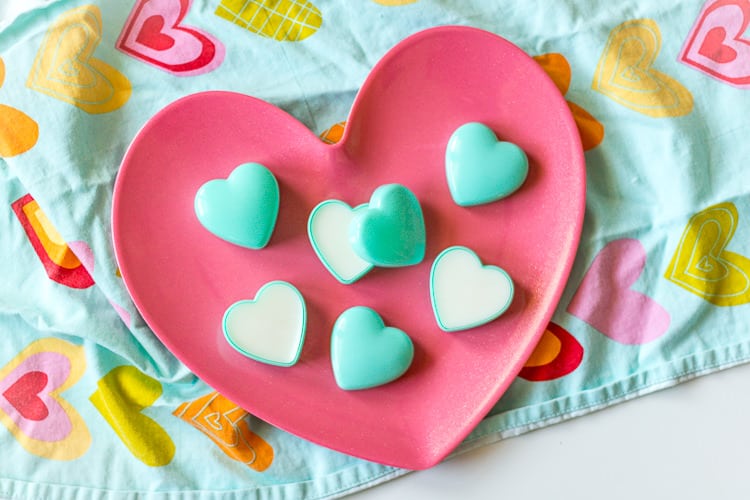 There is a lot of hand holding on Valentine's Day and smooth skin is a must.  These are perfect for  your purse, in a backpack, or gym bag.  They are no mess and leave your skin soft, not greasy!
What Are Lotion Bars?
Lotion bars resemble a bar of soap but they contain no soap and require no water or rinsing after you use them.  They are made of nourishing ingredients that in a normal state are solid.  It's like a solid version of your lotion you put on after the shower.  These bars are super convenient when traveling or in kid's bags where you are worried about spills!
Valentine DIY Lotion Bar Supplies:
*I use organic white beeswax.  You can use the yellow too just know the bars will be a yellow-ish color!
I picked up these heart containers at Walmart in the Valentine aisle.  You can also find some here on Amazon.  They work really great because you can pour the lotion bar right in the containers and then they remove easily when they harden and then you can just use that container to store them as well!
In a Microwave Safe Bowl melt beeswax, shea butter and coconut oil in 30-second increments stirring really well after each time in the microwave.  When everything is melted you can add your vitamin e oil.  Allow the mixture to cool slightly before adding any essential oils.
I divided the melted mixture into three bowls and added a different essential oil into each bowl.  I added about 20 drops of lavender, 10 drops of geranium and 15 drops of frankincense.  You can do as much or little as you like.
Place your containers on a flat surface and pour the melted mixture into each mold filling full.  As the lotion mixture hardens it shrinks and retracts.
Once cool you can pop your valentine DIY lotion bars out of the container and rub on your hands, arms, legs to help soothe skin!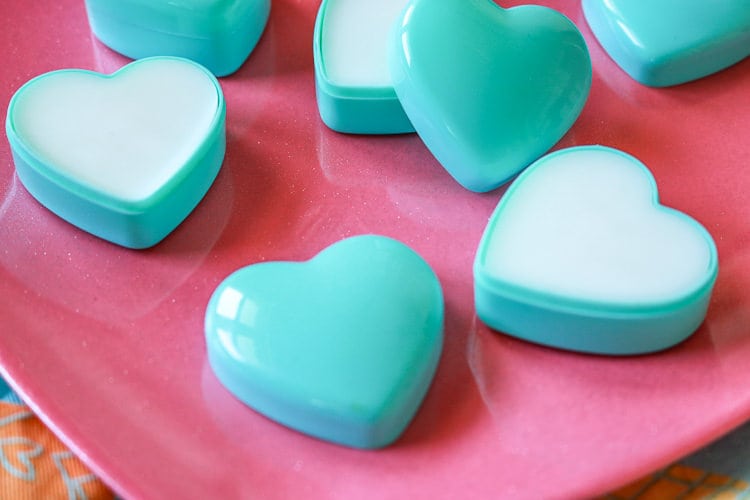 I added a small piece of washi tape on the seam where the base and lid of the heart containers meet.  This is totally optional as these have a pretty tight seal!  I think it makes them look cute!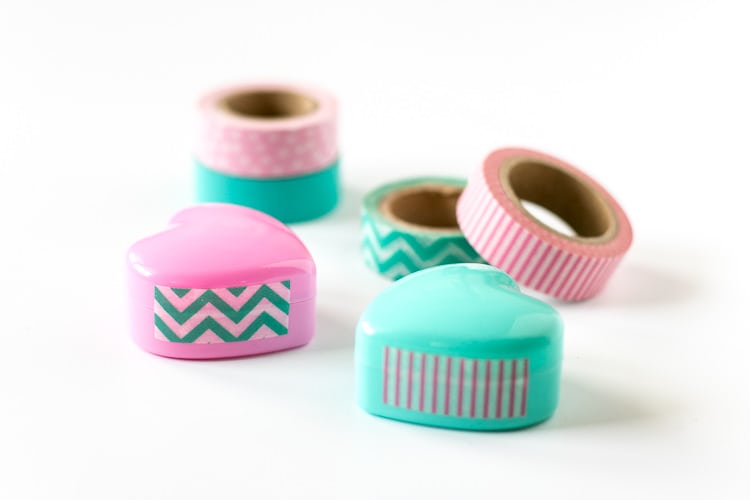 Valentine DIY Lotion Bars Recipe
1/2 cup beeswax
1/2 cup shea butter
1/2 cup coconut oil
1 tsp vitamin E oil
20 drops Essential oils, Lavender, Geranium, Frankincense
Add beeswax, shea butter and coconut oil to microwave safe bowl. Microwave at 30-second increments stirring well in between heatings. Continue until mixture is completely melted.  Add vitamin E oil.
Allow to cool for a few minutes and add essential oils. If making different "flavors" separate lotion mixture into separate bowls before adding essential oils.
Pour into your molds and allow to completely cool.
You might also like these DIY Beauty Posts:
You can also find out more about essential oils here and why I love them so much and how to get a KILLER of a deal on a starter kit!    Find more Oily projects here!
Pin this DIY Valentine Lotion Bars Project