I am kind of picky when it comes to what I put on my face.  Especially products that I use around or on my eyes.  These simple DIY Eye Make Up Remover Pads have become my favorite new product and I MADE THEM MYSELF!  They are simple and natural and you can pronounce EVERY ingredient!  (There are only TWO!)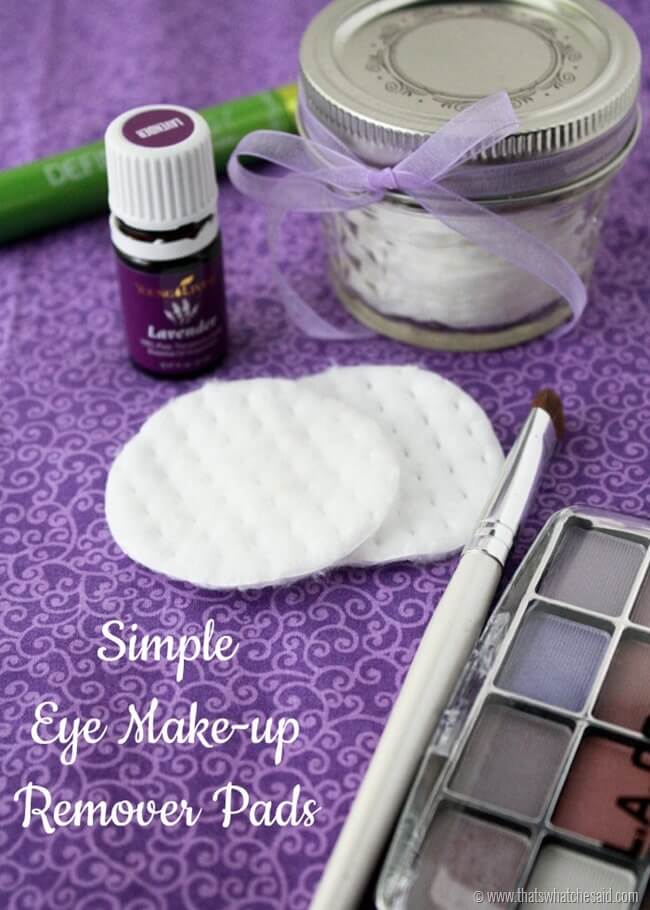 I wear contacts and I have the ones that you can wear for a month and then throw away.  Even though they are disposal, I am very particular (ok snobby) about the products I use around my eyes.
I really don't like when they leave my eyes feeling goopy and heavy, or when the products make my contacts all fuzzy.  I also despise picking up a container of eye make up remover pads and they have chemicals and ingredients that could only be described as a bad hand of scrabble letters!  You can't pronounce them and who even knows what they are.  On top of this, then they leave the area around my eyes "oily" and my new eye makeup doesn't stand a chance at even lasting an hour!
Here is the ingredient list in my former, well respected company's eye make up remover pads:  Paraffinum Liquidum (Mineral Oil), Huile Minerale), Propylene Glycol Dicaprylate/dicaprate, phenoxyethanol, propylparaben, methylparaben.
Hmmmm…did you see the words PARABEN in there TWICE!  I am putting this on the sensitive, thin layer of skin around two of the most awesome organs of my body…my eyes!
I have a great DIY version of make up remover padsfor you today using two of my favorite things!  Coconut Oil + Lavender Essential Oils!
Ingredients You'll Need for DIY Make Up Remover Pads:
Container to store your make up remover pads (I used a small mason jar)
Circle Cotton Pads (picked mine up at Dollar Tree)
Coconut Oil
Lavender Essential Oil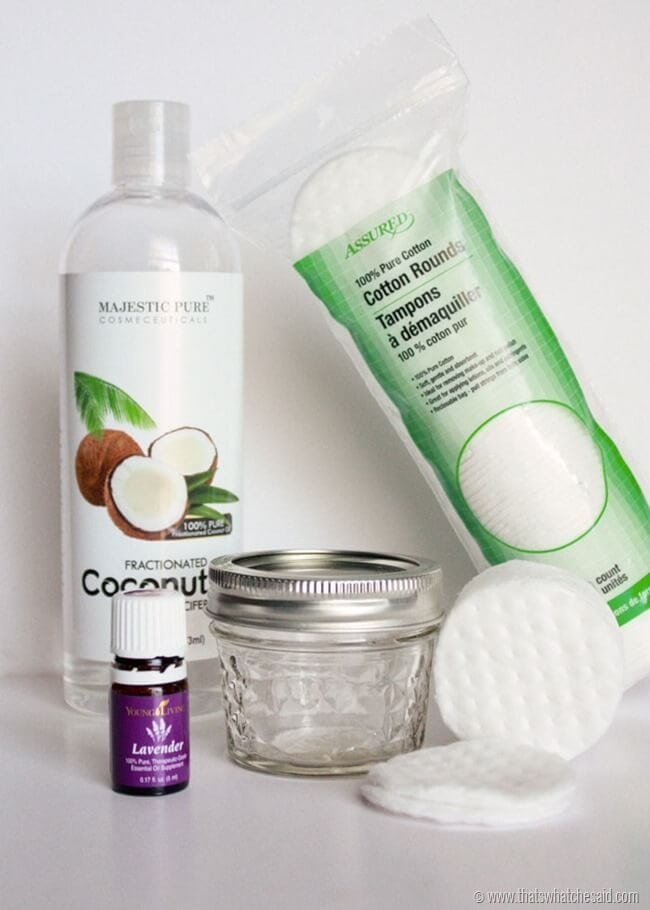 This is super simple.  Take your container and fill it with cotton pads.  Go ahead and fill it to the top.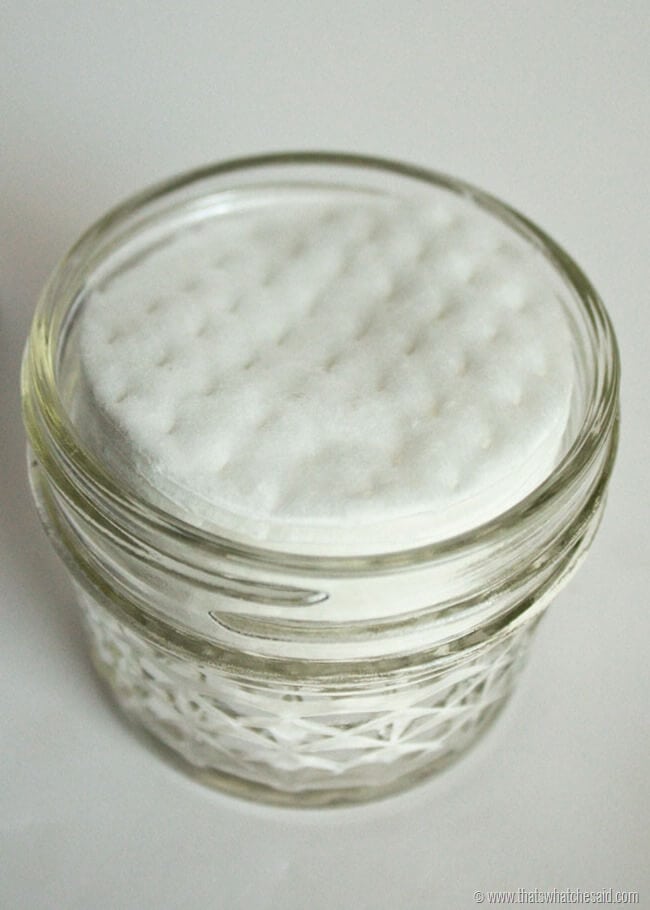 Then I added coconut Oil to a tablespoon measuring spoon.  I also added 5 drops of Lavender to the Coconut oil.  I dumped the oil over top of the cotton pads.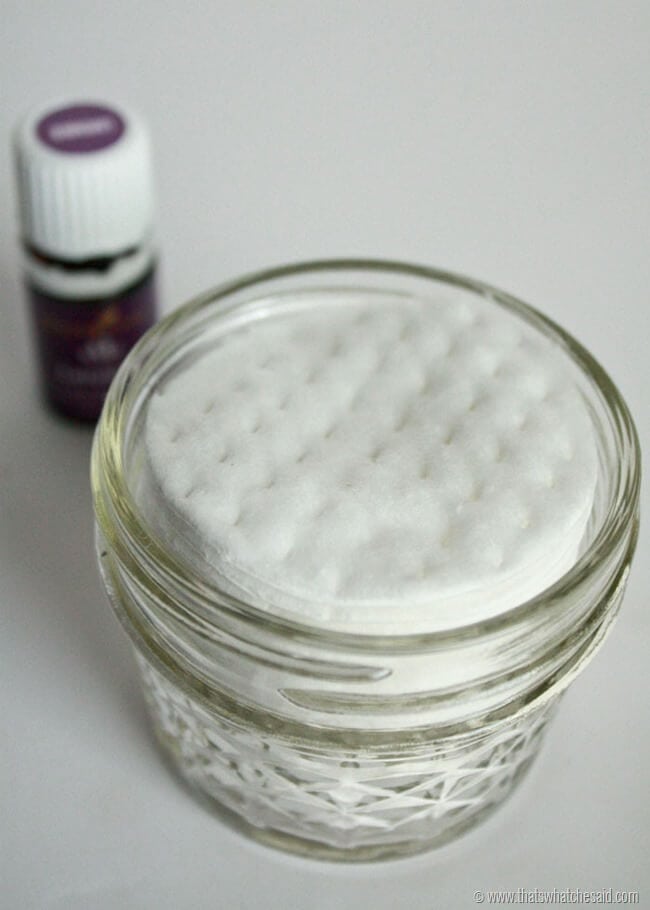 I then screwed on the lid tightly and I let sit for about an hour.  Then I flipped the jar over and let it sit for another hour.  Just long enough to let the coconut oil and lavender distribute through the cotton pads.  You want them moist to remove your make up but not dripping or over saturate.  Just moist.  (<<FYI…my sister hates the word moist.  I thought about typing it a few more times in case she reads this post, lol!)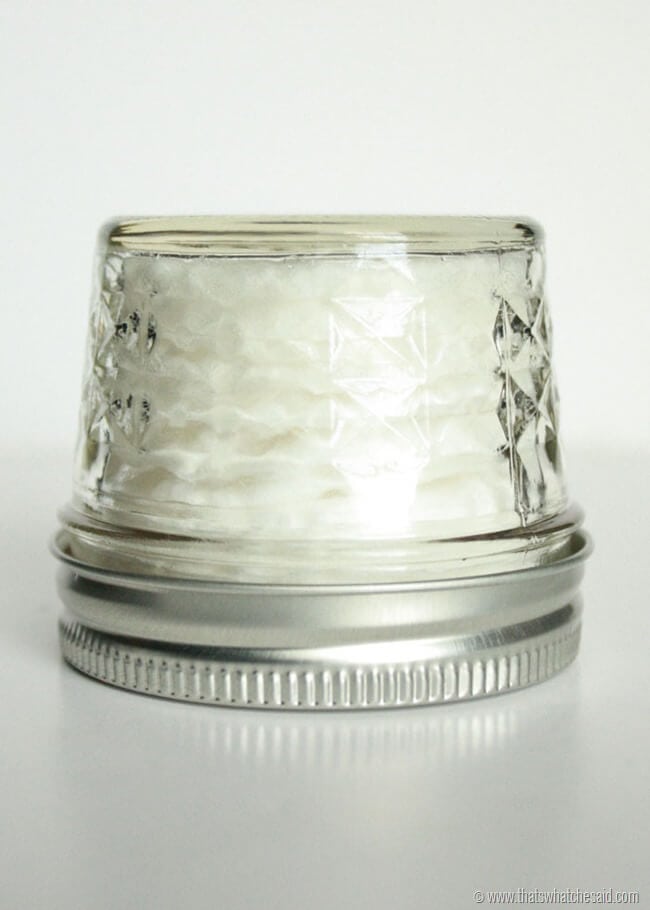 After you do this last step if you open your jar and feel they aren't moist enough (<<said it again) then just add a teaspoon more of coconut oil and repeat the sitting and flipping over of the container.
I use these make-up remover pads daily to remove my waterproof mascara, eye liner and shadow if for some reason I felt fancy and actually used eye shadow. Ha!
So here are my ingredients:  100% Pure Coconut Oil, 100% Therapeutic Grade Lavender Essential Oil.  So much better than the ingredient list above, right?!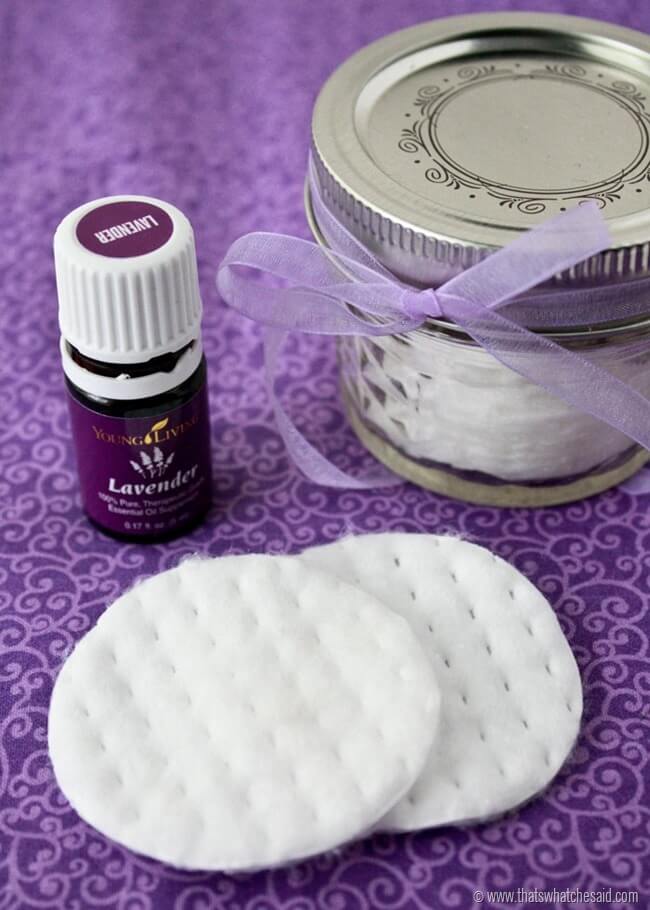 Want to find out more about essential oils or how to get yourself some?  You can check out how I started my oily journey as well as find out more details on the amazing starter kit (which includes Lavender!!!) and the additional freebies that I offer you because I know you will LOVE your starter kit!  You can also see the other ways I use my essential oils, including scrubs, ice cream and more!
Find out about all of that here on my Young Living Essential Oils Starter Kit page!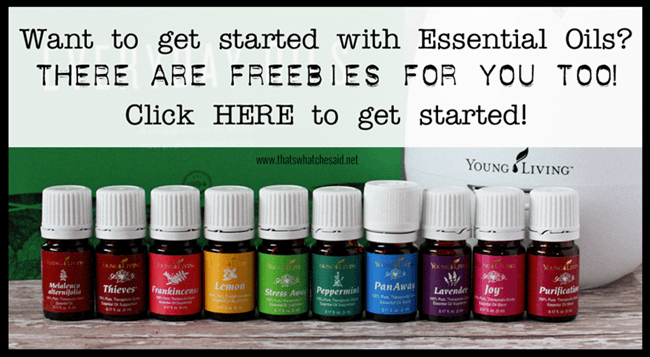 You can also check out these other great projects that I made using my Essential Oils
[cgview id=517 name=young-living num=50 size=225×225 quality=75 lightbox=0]


Disclaimer: These statements have not been evaluated by the Food and Drug Administration (FDA). These products are not intended to diagnose, treat, cure, or prevent any disease.  The information on this site is not intended or implied to be a substitute for professional medical advice, diagnosis or treatment. Please confirm any information obtained from or through this web site with other sources, and review all information regarding any medical condition or treatment with your physician. Never disregard professional medical advice or delay seeking medical treatment because of something you have read on this website.