Do you Want to moisturize your lips?  Want to have fun lip glosses at a fraction of the retail cost?  How about lip balm made of natural ingredients?  If you answered yes to any of these I have a GREAT recipe for how to make your own lip balm that is a favorite around here!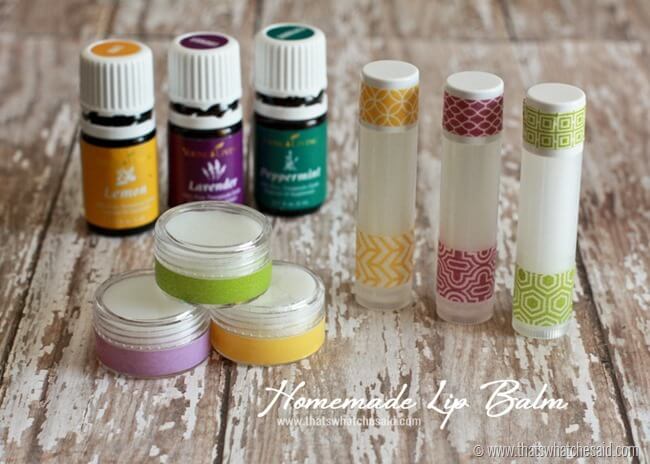 I love lip balm.  Love it.  I also, apparently, love to LOSE my lip balm…like all the time.  I guess I don't lose it, I just misplace it.  It normally always turns up however never when my lips need it!  I don't really have a solution for you today on misplacing it however I do have a great solution and recipe on:
How to Make Your Own Lip Balm

Yummy kinds!  I can also tell you that this recipe is really versatile and you can use it for other things besides your lips!  Especially the peppermint and lavender!  We'll talk more about that below!  (you can also use other essential oils besides those I used!)
I love lip balms!  However if you read the ingredient list of the drug store ones, you might be surprised at what you are adsorbing into your body as well as consuming, because you are putting it on your lips!!  This lip balm has 4 ingredients.   You can pronounce them all and have heard of them before!
Supplies Needed to Make Your Own Lip Balm: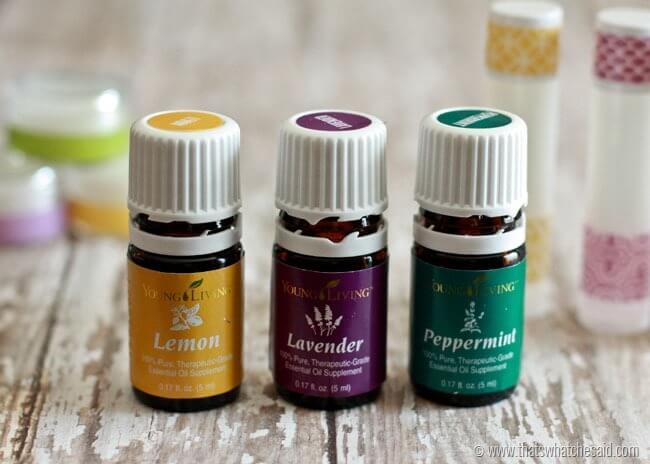 This recipe below will yield 6 tubes of lip balm.
How to Make Your Own Lip Balm Instructions
1.  In a glass measuring cup with pour spout, add your beeswax and coconut oil.   Microwave in 30 second increments until it is melted.
2.  I pierced a Vitamin E capsule with a pin and squeezed the liquid vitamin E into the measuring cup with the coconut oil and beeswax.
3.  Add about 20 drops* of essential oils.  (it's best to wait about 3-4 minutes from the time you take the melted mixture out of the microwave before adding the EO's.  The time it takes to add the vitamin E is normally sufficient)
*I like to add a bit more peppermint to get that minty fresh tingle on my lips.
I also love combinations.  I did some with 20 drops peppermint and 10 drops lavender together.  <—It's amazing!  Mix some, do some by themselves, whatever makes you happy!
4.  Pour into your lip balm containers slightly past the top.  The mixture will "shrink" when it cools so if you slightly fill so that it is just too full, then it cools to the perfect level!
This will cool fine on your counter in a matter of minutes, or you can pop in the refrigerator also!
TIPS for Consistency:

For a firmer balm – use a tablespoon more beeswax
For a softer balm – use a tablespoon more coconut oil
So above I mentioned you can use it for more than just lip balm.  My first batch was softer (more coconut oil) and I made a lavender/peppermint mixture that I like to keep in my purse.  If the kids are on my last nerve and my head wants to explode, I just put some of this on my temples.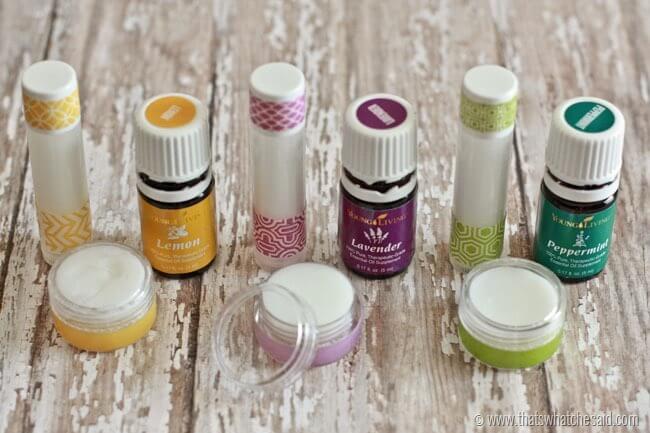 To make my tubes cute and also to let me know what kind of balm was inside, I used some of my favorite washi tape from We R Memory Keepers.  A little on the tube and a little on the cap and the slender solid kind for the little tubs!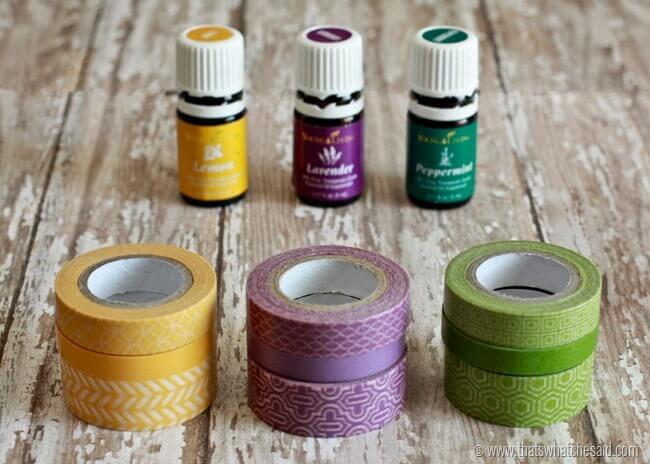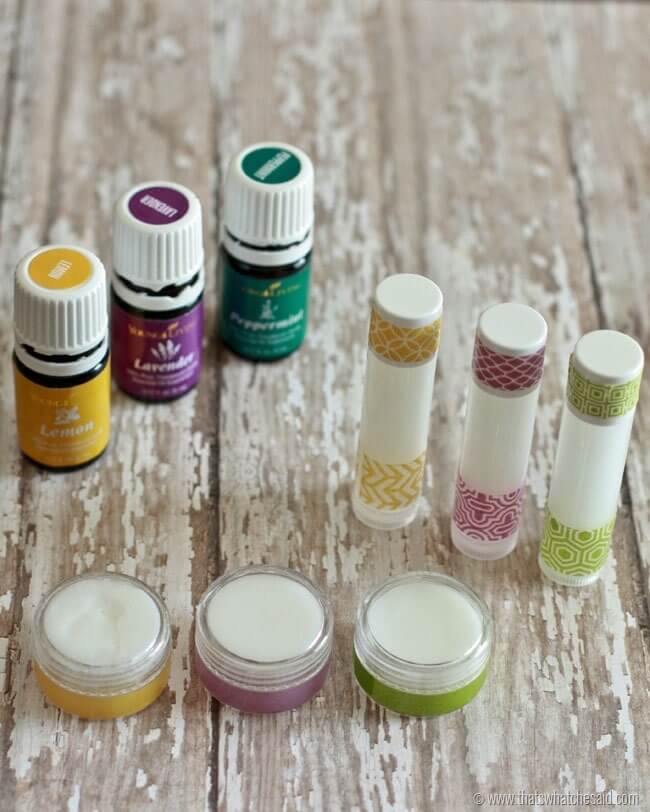 I love these little tubs as well and have used them as hand moisturizer.  Especially the lavender one!  Spangenbaby is teething and sucks on his fingers and this cold weather has made some of them red and a bit rough.  I can dab a little on from these tubs in my purse and he is ready to go!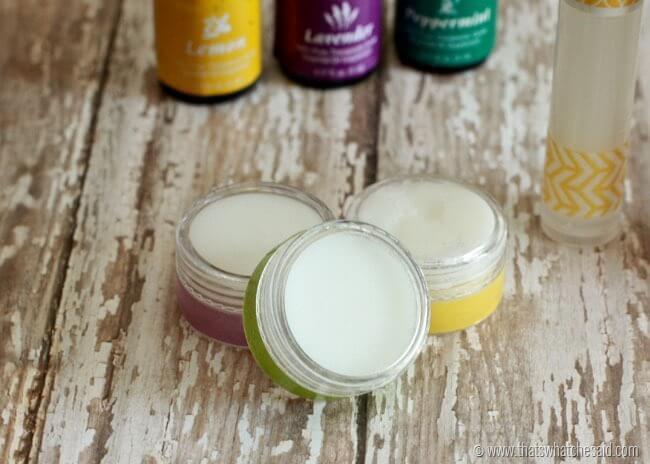 Whenever my lips start to get dry I also know that is partially because I am not drinking enough water.  Stop over to this post to see my top 5 tips to drink more water!
If you'd like to learn more about Essential Oils and how you can use them to make your own lip balm or how to use them to increase your family's wellness I hope you will hop over here and learn more!  I am in love with mine and I know you would be too.  We have some amazing promotions on a Premium Starter Kit right now along with a ton of great FREEBIES!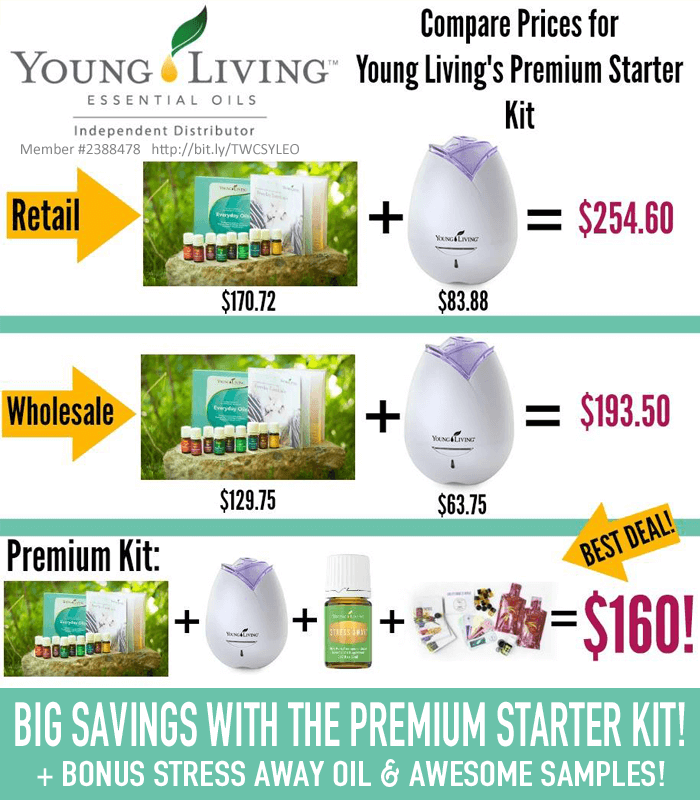 You can also check out my other projects involving Essential Oils!  They have changed my life!
[cgview id=517 name=young-living num=50 size=225×225 quality=75 lightbox=0]