I may or may not go pretty crazy over turkeys as we get closer and closer to Thanksgiving!  These turkey magnets are no exception to my craziness!  This is an easy Thanksgiving craft that takes dollar store faux leaves and simple craft products to make these cute little guys to adorn your fridge!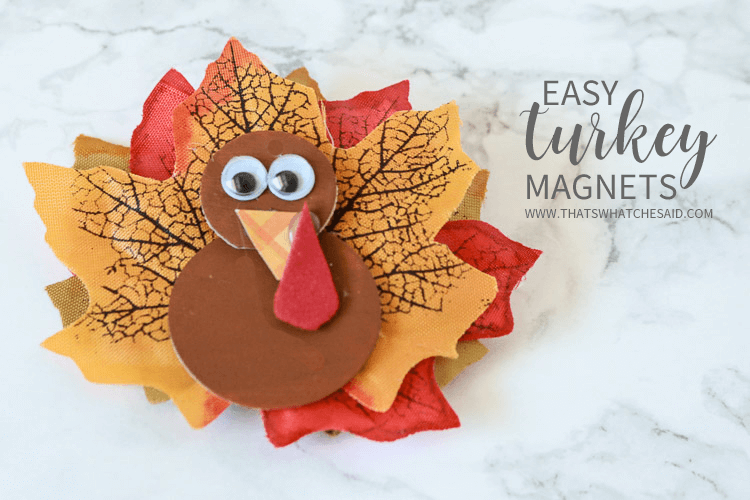 When I do holiday crafting I tend to favor a specific aspect of that holiday and do all. the. crafts. that have to do with that specific thing.  Obviously, for me, Turkey's are my muse when it comes to Thanksgiving Crafts!  I mean can you blame me though?  They are so cute!
As always, most of the supplies you need can all be found at your local dollar store!  I had these faux leaves left over from my Fall Leaf Napkins, Fall Leaf Candles and my Fall Candle Centerpiece.
Supplies Needed for Turkey Magnets:
Faux Leaves
Small Wooden Discs
Brown Paint/Paint Brush
Googley Eyes
Scrap Orange & Red paper, fun foam, or felt
Hot Glue Gun/Glue Sticks or Tacky Glue (if kids are helping!)
Scissors
If the kids are helping, Aleene's tacky glue works best!  Otherwise an adult needs to do the gluing, using the hot glue gun!
I started off with three faux leaves, and I stacked them on top of each other at a light angle to make the feathers! 
You should also know i am a really laid back and easy crafter so for my body I used these small wooden discs and I painted them brown.  You can also use brown felt, fun foam or paper for the body!  Whatever you have on hand!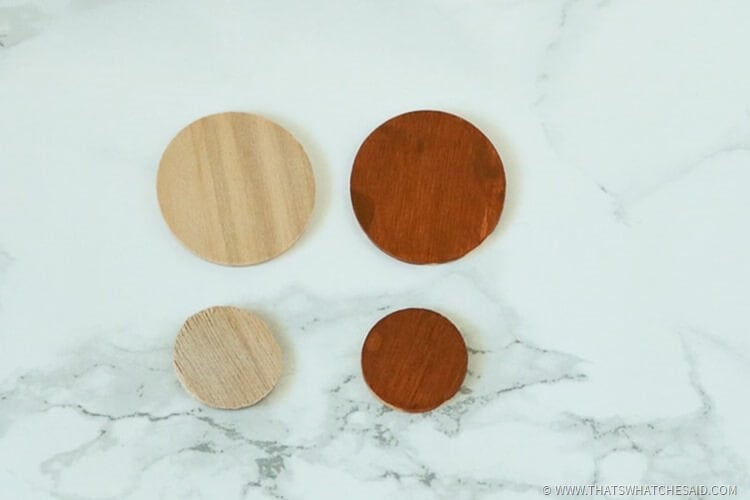 Once dry, I stacked the discs on the leaves to form a turkey body and head.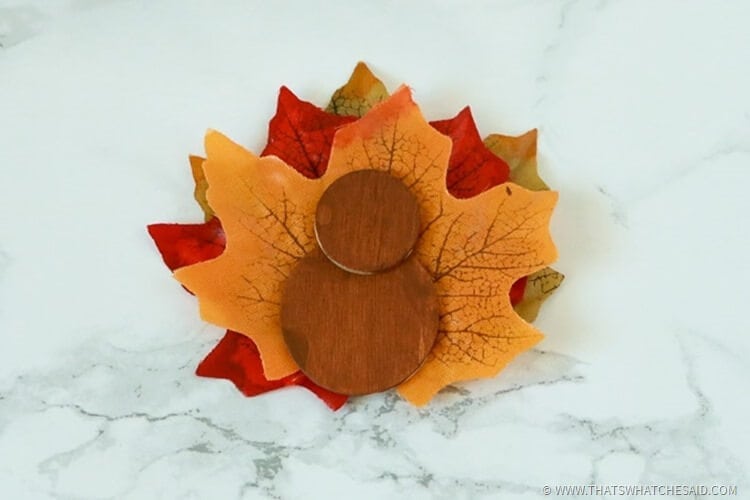 Then I gave my turkey some eyes!  My kids had fun using different sizes of googely eyes on these guys!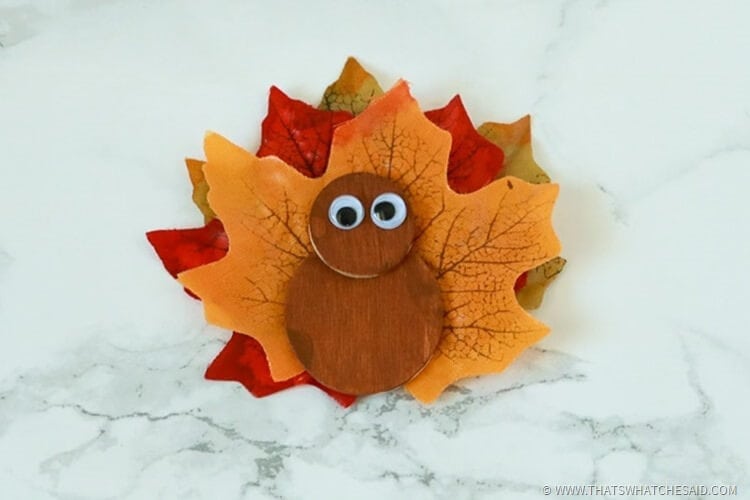 Then using some orange scrapbooking paper (a scrap at that) I cut and glued a small paper beak on the turkey.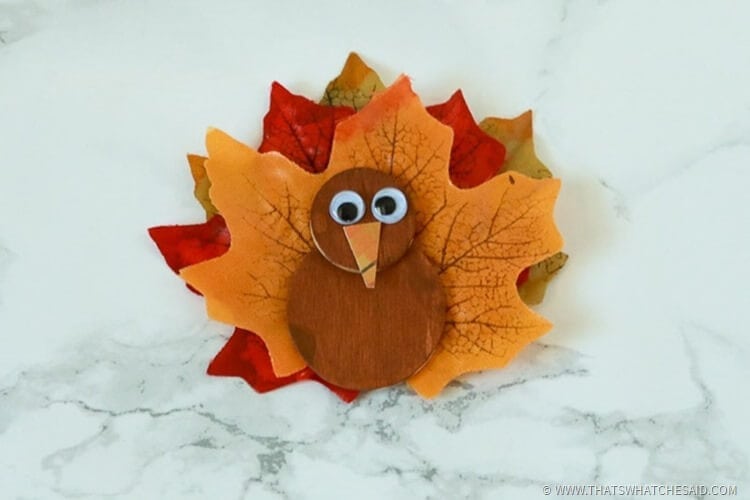 To complete my little turkey buddy, I added the gaggle.  <—Is that what it's even called?!?  That's what I call it, lol!  I used a scrap of red fun foam for that!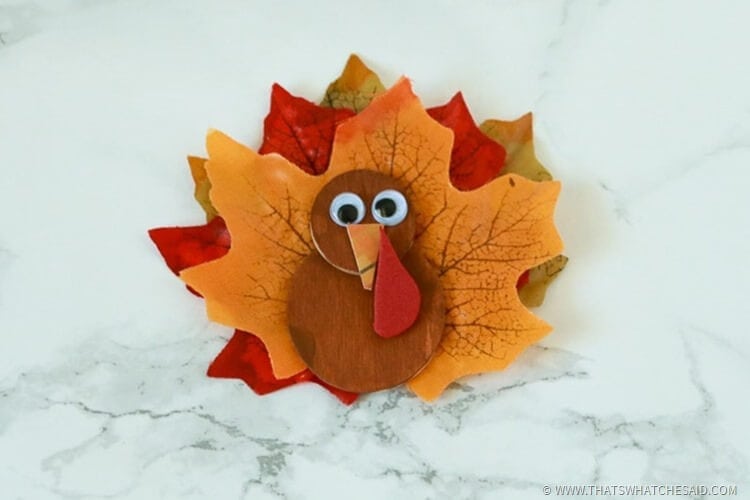 Finally on the back I hot glued a magnet.  You will definitely want to use hot glue for this part, versus using the tacky glue!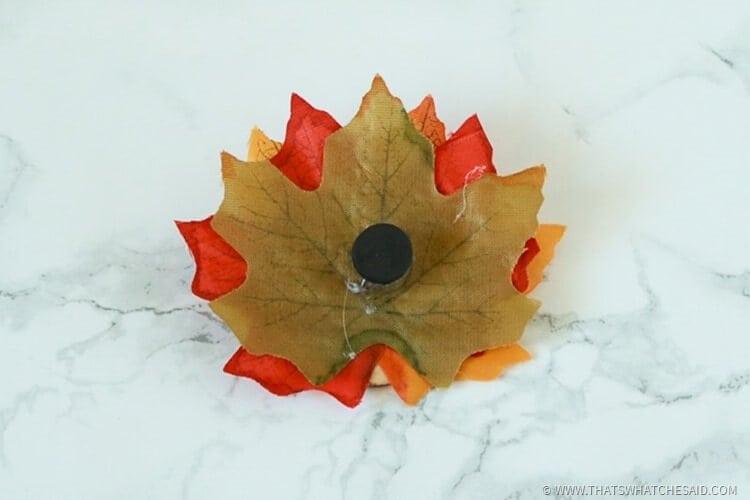 There it is!  Now repeat over and over because you cannot have too many turkey magnets on your fridge!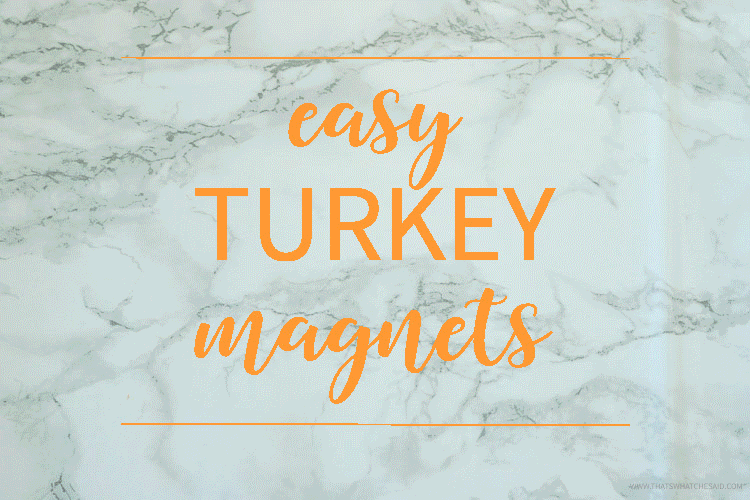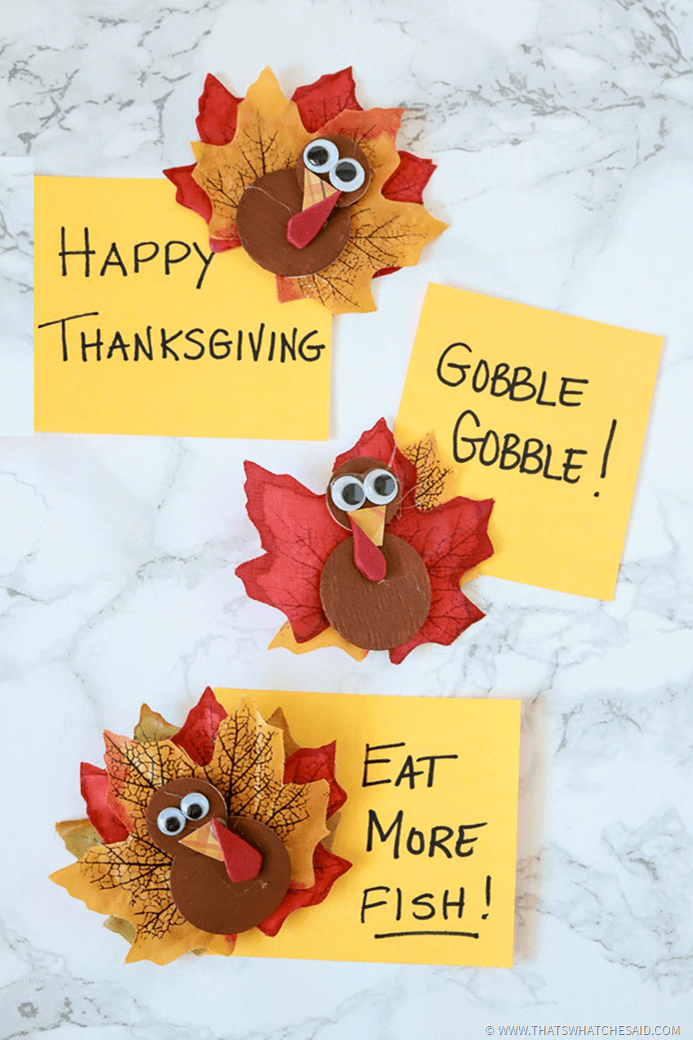 I invite you to check out my other turkey projects!  I just can't get enough of them!   I used the Turkey Place Cards and the Turkey Napkin Rings on my Modern Rustic Table Setting and loved how they looked!
[cgview id=84 name=Thanksgiving tags=turkeys size=225×225 quality=75 lightbox=0]
You can also find my whole collection of Thanksgiving Projects here!