If you love to make shirts with your Cricut machine you are going to love the new Cricut SportFlex Iron On™ Vinyl!  It has enough stretch that is perfect for workout shirts, swimsuits, workout gear, yoga pants, leggings, and my favorite..maternity shirts!  I am going to show you exactly how to use Cricut SportFlex Iron On™.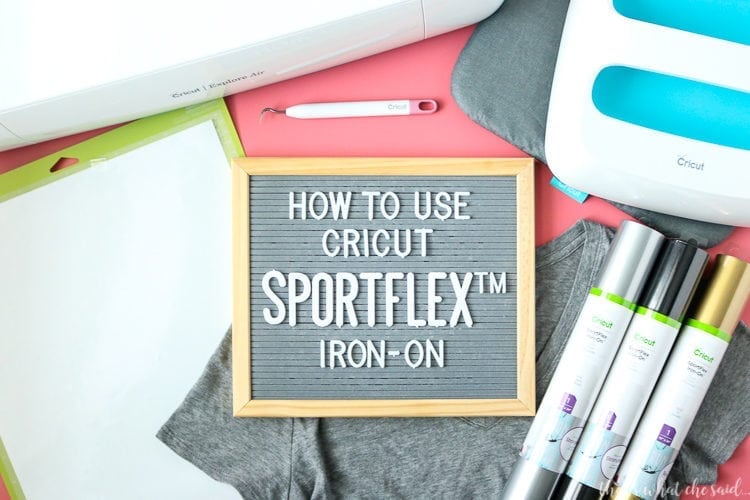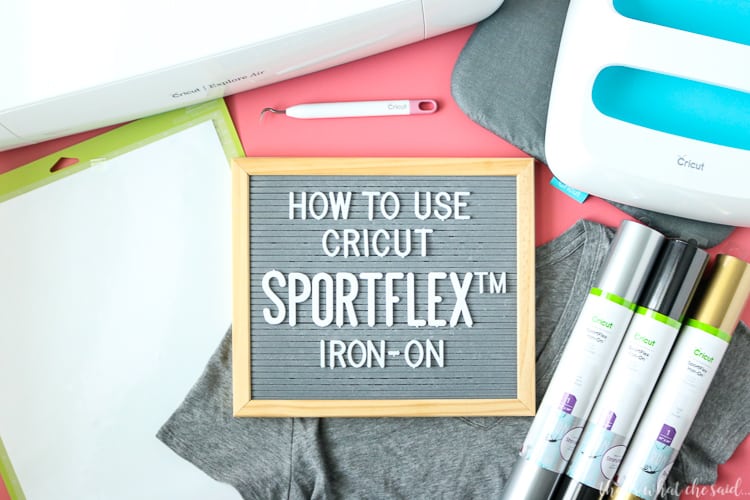 It's no secret I love to make shirts with my Cricut.  I especially love to make funny baby onesies and maternity shirts!  The dilemma I encounter with maternity shirts is that the shirt obviously stretches over a belly (and even the girls!)…normal heat transfer vinyl does not.  This is where the new Cricut SportFlex Iron On™ is a match made in stretchy heaven!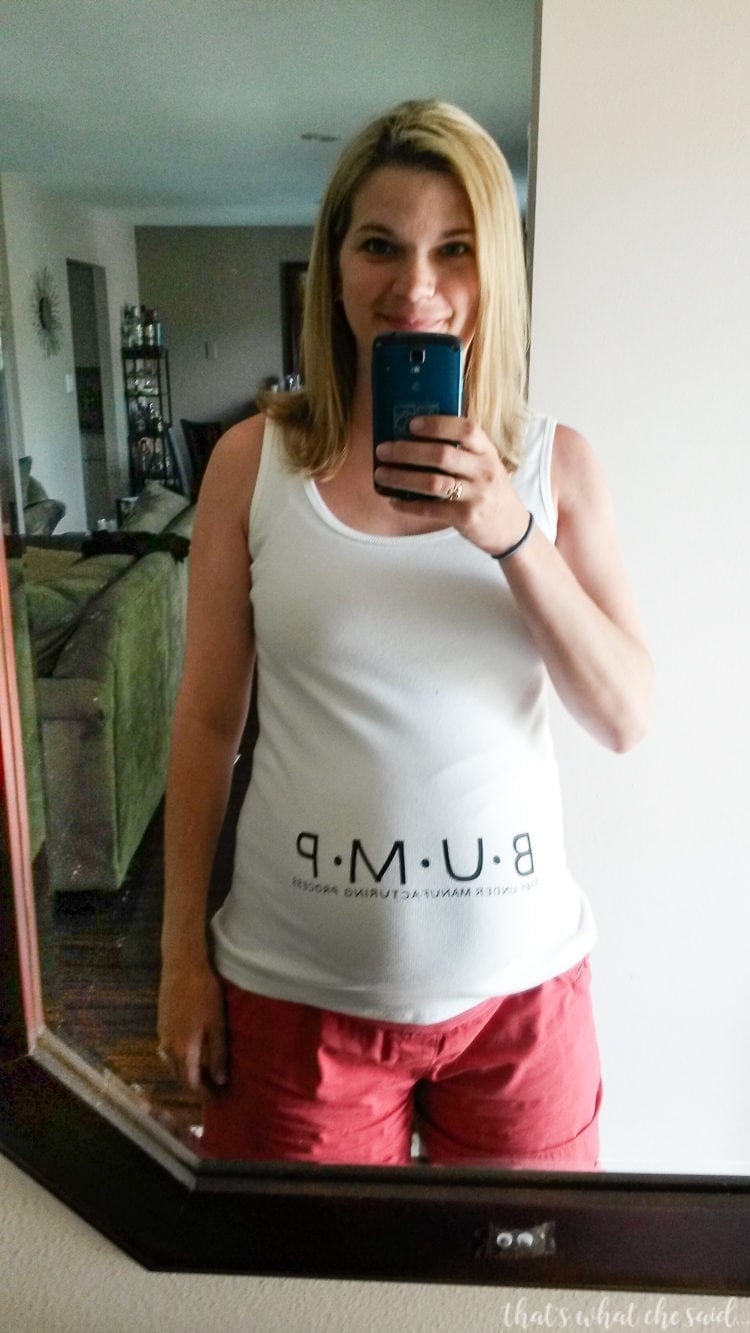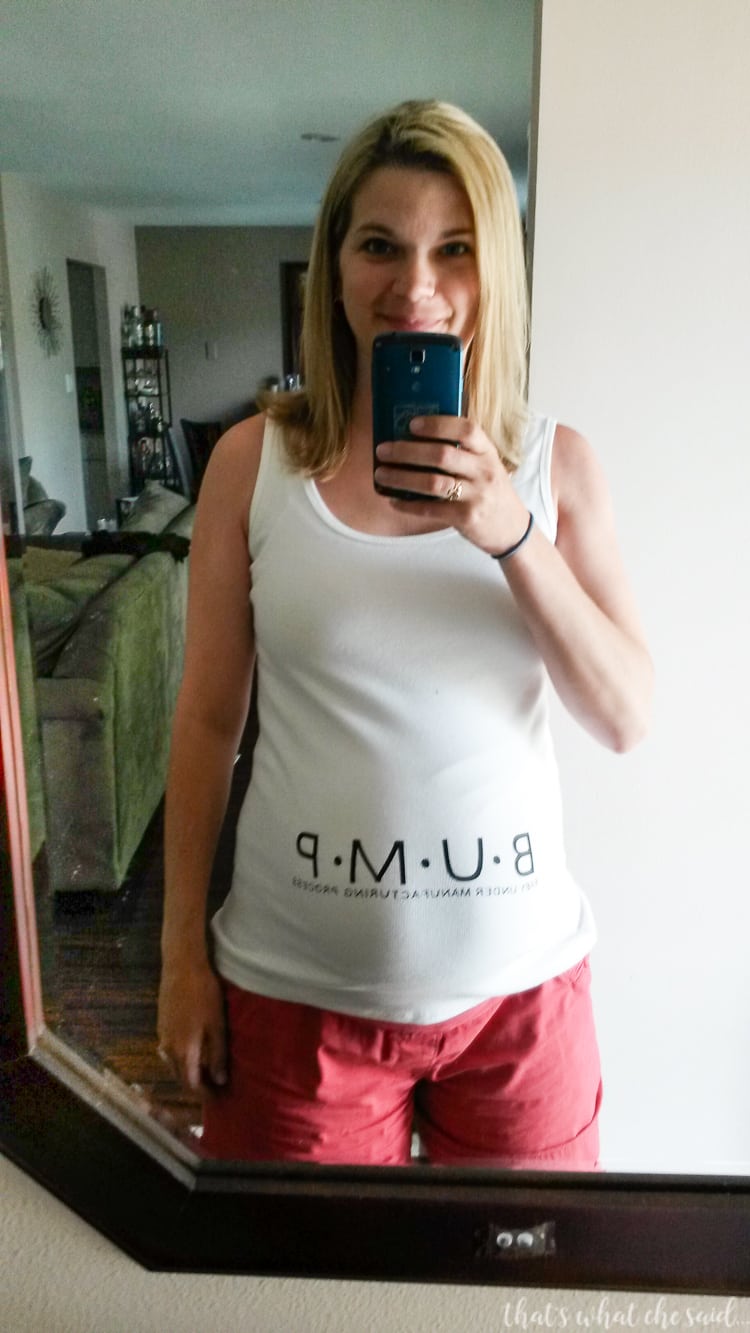 Here is a shirt I made for myself when I was pregnant with Spangenbaby. (Please don't mind the awkward belly selfie)  Do you see the poor iron on hanging on for dear life as the shirt stretches across my belly?  I know, I feel sad about it too!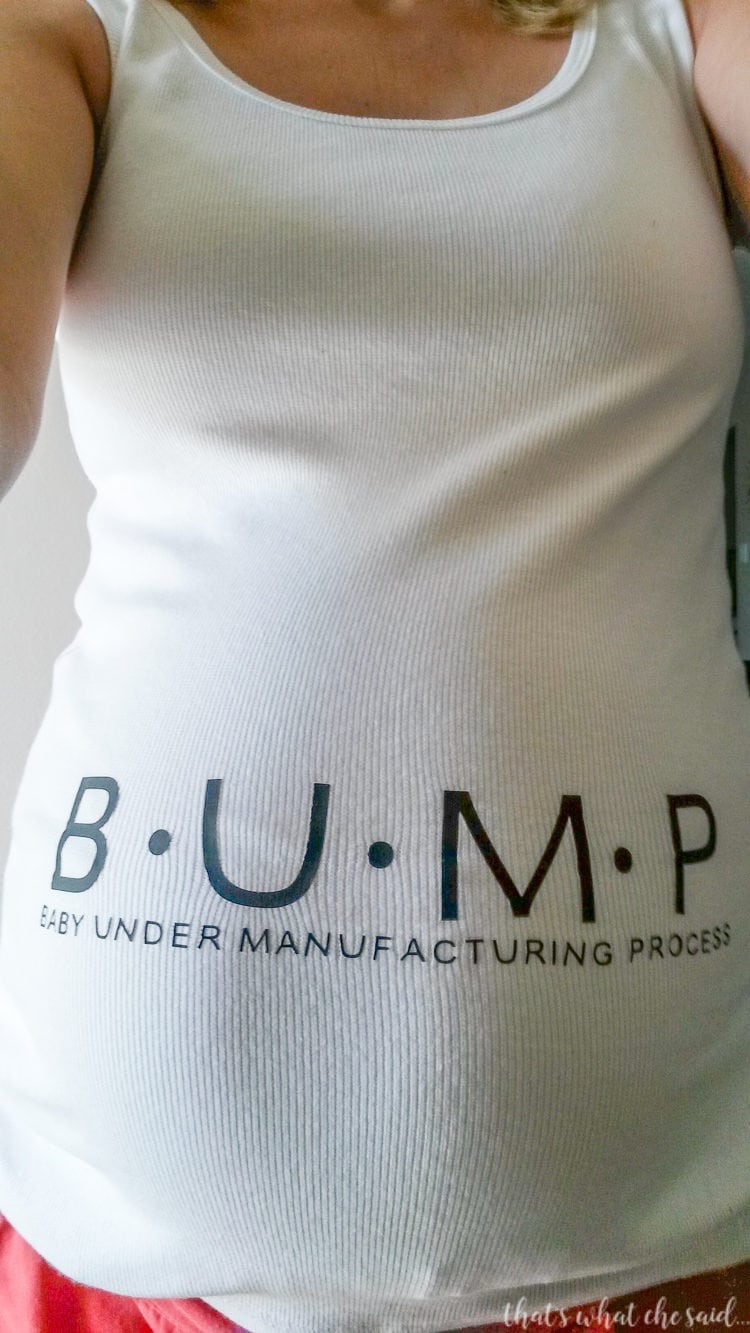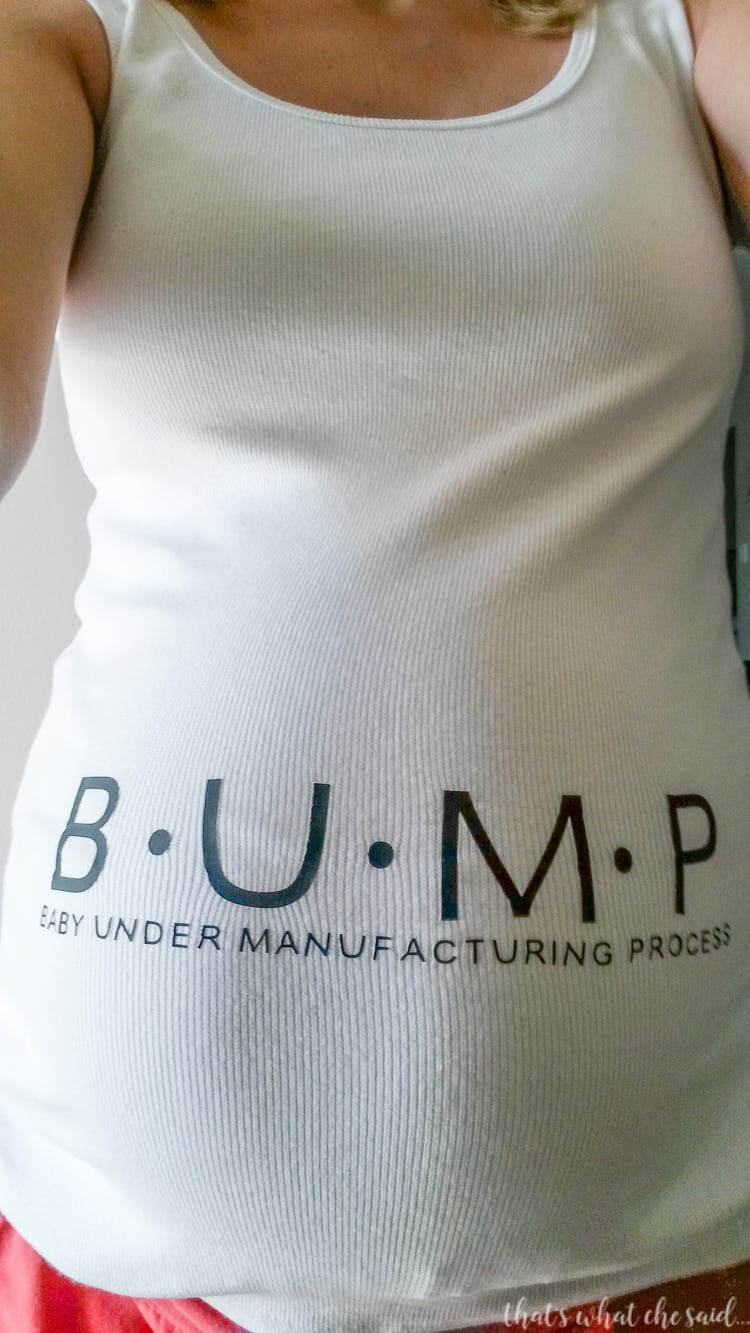 Here is the shirt I made with Cricut SportFlex Iron On™!  (No, not my belly but a friend's — this baby shop is CLOSED!)  See how much better that works?  It's thin, super flexible, has great stretch to it, and is perfect for Nylon activewear and Polyester materials like tech fabrics used for workout clothes! I am making all the yoga tops for sure!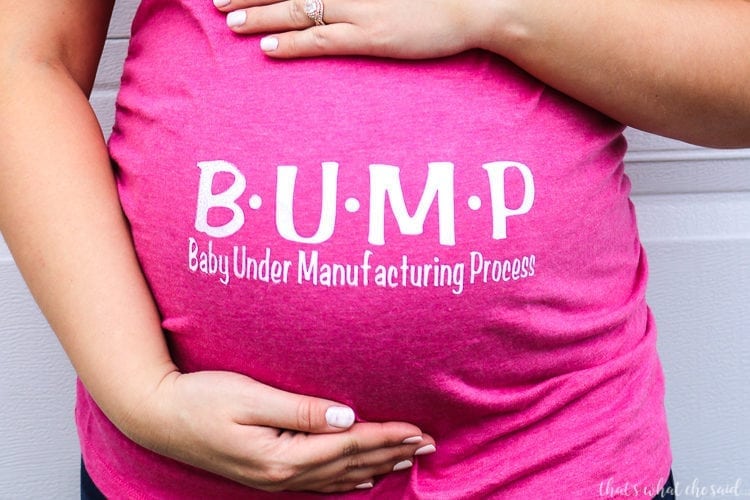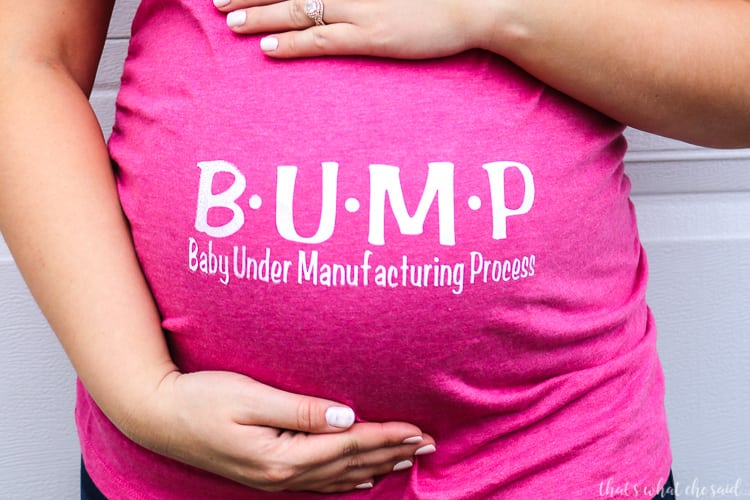 This post may contain Amazon Associate and other affiliate links.
As an Amazon affiliate, I earn a small commission from these links at no additional cost to you.
Supplies Needed for Cricut SportsFlex Iron On Project:
You can find many of these items in my Shop on Amazon!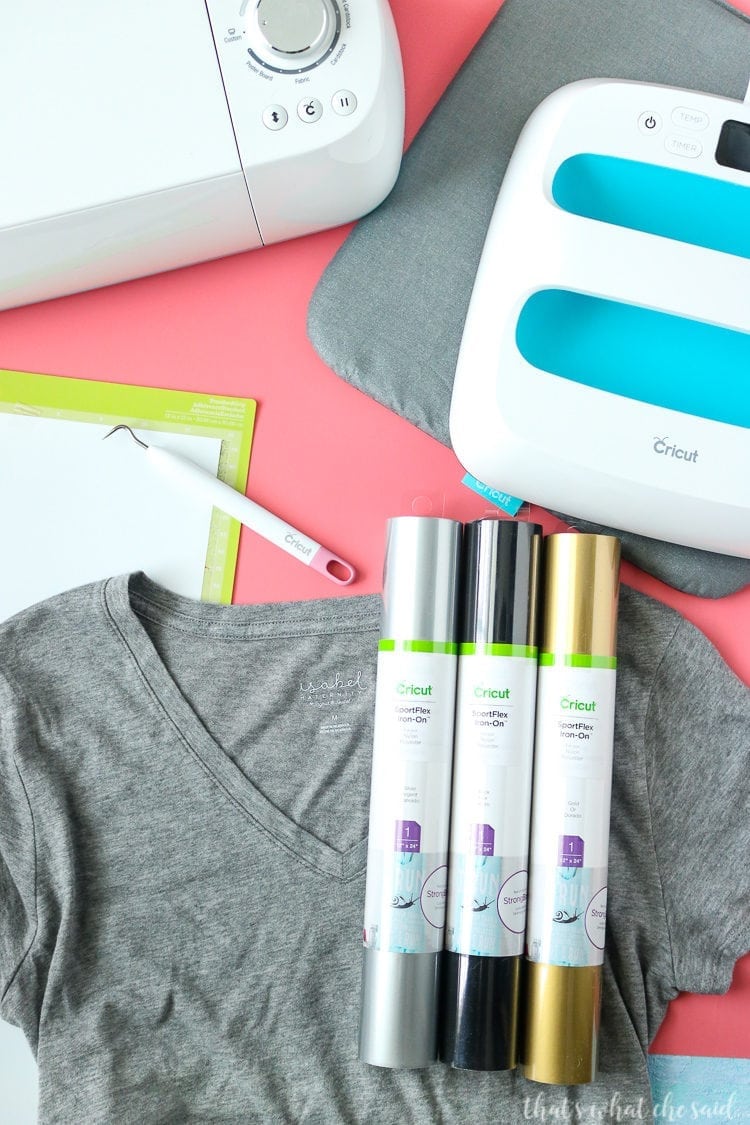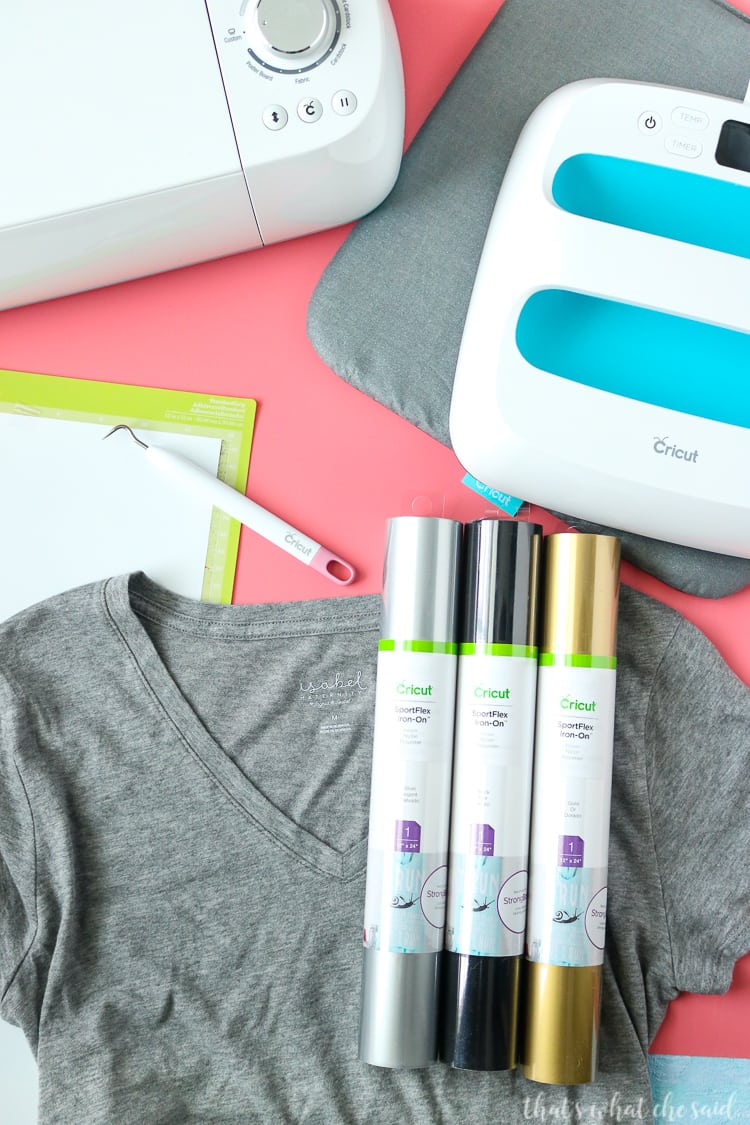 I made this fun file using the font Arab Brushstroke std Regular from Cricut Access as well as a circle shape! Nothing fancy and you can find the Cricut Design Space file here.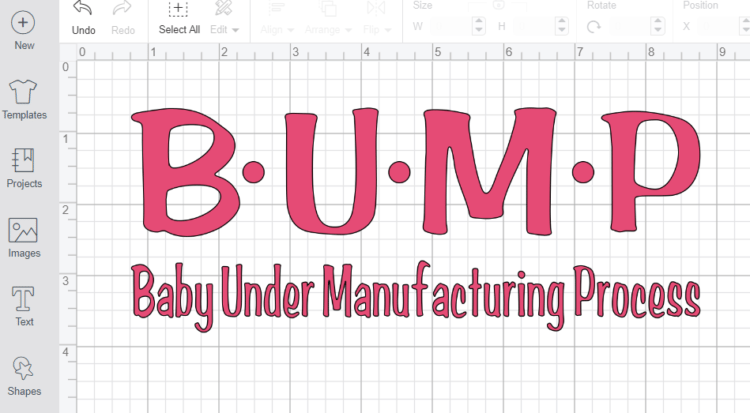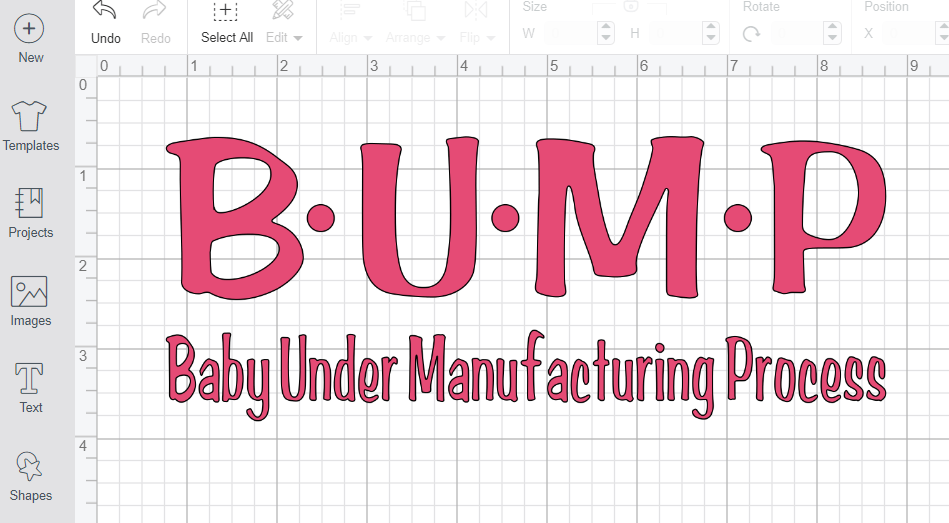 How to Cut SportFlex Iron On™:
Load your mat with the SportFlex Iron On™ lining (shiny) side down.
For the Cricut Explore Air Family turn the Smart Set Dial to Custom.  Select SportFlex Iron On™ from the list of materials.  For the Cricut Maker select the SportFlex Iron On™ Setting.
MIRROR your design.
Cut image or design on SportFlex Iron On™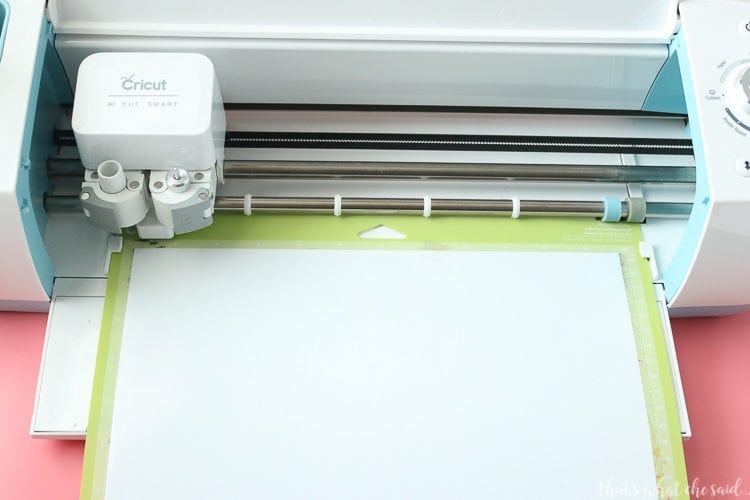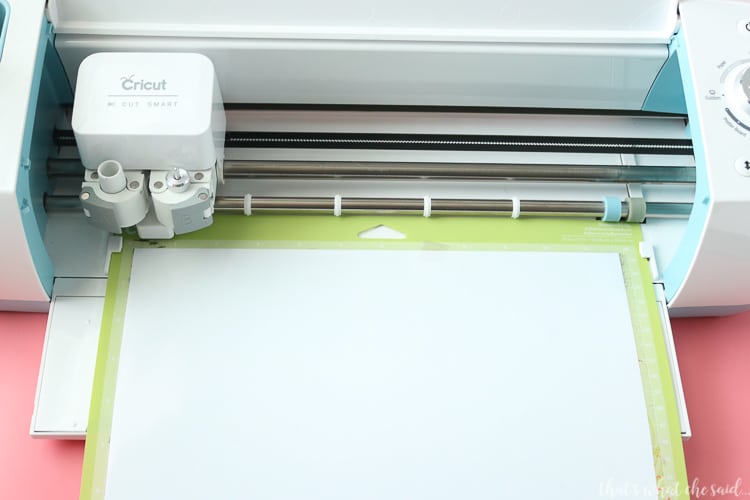 SportFlex Iron On™ Application:
How to Apply SportFlex Iron On Using a Regular Iron:
Using the Hook tool, weed your design. This means removing the extra iron-on material from the lining sheet leaving only your intended design.
Set Iron to WOOL setting.  Make sure the steam setting to the iron is OFF.
Use the iron to preheat the area you will be applying your design. Preheat for 5-10 seconds.
Apply the SportFlex Iron On™ onto your preheated material blank with the lining UP.  You do not need to use a thin press cloth, however, I recommend it so that you don't get an Iron shape imprint on your shirt!  The lightweight cloth really helps!
Apply Medium Pressure and press for about 20-30 seconds.
Flip the material over and Iron on the back of the material for about 10 seconds.
Let cool for 1-2 minutes and remove the plastic lining.  (This is called a Cold Peel)
Appy SportFlex Iron On Using a Cricut EasyPress™ with EasyPress™ Mat:
Set EasyPress Temperature to 305 F/151 C.
Preheat the area for 5 seconds
Apply the weeded image in SportFlex Iron On™ onto your blank with the liner side UP.  For Polyester fabrics, use a Teflon Sheet or piece of parchment paper.  A protective sheet is not necessary for Nylon materials.
Press for 30 seconds.
Flip the material over and Press the backside of the garment for about 15 seconds
You may then remove the plastic lining (Warm Peel technique)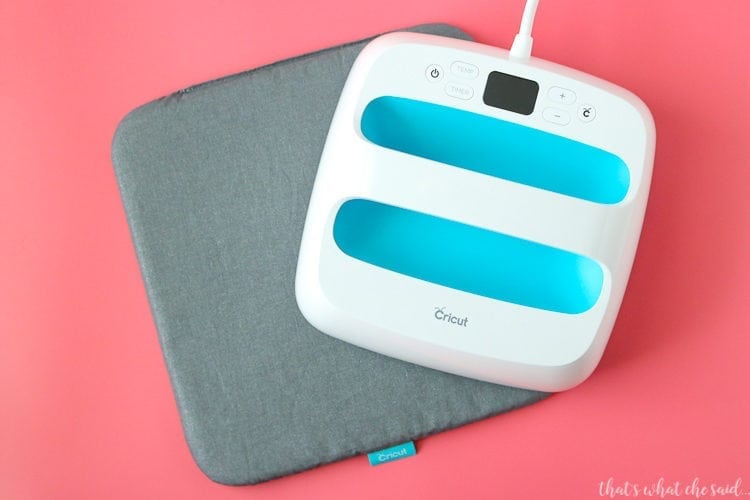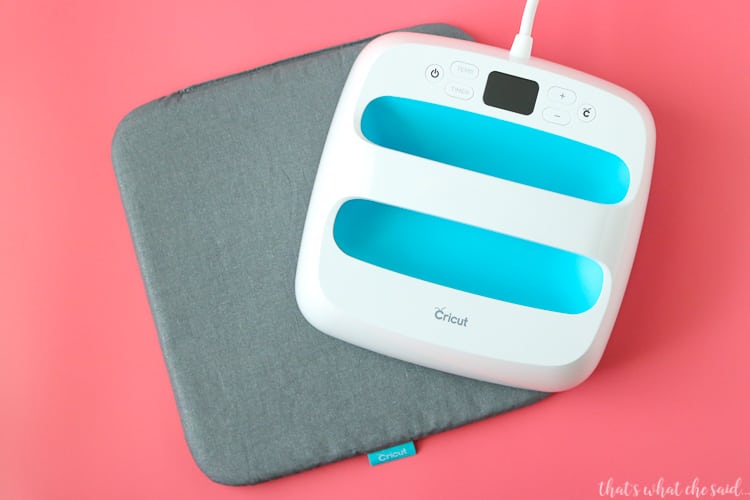 If using Cricut EasyPress™ with a towel in place of the EasyPress™ Mat:
Same as above except use 315 F/157 C temperature settings.
You can also use the same heat settings as the EasyPress for a Heat Press as well.
Tips & Tricks for Using SportFlex Iron On™
Pre-wash fabric base materials without fabric softener to pre-shrink and remove chemicals that may prohibit strong adhesion.
It is recommended to ONLY layer with other colors of SportFlex Iron On™ and only 2 layers at most.
Wait 24 hours to wash.
Wash and Dry with the garment inside out.
If you need to re-iron your garment, do so from the backside of the fabric.
Make sure to follow my Preparing your Blank instructions before applying your SportFlex Iron On™
For best adhesion to your base material, use a firm pressing surface. Avoid flimsy ironing boards.
Uses for SportFlex Iron-on
This is not just for maternity shirts, it is a perfect choice for other stretchy materials such as swimsuits, dance leotards, uniforms, team jerseys, Dri-fit workout gear, leggings and more!  SportFlex is a game changer for all those Nylon and Polyester shirts you couldn't personalize before!  Order as an 11.8 x 24 sheet, which can make multiple projects depending on size and it also comes with the Cricut StrongBond Guarantee.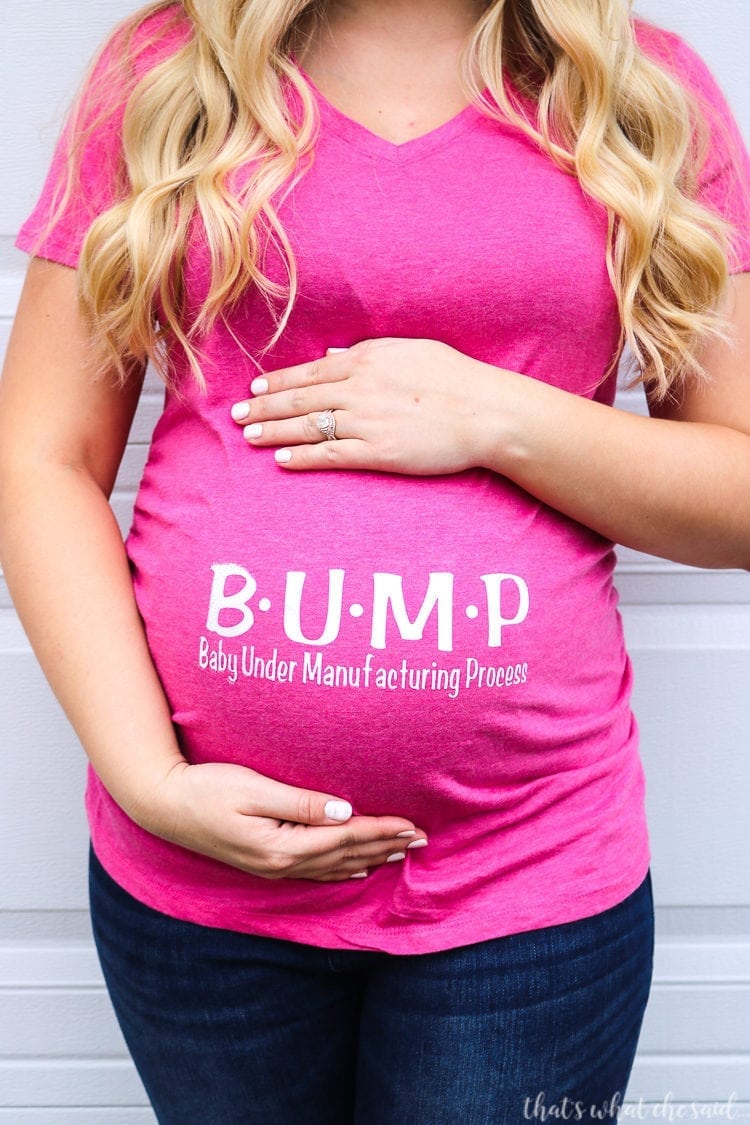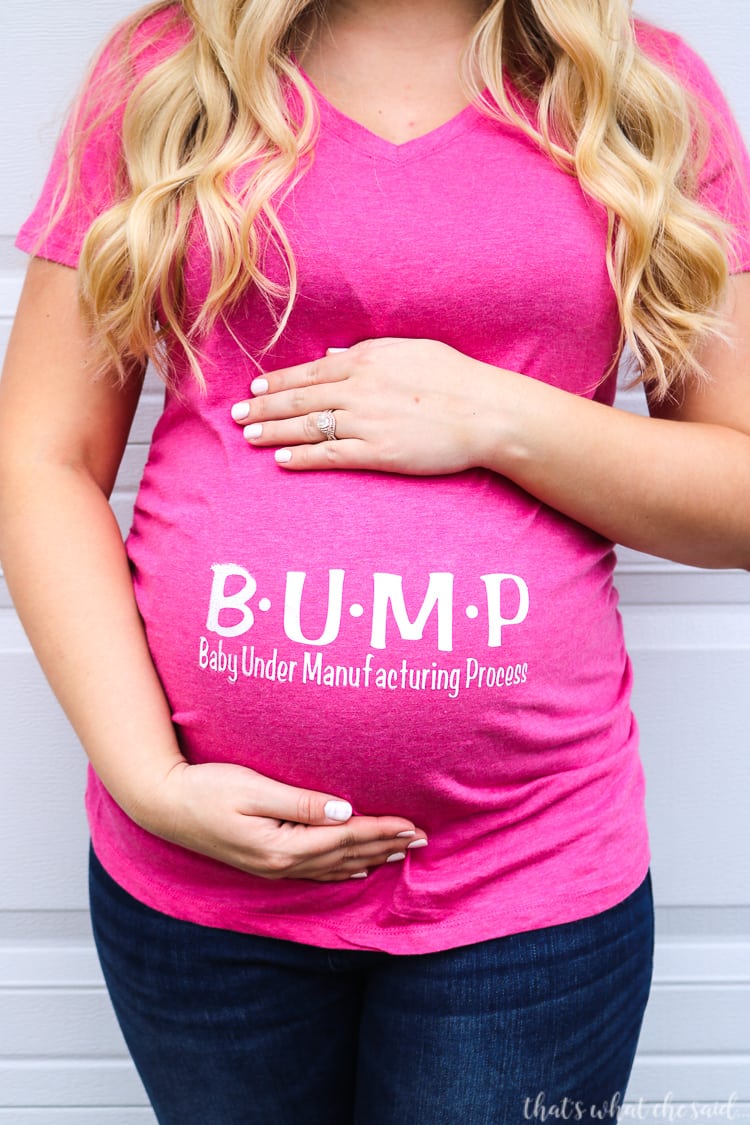 You might also find these Cricut posts helpful:
You might also really like these Cricut projects:
[ess_grid alias="cricut"][/ess_grid]
Don't miss another Cricut project or tutorial! Sign up for my email here:
Don't Miss Out!
Get new Cricut Tutorials, Product Announcements, Project Ideas, SVG Files and more straight to your inbox!
Pin How to Use SportFlex Iron On™