I am sharing all my tips on the perfect way to create a custom yoga mat. This project pairs well with my previous self-care projects of a Monogrammed Water Bottle and Gratitude Journal.
In honor of Mother's Day, I was thinking about how many moms put their needs behind those of their family's. It is incredibly important for us take care of ourselves as well. Yoga is a great way to connect a yoga workout with mindfulness and yoga practice is common among many of my good friends.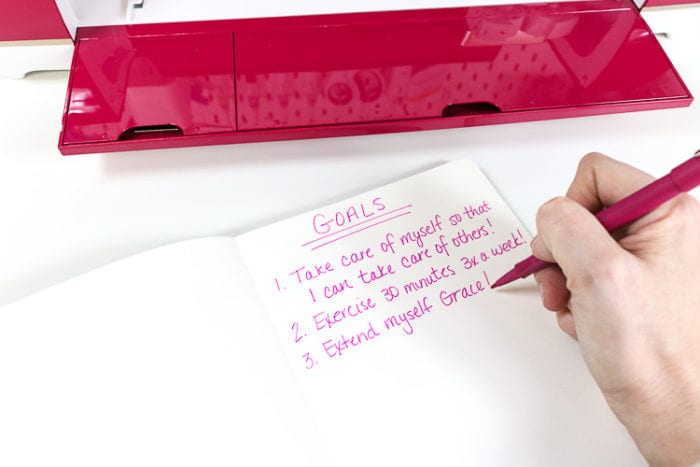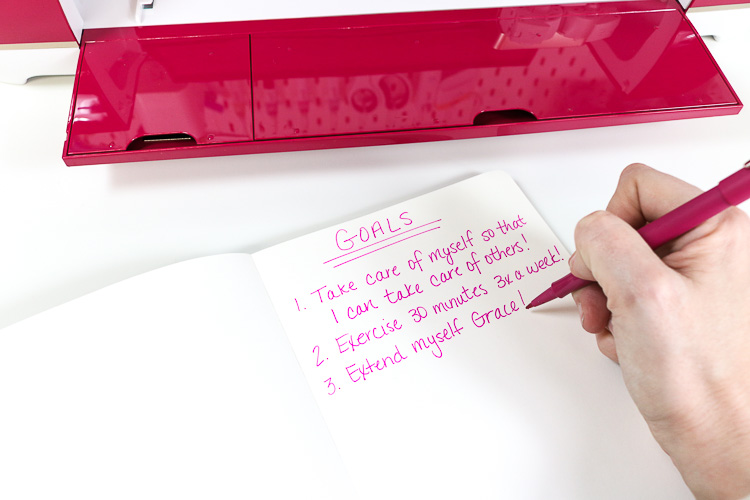 This custom journal is great to add gratitude and goals each day. I made this with the same Cricut I am making the yoga mat today!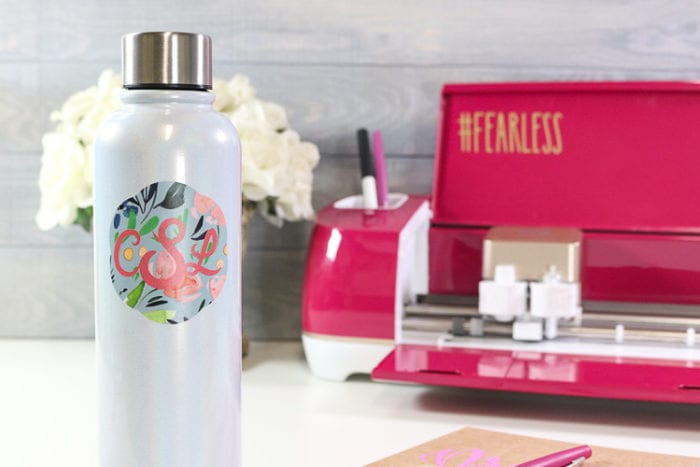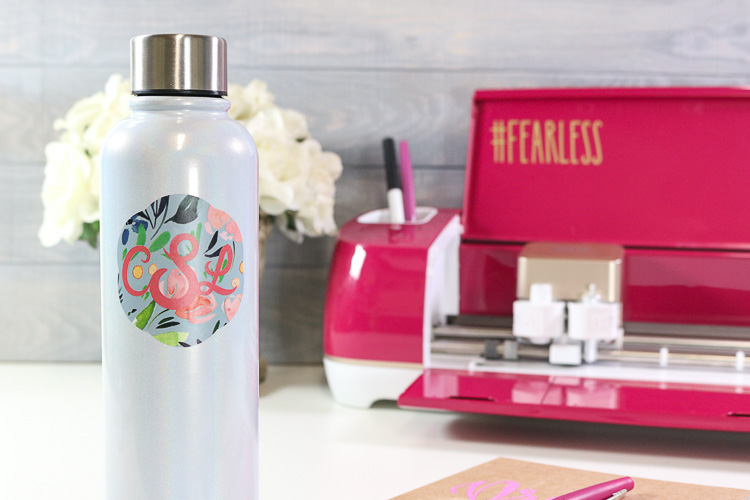 My second project was a Monogrammed Water Bottle with layered adhesive vinyl. On the crafty side, I showed you my tried and true tips for layering adhesive vinyl the easy way using the most beautiful patterned vinyl from the Natalie Malan collection exclusive to JOANN's. Personal side: Take that time to drink water, take a walk, eat healthy meals. Invest in you.
Today on the crafty side I am showing you how to use iron on to make a custom yoga mat with the new EasyPress 2 Rose Bundle! Yes, you can use iron-on with a foam yoga mat, I will show you how! On the personal side, I hope you combine the journal, water bottle, and yoga mat (or whatever your form of relaxation is) and do it! Take the time. Go to the class, meet for lunch, and read the book. Take time for yourself!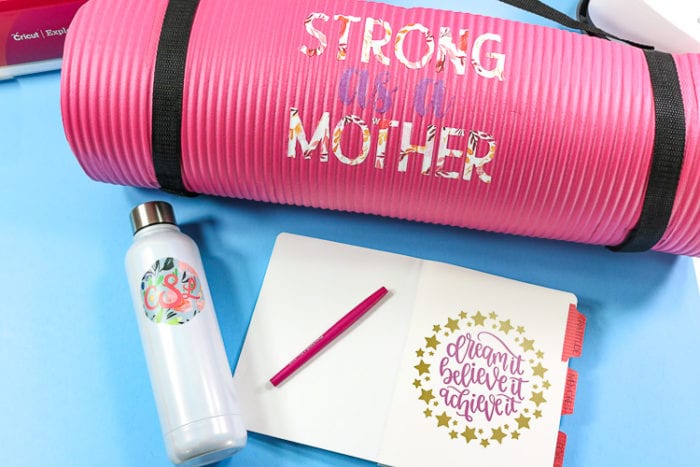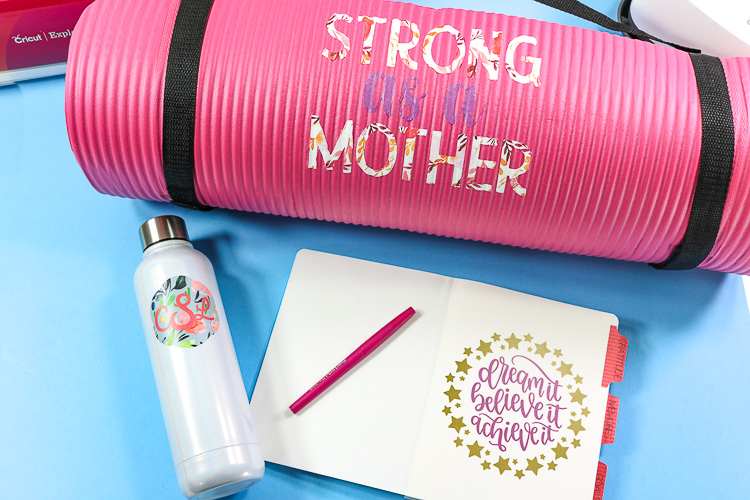 The custom-made yoga mat, water bottles and journal make a great self-care thoughtful gift idea!
Who Needs a Custom Yoga Mat?
Custom mats are perfect for spicing up your own yoga mat or making the perfect gift for your yogi friends, yoga teachers, or the yoga enthusiast in your life.
Imagine you are in a downward dog pose and you have a funny or uplifting quote on your yoga mat to give you motivation! It will take it to the next level!
If you are a yoga teacher you can add a custom logo yoga mats to sell branded yoga mats to your yoga class! Whether that be the fitness centers logo or the yoga studios logo, a custom-designed yoga mat is fun and further enhances your community!
Can I use Iron-on with a Yoga Mat?
The answer is yes! I actually prefer it! Regular adhesive vinyl can also be used, however, I found that iron-on is much more durable and lasts longer! I also prefer to work with iron-on over adhesive vinyl, but that is a personal preference!
Heat Press Settings for Custom Yoga Mat?
A protective sheet or a piece of parchment paper (both work great) is required and the idea is "low and slow". I use a lower temperature of 275F and press for 30-45 seconds. I normally start at 30 seconds and add on more time if needed in 15-second increments.
You can follow the interactive EasyPress guide to find out if the iron-on you are using is a cool or warm peel.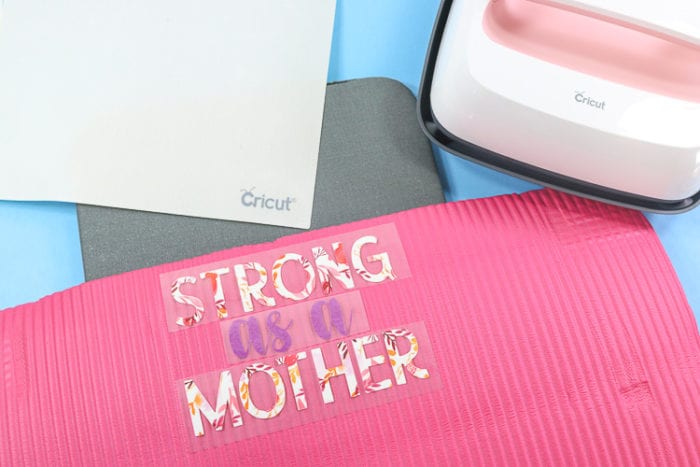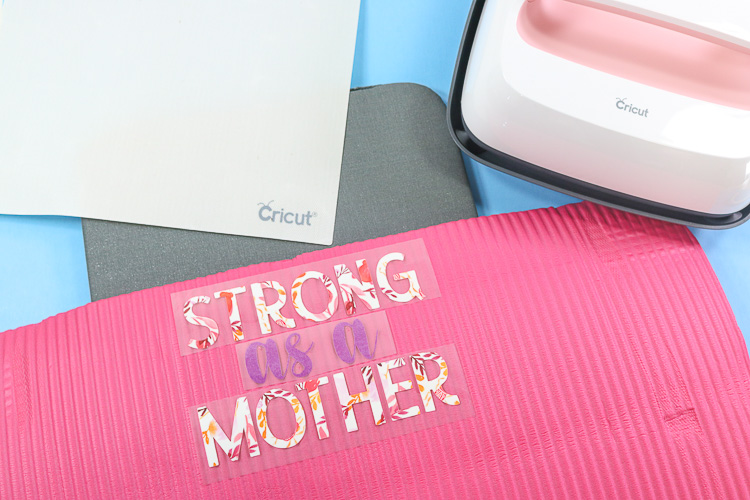 Custom yoga mat sayings:
Namaste in Bed
I don't do yoga, yoga does me
Yoga Pants, because Jeans are stressful
Thankful, Grateful, Blessed
You are one yoga class away from a good mood
If you fall, I will be there – Love, Your Mat
I'm not napping. This is Savasana!
"I'm not napping. This is savasana!
Supplies for Personalized Yoga Mat
How to Make a Custom Yoga Mat:
Time needed: 10 minutes
Below are the steps to use iron-on vinyl to personalize a foam yoga mat. You may find detailed tutorials with step-by-step photos for the EasyPress 2, Cutting and applying iron on here.
Choose a Design for your mat.

Choose from one of the many amazing designs in Cricut Access, which is Cricut's design tool, or add a name or monogram or upload a design of your own creations and size it appropriately for your mat.

You may use my file in Cricut Community here.

You can find my tutorial for How to Create a Monogram in Cricut Design Space here as well as details for How to Upload SVG's into CDS here.

Click Make It.

In the upper right hand corner, click the green MAKE IT button.

Mirror your Mats

On the mat scree, check the box to mirror your design and click Continue.

Cut the Design

Place the iron on, shiny side down onto a LightGrip mat (blue) Connect your Machine and select your material by moving the knob on the Explore Air 2 to IRON-ON. Load the mats and cut the iron on.

You may find detailed instructions for cutting iron on here.

Weed the Design

Using a Weeding hook, remove the excess iron on leaving only your design.

Iron on the Design

Set your EasyPress 2 to 275F and 30 seconds. Place your yoga mat on the EasyPress Mat, place the iron on where you would like it, and cover with parchment or a protective sheet. Press with the EasyPress. Carefully remove the clear carrier sheet from the iron-on custom yoga mat design.

Here you may find detailed instructions on using the EasyPress 2 and also for correctly applying iron on.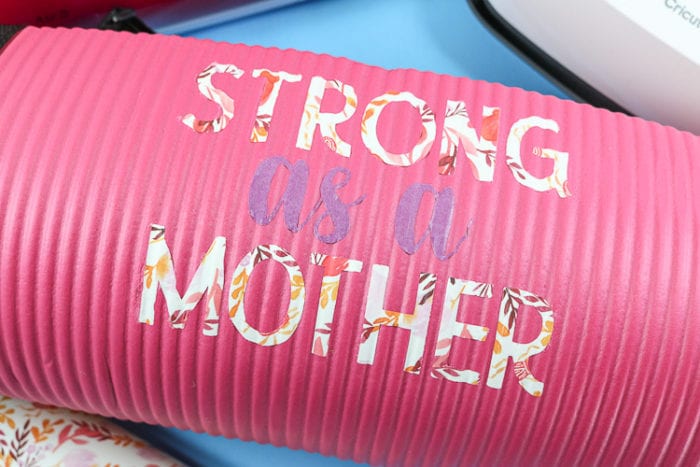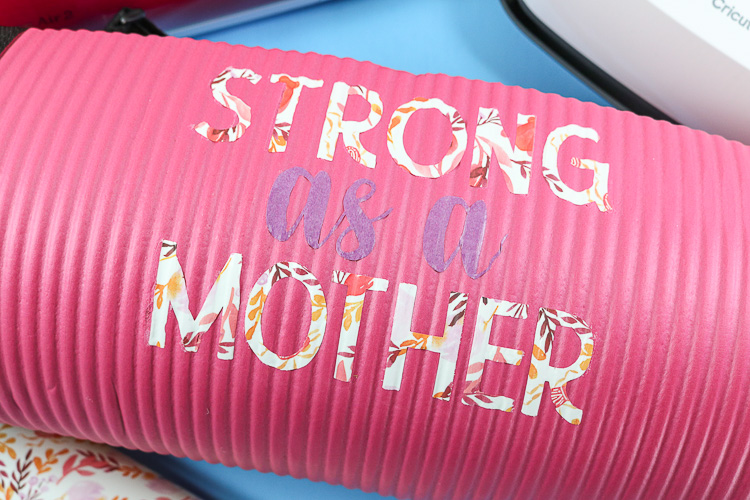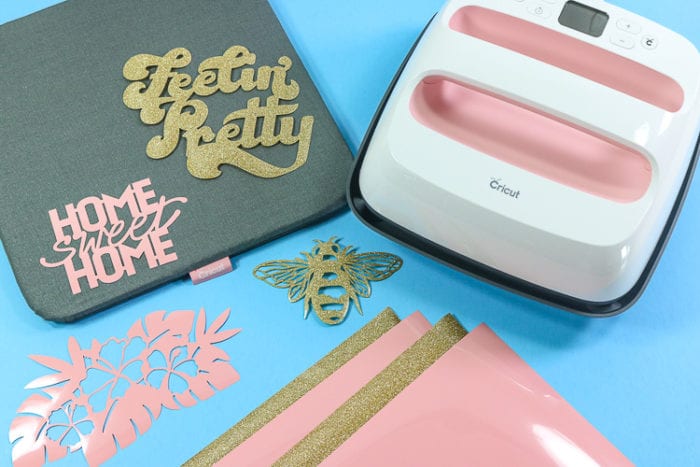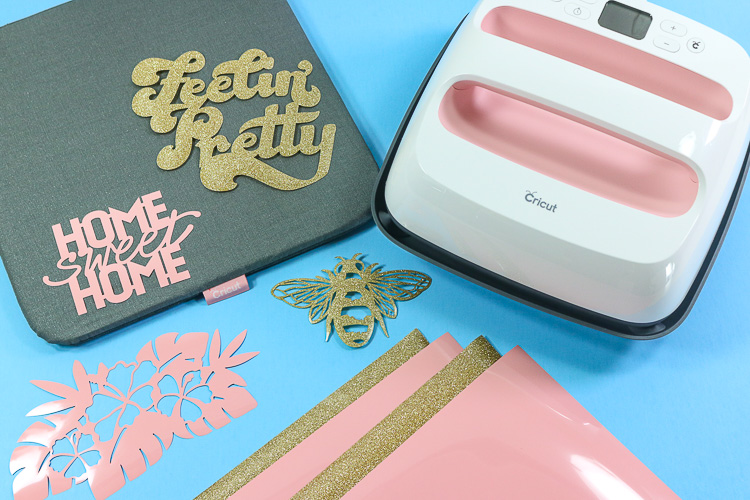 Pin How to Make a Custom Yoga Mat