Cricut Infusible Ink sheets are the new kid in town for everyone who loves to use iron-on! This post will detail How to Cut Infusible Ink Transfer Sheets and some Tips and Tricks for handling this newest crafting material!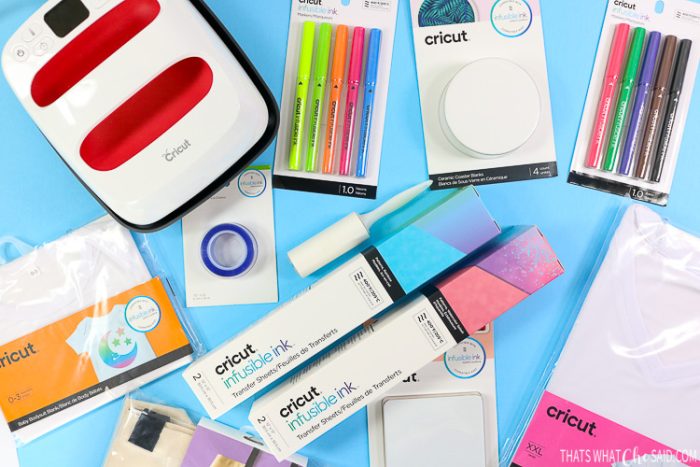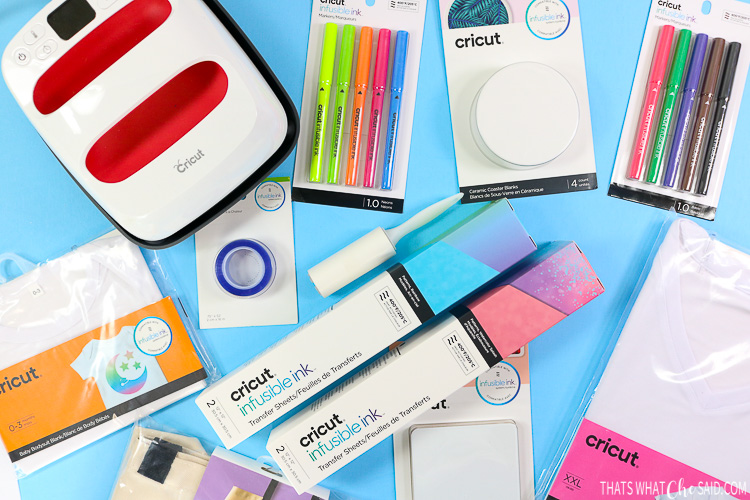 What is Cricut Infusible Ink?
Unlike Iron-on, Cricut Infusible Ink undergoes a chemical reaction with heat and infuses into your crafting blank becoming one. No seams, layers, cracking, peeling or flaking! Only Vibrant colors and patterns and seamless design are left behind! You may also hear this process referred to as sublimation.
Cricut Infusible Ink consists of sheets of this special ink in solids and patterns as well as Infusible Ink Pens that can be used to create permanent projects paired with the Cricut EasyPress or other heat press.
If you are new to Infusible Ink you can check out my Getting Started with Infusible Ink post where I answer the basic questions and then some about this new product! You will be up to speed and ready to hit the ground running!
Notes about Infusible Ink:
You must use special blanks for Infusible Ink sheets and markers. Fabric with a high polyester count, sublimation blanks which are coated in polyester and necessary.
You may not use an iron for application. Infusible Ink requires a Cricut Easy Press 2 or Heat Press.
Today we are specifically going to be talking about the Infusible Ink Transfer sheets. I will save the markers for their own post! Let's create a design and correctly cut and weed it, shall we?
Important Notes about Infusible Ink Transfer Sheets
The infusible ink layer resembles that of a paper layer and then has a clear carrier sheet (similar to regular iron-on)
The color of the infusible ink layer will appear dull and muted when you remove it from the box! Don't worry! When you apply it the colors will transfer brilliant and vibrant!
When handling Cricut Infusible Ink Transfer Sheets be sure that your hands are clean and dry and free form all oils and lotions. Wet or oily hands will leave impressions on the ink that will transfer to your project.
The transfer sheets are rolled & sealed in a protective wrapper inside the paper box. Be sure to set aside the butcher paper that is included in the box. You will need this when you apply your design!

This post may contain Amazon Associate and other affiliate links.
As an Amazon affiliate, I earn a small commission from these links at no additional cost to you.
Supplies for Cutting Infusible Ink Transfer Sheets
You may find a huge selection of Cricut Infusible Ink Products and Supplies in my Amazon Store! Check it out here!
Did you know I have a whole section of Cricut Videos over on my YouTube Channel? Screencasts on how to use Design Space Features, Projects tutorials, and more! I'd love for you to hop over and like my channel!
This video above will go all the way through applying on a baby bodysuit which will be discussed in greater depth in How to Apply Cricut Infusible Ink on T-Shirts.
Don't Miss Out!
Get new Cricut Tutorials, Product Announcements, Project Ideas, SVG Files and more straight to your inbox!
How to Correctly Cut & Weed Cricut Infusible Ink Transfer Sheets
Time needed: 10 minutes
Learn how to cut Cricut Infusible Ink Transfer Sheets and correctly weed them to apply to your next heat transfer project!
Prepare your Design in Cricut Design Space

Choose your design in Cricut Design Space. Find a design from the Cricut Library or you may upload your own SVG. Resize to fit the blank you are applying it to.

Click Make It in the upper right corner.

***BE SURE TO MIRROR YOUR DESIGN!***

Similar to Iron on projects, you need to MIRROR your design on the mat screen of Design Space. Be sure to mirror each mat!

Click Continue in the lower right corner.


Place Infusible Ink Transfer Sheet on Standard Grip Mat

Place the transfer sheet with the liner side down. The liner side is the shiny side of the transfer sheet. Carefully smooth out the sheet and make sure it adheres to the mat.

Connect your Machine

Choose which Cricut machine you are using from the dropdown menu in Design Space. All Cricut machines (Joy, Cricut Explore Air Family, Maker) are capable of cutting infusible ink transfer sheets!

Enter Material Type into Design Space

If using a Cricut Maker, simply select "Browse all Materials" and choose Infusible Ink Transfer Sheet.

If using a Cricut Explore Series machine, turn your knob to custom and then select "Browse all Materials" and choose Infusible Ink Transfer Sheet.


Load the Mat

Load the mat by pressing the flashing arrow button and be sure to check that you have the fine point blade in the B slot of the machine carriage.

Cut your Transfer Sheet

Click the flashing C go button and let the machine cut your design. Click the flashing arrow button again to unload your mat.

Remove Transfer Sheet from Mat and Trim Excess.

The best way to remove your sheet is to flip the mat over and peel the mat away from the design versus the design off your mat.

Trim any excess, unused material leaving only your design.

Carefully Roll the Design

Roll the design between your hands to separate the cut lines and make them more visible and easier to weed.

**It's OK if some of your cuts have gone through the carrier sheet.**

Weed the Excess Transfer Paper

Using your fingers, weed the excess transfer paper leaving only your cut design. If needed use tweezers for small areas. DO NOT USE THE WEEDING HOOK!

When using the weeding hook, it pushes ink into the carrier sheet which will then transfer over to your finished project.

Cut & Weeding Complete!

You now have a cut and weeded infusible ink transfer sheet design ready to be applied to your shirt, tote bag, coasters, Cricut Blanks, or sublimation blank. Check out my next post on how to apply Cricut Infusible Ink Transfer Sheets.
Check out this next post in the series and learn how to correctly apply infusible ink to your project!
In addition to the supplies mentioned in this post, you will need the following in order to apply infusible ink transfer sheets to your blank:
Lint Roller or Lint-Free Cloth (depending on blank)
Cardstock
Butcher Paper
Heat Press or EasyPress 2
Cricut EasyPress mat
Heat Resistant Tape
Scissors or Paper Cutter
Cricut's Heat Guide
MORE INFUSIBLE INK PROJECTS & TUTORIALS
[ess_grid alias="infusible_ink_projects"][/ess_grid]
PIN HOW TO CORRECTLY CUT & WEED INFUSIBLE INK