A few simple craft supplies and you can whip up this easy 4th of July Banner in less than 15 minutes! Join me for Patriotic Craft Lightning and get your red white and blue on!
Patriotic Decorations are awesome because you can use them for Memorial Day, 4th of July, Labor Day and Veterans Day if you are here in the United States!
I love the versatility of banner decor! You can use it on your mantel, on the buffet table at your 4th of July BBQ, string it over an open doorway or hang out by the pool!
4th of July Banner Supplies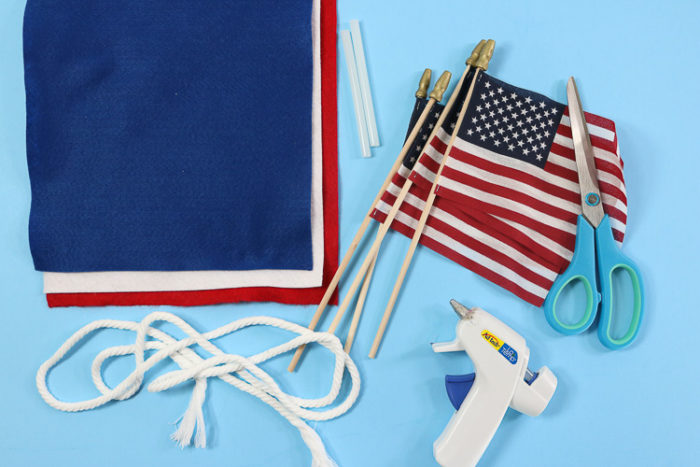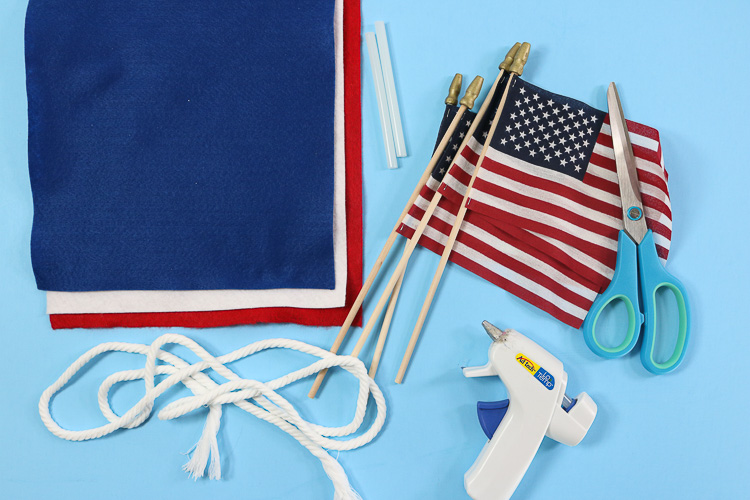 How to Make an Easy 4th of July Banner
Time needed: 15 minutes

A quick and easy Patriotic Banner to show your love for the red, white & blue!
Remove Flags from the Sticks

The small flags are normally used for waving at parades or sticking in flower pots or your yard. Carefully remove the small staples that are attaching the flag to the stick.

TIP: Want to do something with those sticks from the flags? How about turning them into these fun patriotic parade wands!

Cut Felt into Strips

I folded the felt sheet long ways and cut down the center. I then cut 3/4″ strips from of the halves. You can also use pinking shears to make the edges more decorative.

Attach Felt Strips onto Rope

Fold your length of rope in half and add a red white and blue strip to the center mark of the rope. I tied them on top of one another so they fan out and look like a firework.

Attach Flag

Move over 3″ from the felt knot and use hot glue to apply the flag to the rope. Repeat on each side of the center knot. End with felt knots.

Trim Rope and Hang

Leave extra rope to hang, trim and hang in your desired location.
YOU MAY ALSO LIKE:
PIN 4TH OF JULY BANNER HERE