Today I am sharing this simple Cookies for Santa Plate & Glass that I whipped up in a matter of minutes due to a small little confrontation by the oldest small person.  Please read below!
So I have to start out with a little story.  Freddy likes sweets.  Like as in, I make a batch of cookies on Saturday morning and by Saturday early evening the said batch of cookies will be gone.  That time frame is including Freddy showing self-restraint.  If he weren't trying not to eat them, they would be gone in an hour.  He also munches.  A LOT.  Especially at night.  So Michael will go to bed only to wake up and find that his daddy has eaten all of the powdered sugar donuts, pop tarts, animal crackers and teddy grahams.  When we buy replacements at the store Michael is sure to give me these exact directions when loading specific items in the cart, "Mom…HIDE these from Daddy!"  I am not even kidding.  He will bring me things that Freddy had been munching on (whatever is left) and ask me to put them in the "high" cabinet.  (The cabinet I put things in that Michael shouldn't be eating because he can't reach it without a chair), not even thinking that his dad is tall enough to see in the "high" cabinet.  Poor little guy.  I abide, and we hide good things.
Son onto the subject of cookies for Santa, we had a similar conversation that resulted in this little project!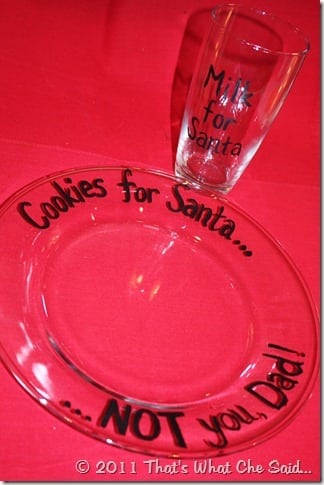 He told me that I didn't have to put "NOT you, Dad!" on the milk glass because, "Dad only drinks milk when he eats his cereal!"  Whoever said kids do not have a clue obviously has never met Michael!
Items Needed:
Plate
Glass
Paint
Paintbrushes
I found this plate and glass at the Dollar Tree.  I removed the [email protected]*&! of stickers on them.  Seriously, I cursed them while removing.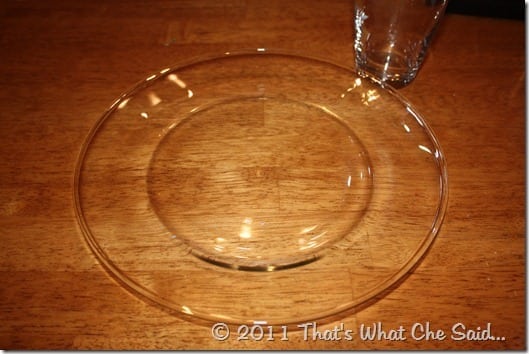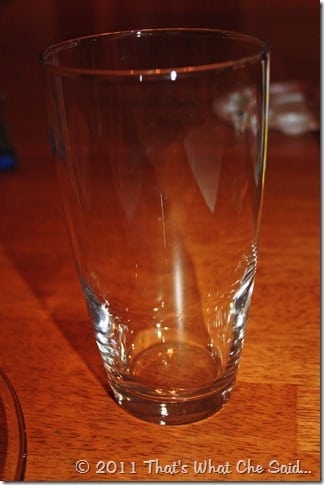 Next using some of that awesome new paint from Ms. Martha Stewart herself, I hand painted the phrase on.  Did you know that if you let the paint cure for 21 days it is then top-rack dishwasher safe??  Seriously, I love this paint!
You know you can also do this with your fancy-dancey Silhouette machine but you all know I don't have one and I will not whine to you (in this post) about not having one!
Sorry I didn't have any cookies to stage this with…and I thought it'd look funny with milk in the glass with no cookies on the plate…so envision your favorite cookies on the plate!  Thanks!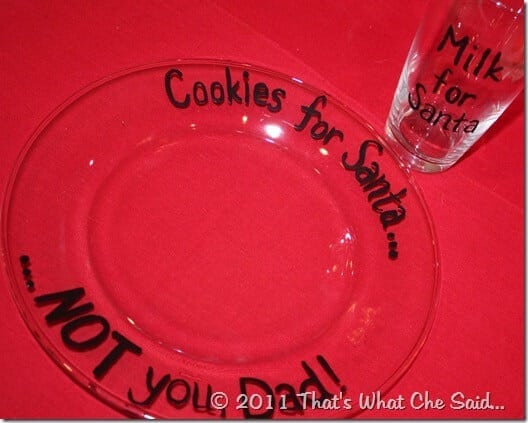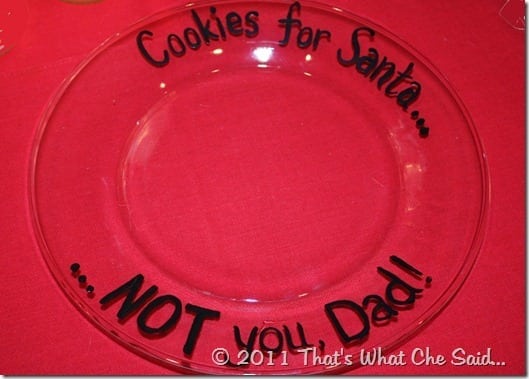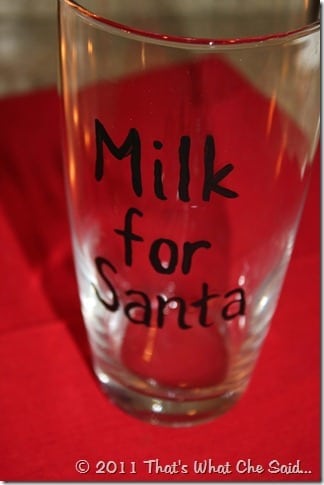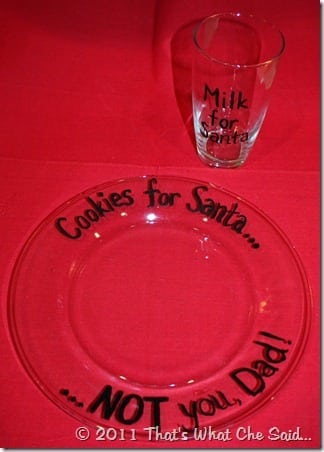 Thank you so much for joining me for my 25 Days of Christmas Series!  If you want to catch up on any of the past 24 projects you can do so HERE!  I will also keep the button in my sidebar for a bit.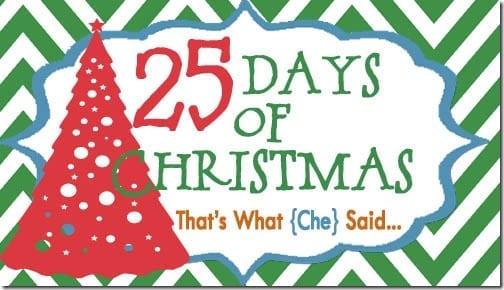 Don't forget to check out my Holiday Happenings Link Party.  I am keeping it open through the New Year so you can link up your New Year's projects also!  Can you believe 2012 is just around the corner??