I shared a sneak peak of my personalized Cookies for Santa Plate when I shared the awesome Silhouette Deals that are happening right NOW, through Dec 8th.  Today I am going to show you how I made my wording curved to wrap around my plate and share some hints I learned.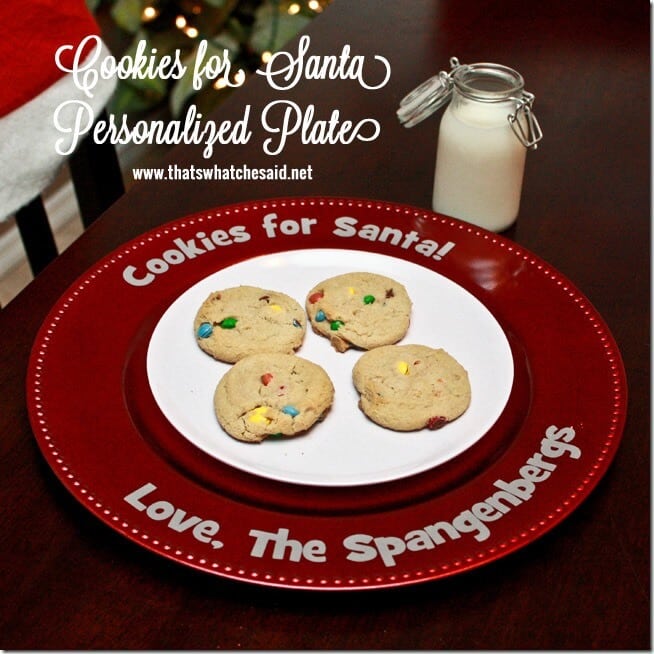 Supplies Needed:
Charger Plate (Dollar Tree)
Vinyl (I used Silver)
Transfer Paper
Ruler
scratch paper and pen
OK so we have to talk numbers here first.  In Silhouette software you use a circle to make your arc so we nave to have the right sized circle in order to look correct on our plate.  We can't just measure the plate because then our letters wont' be centered.  We can't just center them without figuring out how tall our letters will be so we have to make a calculation first.
First you will have to measure your plate's diameter.  So just edge to edge.  Like measure from the 9 to the 3 position on the clock :)  Write that number down.  Next you will want to measure about how tall you want your words to be.  I chose 1 inch to make it easy.  Finally I measured the width of the "lip" on my charger.  The area I am putting my words.  Write that number down too.
So to calculate your magic number for your curve do this calculation (its not hard!):
Width of the Lip of the Charger – height of letters  = margin
Diameter of Plate – Margin – (2)  height of letters = magical curve number
So for my 14" Diameter plate with 1" words with a 2 " lip,  my calculations are as follows:
2" =1" = 1 inch margin
14 inch diameter – 1 inch margin – (2)1 inch height of letters = 11 inches is my magical curve number.
I then made a screencast to show you how easy it is and explain it a bit better.
Create curved or arched words using your Silhouette Studio Software!
I
I used my transfer paper to then position the vinyl on my plate and smooth it down!  My kids are so excited about it!  I just added a plate I already had to the center since I am not sure those chargers are food safe! 
Don't forget about the amazing Silhouette Bundle Deals that are happening right now!  You can get yourself a machine at KILLER prices right now!  Also all supplies are
40%
off with
FREE SHIPPING
over on orders over $25.  Now is a great time to stock up on mats, blades and to try some of those awesome kits you've had your eyes on!   Use code CHE at checkout to get the deals!  You can shop here:  
https://www.silhouetteamerica.com/black
If you need any other Silhouette Project inspiration you can check out all my Silhouette Projects here! 
 I'd also invite you to head over to Colleen's fabulous blog and get her tutorial for this beautiful tree skirt!  Oh my!  Just Paint It is my source for all things paint.  Colleen is just amazing!  I highly recommend checking out her beautiful work!