I shared this tutorial over at Lines Across' 'Craft Stash Bash" a few weeks ago!  I thought I'd share it on here.  Here is my post on how to make this adorable Fabric Scrap Summer Wreath!
Rachel's "Craft Stash Bash" was created to use using what we already have!  I love it!!  Rachel is a smart cookie!!  Let's get started, shall we?  Today I am excited to share a fun way to use up some of your fabric and ribbon stash!  If you are anything like me then you always pick up more fabric than you need for a project, have acquired spools and spools of ribbon for projects, and get giddy at the fabric remnant section of your craft store!  Let's put it too good use and spice up our front door at the same time!
Let's make a Summer Scrap Wreath!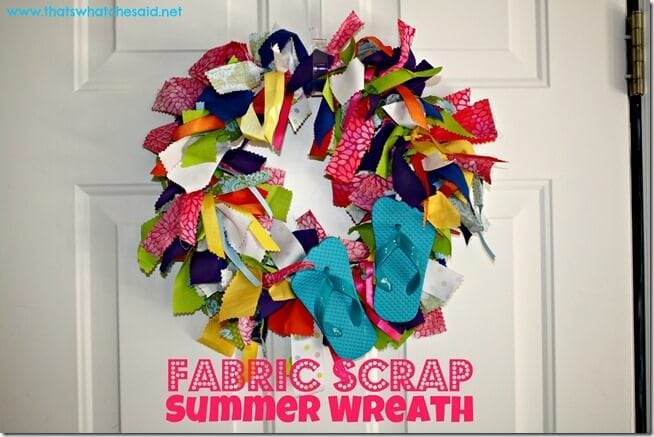 Items needed:
Wire Wreath Form
Fabric Scraps
Ribbon Scraps
Flip Flops
Hot Glue Gun/Glue Sticks
1.  To start off, I dug out a wire wreath form that I had purchased for…well…I'm not sure exactly what I purchased it for except that I purchased it with good intentions! ;-).  If you don't have a wreath form don't worry!  You can make one from foam insulation like I did for my Halloween Ghost Wreath or you can make one from a regular old wire hanger, like I did for my Christmas Ornament Wreath!
2.  Next, hit your fabric and ribbon stash!  Pick out appropriate colors and patterns that are bright and colorful!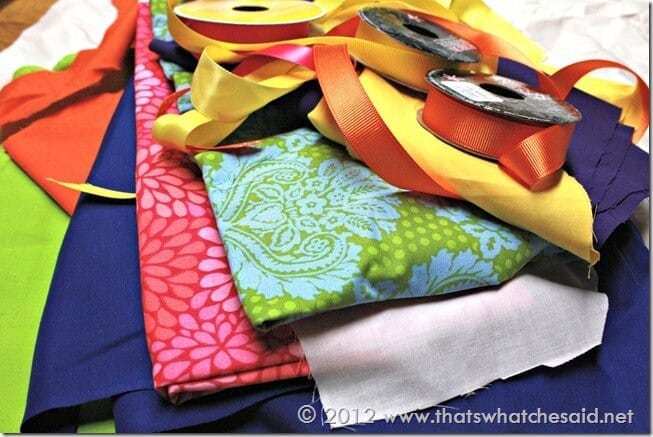 3.  Cut your fabric and ribbons into strips!  I used my pinking shears to give them some texture.  I used all different widths and lengths of strips!  Whatever you have!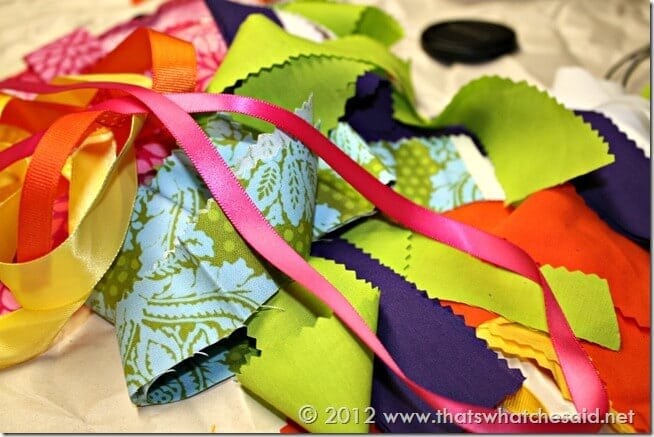 4.  Tie the strips onto the form.  However you like. Just tie them on!  Yep, that easy!
5.  I then hot glued a small pair flip flops right to one of the knots of a fabric scrap!   This is the only item I purchased!  But I got mine for less than $1.  (Use child sized flip flops)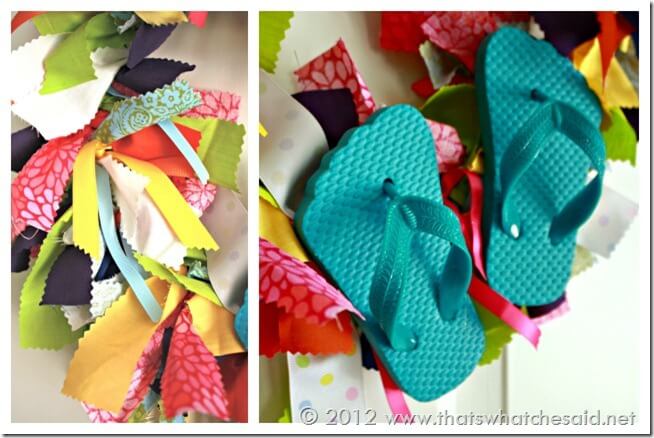 Hang and enjoy your cute summer fabric scrap wreath!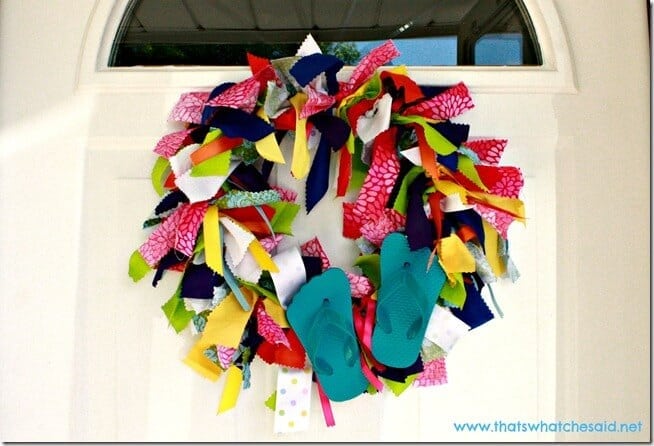 You can see the other crafts stash posts over at Lines Across.  The bash is going on all month long!  My post was the first one so there are some great ones posted since!  
Also don't forget you can catch up on all the Holiday Wreaths I have made while you are here!
Linking Up Here