If you are a fan of the salty and sweet treats then this Shamrock Puffcorn Crack is calling your name! Salty puffcorn mixed with white chocolate creates an explosion on your taste buds. It's so delicious you will become addicted! This is the St. Patrick's Day Treat to make.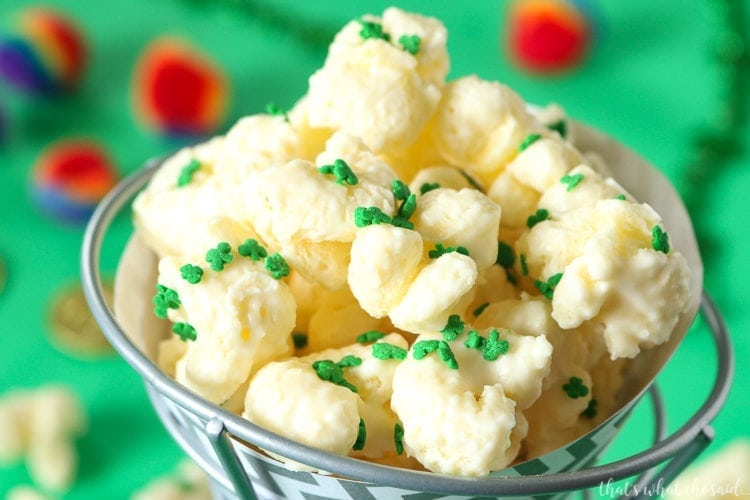 I love the sweet and salty mix treats.  Probably why I love these Pretzel Bites so much!  Same idea but with a different item in the snack aisle…puffcorn!  Have you heard of it?  It's like if popcorn without the kernels met Cheese Puffs without the cheese!  They are delicious.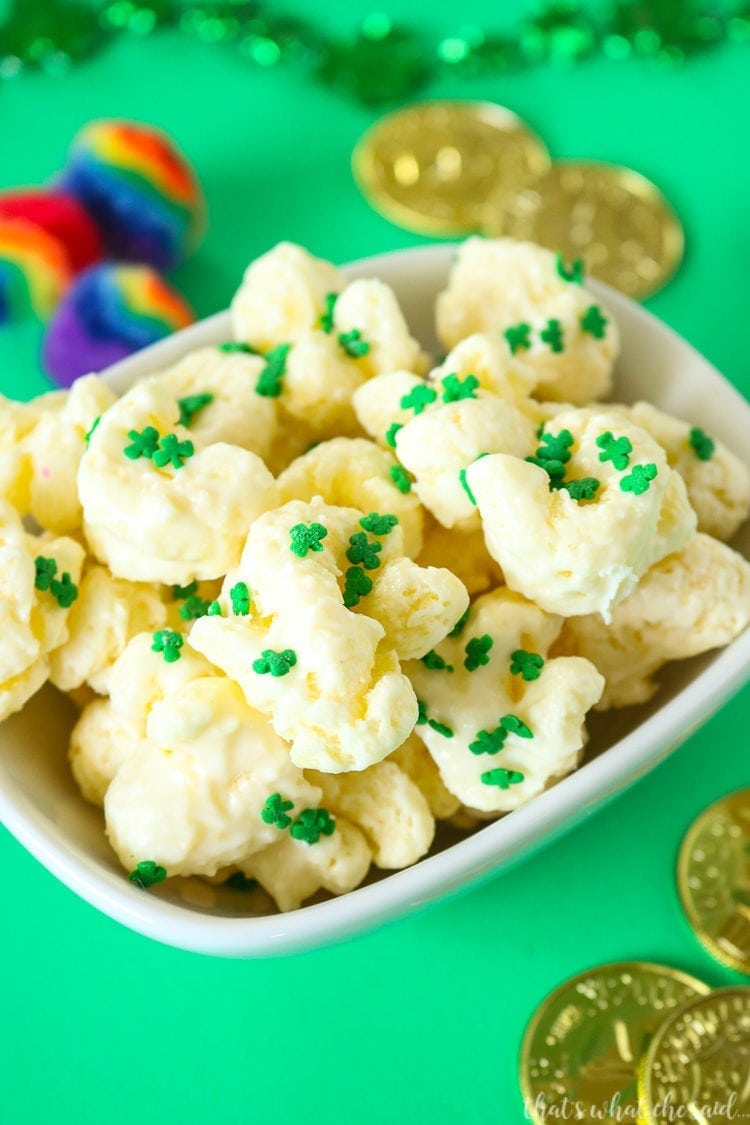 Cover that salty buttery goodness in white chocolate and you have the perfect marriage of salty and sweet!  Add in some Shamrock sprinkles and you have Easter Puffcorn Crack!  The perfect snack for class parties and Easter get-togethers!
I used Ghirardelli White Melting Wafers.  If you are going to go, go big!  They melt like a dream and taste amazing!  You can also use candy melts or white almond bark.  The candy melts melt thicker than the other two do in my opinion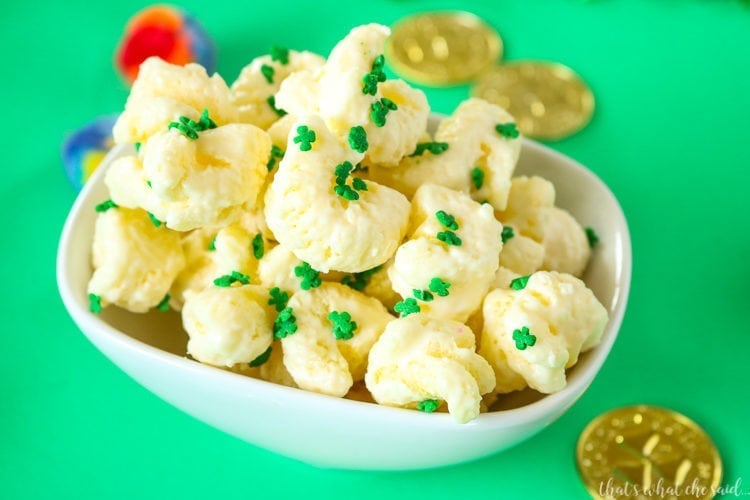 Items needed for St. Patrick's Day Treat:
This is so simple, melt the chocolate, pour over the puffcorn, spread on cookie sheet, add sprinkles, let chocolate firm up, eat all of it.  I told you it was easy and that last part is no joke!
I like to add the sprinkles after I cover the puffcorn in chocolate and not before so that the sprinkles themselves are not covered in chocolate.  I like to see the sprinkles as they are however if you don't care then everyone in the pool and mix it all at once!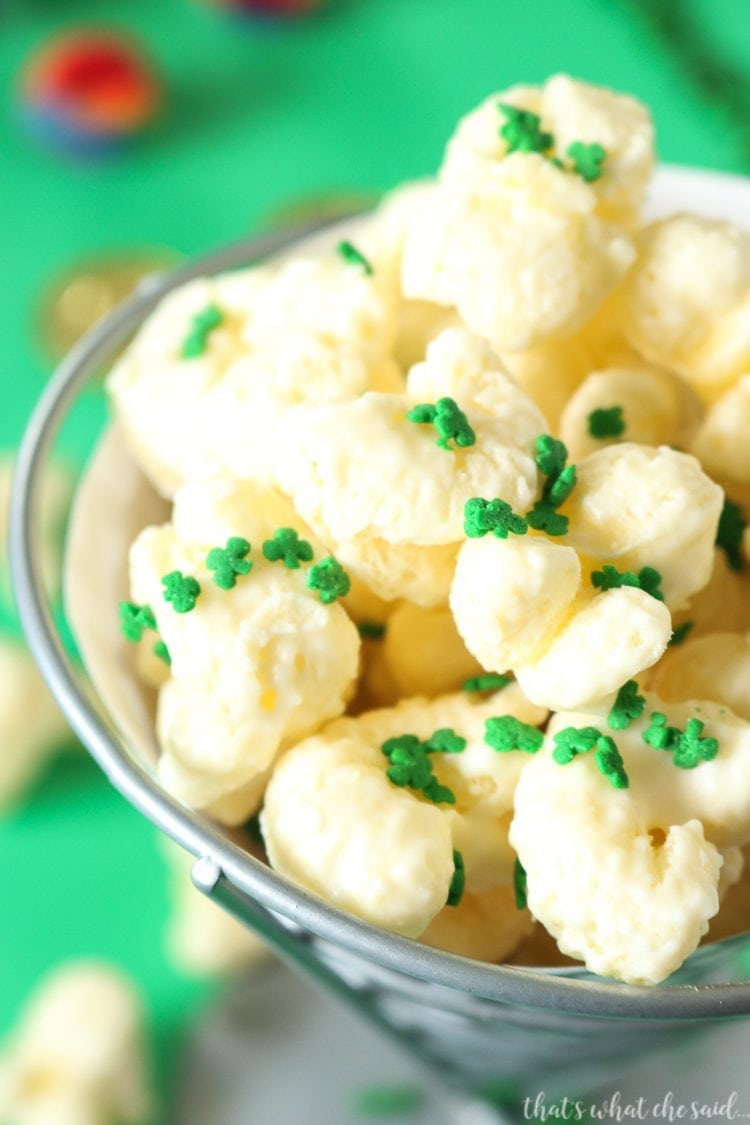 Shamrock Puffcorn Crack Recipe
St. Patrick's Day Puffcorn Crack
The brilliant combination of sweet and salty turned into a fun and simple Easter treat! This is so good you will become addicted!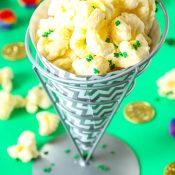 Print
Ingredients
1

cup

White Chocolate

,

Ghirardelli White Melting Wafers

6

cups

Chester's Puffcorn

,

Butter Flavor

Shamrock Sprinkles
Instructions
Melt the white chocolate melting wafers according to package instructions.

Add puffcorn to a large bowl. Drizzle white chocolate over the puffcorn and using a spatula carefully fold the puffcorn to coat with chocolate. *You can also dump into a paper bag and shake!

Spread the chocolate covered puffcorn on a parchment lined cookie sheet inot a single layer. Separate the pieces as best you can.

Add sprinkles while the chocolate is still melted.

Allow to cool. Add to air tight container and it will last up to a week. (However you will eat it all and it will not last that long! -wink! )
More St. Patrick's Day Ideas you may like:
[posts_grid type="" columns="3″ rows="2″ order_by="date" order="DESC" thumb_width="225″ thumb_height="300″ meta="no" excerpt_count="0″ link="no" link_text="" category="st-patricks-day" custom_category="" tag="" custom_class=""]
PIN SHAMROCK PUFFCORN CRACK RECIPE