Whenever you have to spend more than 15 minutes in the car, with kids, you know you better come prepared! These I Spy Road Trip Bingo Cards are easy preparation for you and lots of entertainment for your kids on long (or short) car rides!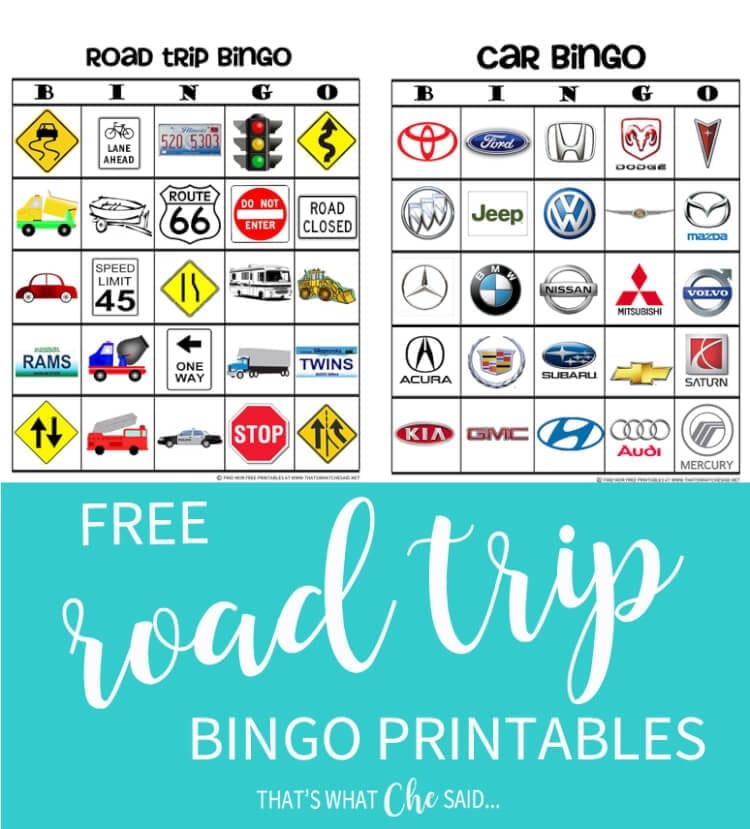 I Spy Road Trip Bingo
If you can remember, I talked about Michael and his 8,973,672 questions he asks in the car.  If he asks you a question, and doesn't like the answer, he will ask that SAME question, OVER AND OVER again until you give him an answer he is comfortable with.  (It took me a few times to figure this out)  He does not accept "Because that's just how it works",  "Because that's just what happens" or "Because I said so" as acceptable answers.
Michael:  "Mom, why is grass green but dirt is brown?"
Me: "Because that's how it was made to look"
(few second pause while he thinks about your answer)
(Insert annoying "incorrect buzzer sound") WRONG!
Michael: "Mom, why is grass green but dirt is brown?"
Me:   "Because they are different things so God made them with different colors so we can tell them apart"
(few second pause while he processes that information)
(Insert annoying "incorrect buzzer sound") WRONG!
Michael:  "Mom, I know grass is green and dirt is brown so we can tell the difference, but WHY are they different?"
Me: BANGING HEAD AGAINST STEERING WHEEL BECAUSE THIS IS MINUTE 28 OF THE QUESTIONS AND I CAN'T TAKE ANYMORE!!!!

So I answer how any Chemical Engineering mother would answer, "Michael grass and most other plants are green because they contain a pigment known as chlorophyll.  Dirt is brown because there is about three times as much carbon in soil than in plant biomass. "
(much longer pause)
Michael: "But Mom, why is the Dirt Brown"  He says the words "Dirt" and "Brown" S-l-o-w-l-y, if in fact I didn't understand what he was asking me.
And this is where I calmly and collectively THROW THIS DAMN BINGO CARD INTO THE BACK SEAT AND SAY, "NO MORE QUESTIONS!!!!!  FIND THE THINGS ON THE CARD!!!!!" #momwin
Along with the exceptional knack of question asker, Michael can also remember EVERY make of car and furthermore, WHO drives each make.  "Daddy drives a Ford like Grandpa P & Uncle Buddy.  Grandma drives a Chrysler and so on and so on.
I started off making a basic BINGO board in PSE.  I will give this free printable too in case you want to make your own board.
and for the Car Bingo side I added all the different makes of cars.
On the flip side, I made a Road Trip Bingo and added things you would find along the highway.  I added the license plates of the 3 states Michael has lived in  (and recognizes) as well as some construction equipment because let's face it…there is ALWAYS highway construction going on!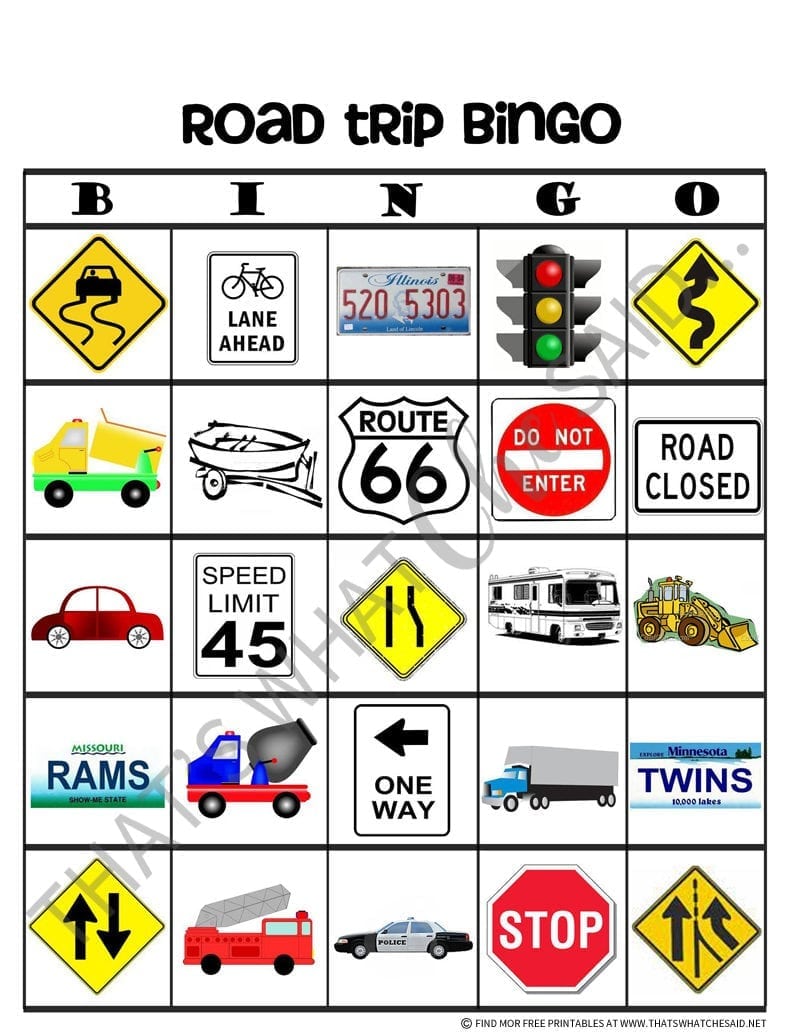 Supplies Needed for Road Trip Bingo:
Home Printer (or a local print shop)
Make-Up applicator sponge. (if dry erase markers don't have attached eraser)
I printed these, one on each side, of a piece of white cardstock.  I use the HP Envy 5540 Wireless All-In-One Printer and signed up for HP Instant Ink.  I highly recommend this!    Never run out of ink at 11 pm when you have to print out your kid's report! Or when you have to print these out the night before your road trip…because let's face it…#procrastinatorsunite.
After printing, I laminated it using my most favorite laminator and a 5 mil sheet.
I used some adhesive Velcro and wrapped the loop side around a dry erase marker and the hook side to a clipboard.  I then used a makeup foundation applicator sponge as an eraser!  I attached that also using adhesive velcro and wah-lah…Road Trip Bingo in the car!  Combines two great games, "I Spy" and "Bingo"  And finally…silence…until Ryan wakes up that is!

Download Road Trip Bingo Cards Here
New members can sign up for my emails and gain access to this printable and my entire freebie library!  Current members may use the password to access the files without signing up a gain!  I only email when I have new content to share and keep your information safe!
This download is for personal use only!
You might also like:
If you like this road trip bingo, don't forget to pin it!