Good Morning friends!  I am back to share another great appetizer idea that would be perfect for your super bowl party next weekend!  These are sophisticated and super flavorful and a great way to get your kids to eat some vegetables!  I actually made these for Ryan's Second Birthday Party and called them Mickey's Magical Wands and they were eaten up like candy!  They do taste amazing but the fun name also helped them disappear! ;-)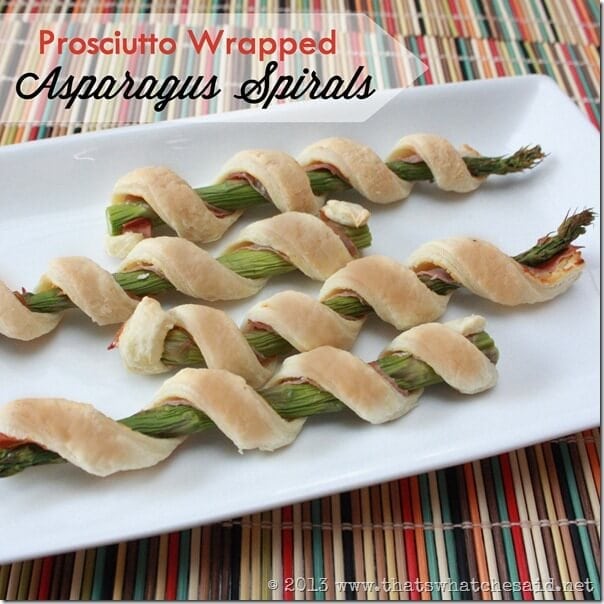 These appetizers are great because they are more than just finger foods!  They are wrapped in puff pastry so they are super buttery and filling!  There is an entire asparagus spear in there so you are getting some vegetables and the prosciutto and the cheese give them the perfect salty balance to the buttery puff pastry! 
Another plus for these:  you can make them the day ahead of time!  Everyone who entertains knows what a great help make ahead dishes are!  Get them prepared and wrapped and store them in the refrigerator covered tightly and they bake up as good as if you made them the hour before!  They are sophisticated so you can branch out from your regular taco dip (not saying taco dip isn't AWE-SOME…it's just common!) and try this new snack!  You will be amazed at the reviews you get from your party goers!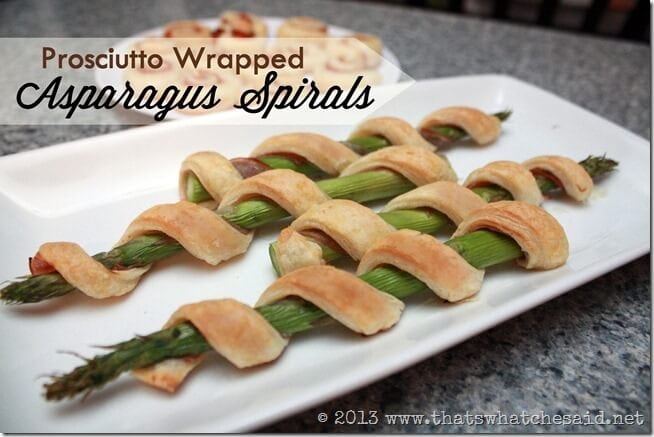 As ANOTHER bonus!  If you have any extra puff pastry, you can just cut it in strips, then in half lengthwise and roll the dough, cheese, and prosciutto into spirals and make a tasty treat without the greens.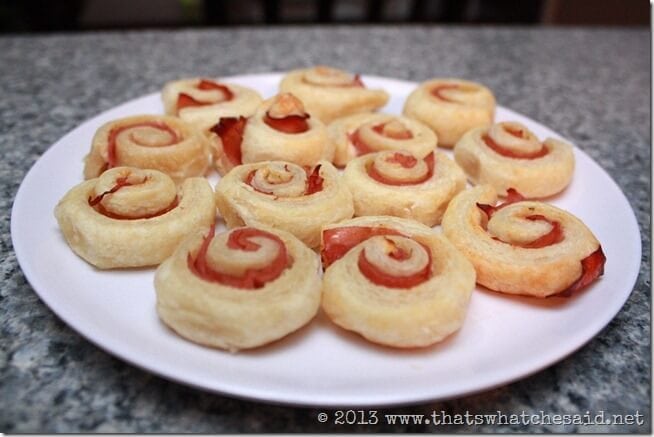 My kids actually eat the asparagus ones first and then turn to these when the others are gone.  Although my kids are kind of strange…they love vegetables!  (not complaining, just stating a fact!)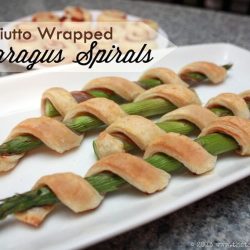 Prosciutto Wrapped Asparagus Spirals
Print Recipe
Pin Recipe
Ingredients
1

package

Puff Pastry

,

thawed (foundfreezer section), 2 sheets

1

round container

Laughing Cow spreadable Garlic & Herb Cheese

8

slices

prosciutto

32

fresh asparagus spears

,

ends trimmed
Instructions
Begin by preheating your oven to 425 degrees F.

Open your puff pastry sheets and unfold to make two square pastry sheets.

Spread 3 triangles of laughing cow cheese onto each pastry square. (6 triangles total)

Next cover your pastry squares with 4 slices of prosciutto each. 8 slices total

Using a pizza cutter, cut the pastry square in half, then in half again and repeat until you have 16 strips of pastry about 1/2" wide each.

Start by wrapping the pastry strip tightly around the asparagus spear and place onto a parchment paper lined baking sheet.

Repeat with remaining asparagus spears until you have all 32 complete.

Bake for 15-20 minutes or until puff pastry is golden brown.
You can also check out all my other Great Appetizers too!  Like my Sausage & Cheese Wonton Cups from yesterday or some fabulous Bacon, Bacon Dip with Beer Bread!  Do you follow me on Pinterest?  Well if not, I'd love for you to do so!  I have a whole entire board dedicated just to awesome appetizers!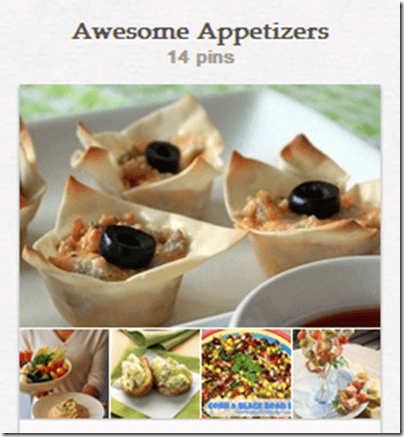 Linking Up to These Great Parties Hereand  The 36th Avenue | Today's Creative Blog