Here is a quick step by step tutorial on how to download embroidery files from your computer onto your embroidery machine to use for projects. This post will specifically discuss a Brother machine, however, the process is the same for most others!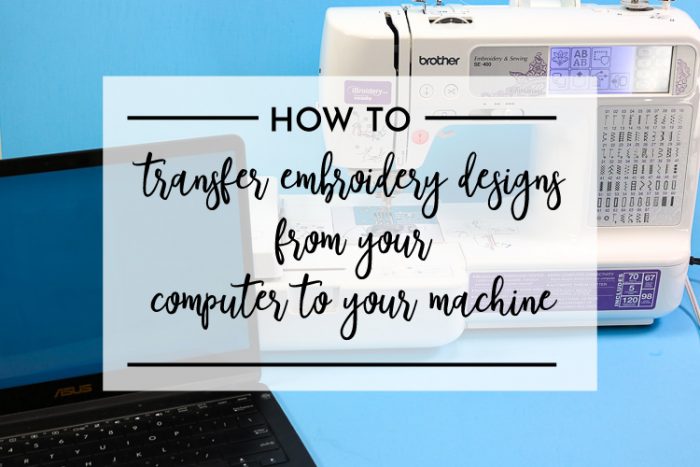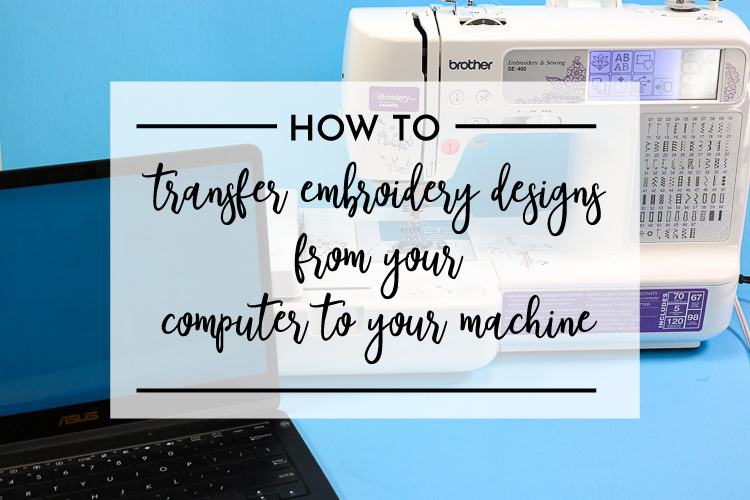 This post may contain Amazon Associate and other affiliate links.
As an Amazon affiliate, I earn a small commission from these links at no additional cost to you.
What is an Embroidery Design
We have talked a lot about SVG files here on this site and those are used for cutting machines like a Cricut or Silhouette to tell the machine where to cut.
Embroidery machines have files that tell the machine where to stitch. Embroidery designs are made up of dense stitches of different colors of thread that create a design.
What is an Applique Design
An Applique is when you take a shape or design in fabric and layer it on top of your final fabric piece. The layers are stitched together. Many times you finish the design by embroidering the edges with a satin stitch.
Applique Files will have several layers of different types of stitches to help you place your applique and embroider the edges for a completed look!
Where to purchase embroidery & applique designs:
Here are my favorite places to grab the cutest embroidery applique files! Different embroidery machines accept different types of embroidery files so be sure you read up which types your machine takes!
When you purchase them, they are normally offered in ALL the file extensions!
FIND MORE VIDEOS ON MY YOUTUBE CHANNEL HERE
How to Transfer Embroidery Applique Designs from Computer to Embroidery Machine
Time needed: 5 minutes
Step by step tutorial on how to get purchased embroidery applique designs from your computer onto your embroidery machine to complete your projects.
Download your Embroidery Applique File

I like to create a folder on my computer and keep all my embroidery files together in one location. I download all my purchases to this folder.

Connect data sync cord to your computer

Connect the USB end of the data sync cord (that came with your machine) to your computer.

Connect data cord to your machine

With your machine OFF, connect the square end of the data cord into the opening on the side of our machine.

Turn your machine on.

When you turn your machine on a window might open on your computer showing you the "contents" of your machine. If it does not open automatically, head to your file explorer and locate the external drive and double click to open it up.

Open Folder of Designs

Open your folder of designs we talked about in step 1 next to the open window of your machine that you opened in step 4.

Drag & Drop Designs

Drag designs from your folder into the machine's window.

Open Embroidery Menu on Machine

On the touch screen of your embroidery machine, select the icon that looks like an embroidery hoop. That will open a second screen that is your Embroidery Menu for your machine.

Upload your Design into your machine

From the Embroidery Menu, select the icon that looks like a computer with a data cord symbol. That will then open and show the designs that you added to the machine window on your computer.

Select your Design & Upload

Select the design you want and then click the upload button (pocket with an arrow in top right) to add it to your machine. A window will open and tell you the first thread color and stitch it will perform (remember appliques have many layers) You can now proceed to applique from here by pressing the Green button.

(Optional) Save your design to your machine

If this is a design you think you will use often, you can save it to your machine so that you do not have to do this procedure each time you need it. If it's just a one-off, I suggest not saving to leave room on your machine for popular, used often designs. To save click the pocket looking icon with the outgoing arrow in the right-hand button menu.
That is how you upload designs to your embroidery machine, specifically your Brother SE400 or SE600 machine. The SE400 can hold up to 12 designs or 512KB of data in its memory.
To see how much memory you have left or how much a design is taking up, let's look back at this photo of when we opened the window showing our designs. The first number is the designs memory usage and the 2nd number is what is left on your machine.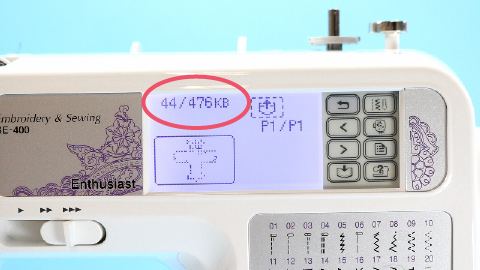 Tomorrow I will share my tutorial for how to make an embroidered applique using your embroidery machine! We will stitch up this cute airplane!
MORE EMBROIDERY PROJECTS YOU MAY LIKE:
PIN HOW TO TRANSFER EMBROIDERY MACHINE FILES