Remember back in June I posted about Ryan's Mickey Mouse Birthday Party?!?  Well today I am going to share how I made the MickeyMouse Head shape for all the decorations!!!  I used the same principal in Photoshop Elements also, so you can adapt if you aren't needing one for your Silhouette!
Here is a quick tutorial on how to make a Mickey Mouse Head shape using your Silhouette Software.  You can certainly adapt this method to make other shapes than Mickey…but Mickey was what I happened to be making so Mickey is what you get today :)
(I have the designer edition so my screen might look a bit different than yours, but I didn't use anything fancy to do this so you should still be able to follow along!)
–  Select the Ellipse Tool.  To make a perfect circle, you have to hold down the shift key while dragging your shape.  If you do not do this you will get an ellipse (oval) not a circle!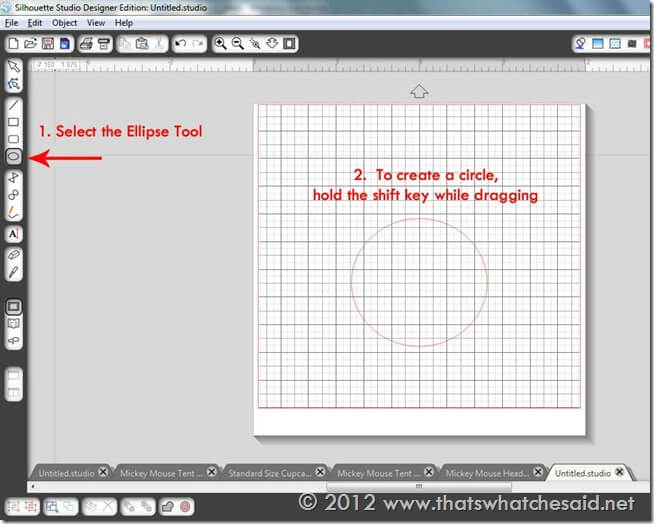 –  Next make a smaller ellipse for one of Mickey's ears.  (Don't worry if it isn't perfect size, we will resize/reshape it later! )  While the ellipse is selected you will see a green dot.  Use that to rotate the ellipse to the correct angle for Mickey's Ear.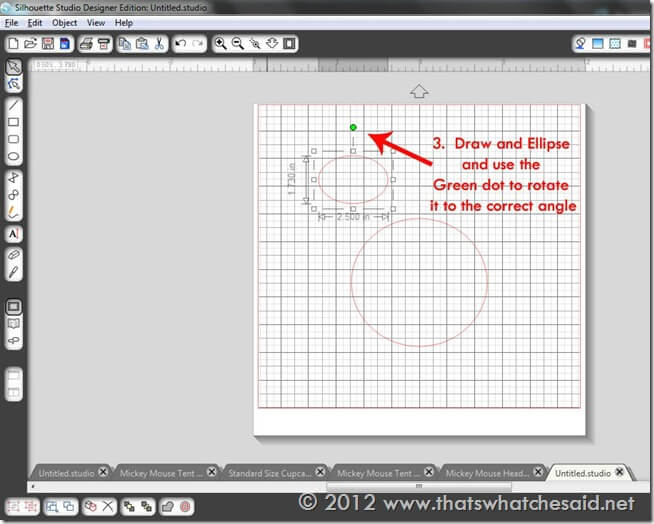 This next screen shot has several steps!
4.  First Re-size your ear now that is is positioned correctly.
5.  While you have the ear selected, click the "duplicate button" which resembles 2 boxes.  (you can also right click the shape and select duplicate also)
6.  Move the duplicated ear over to the other side of the circle and then you will need to flip it vertically so that it is a mirror image of the first.  You can do this by right clicking the duplicate ellipse and then selecting "Flip Vertically"  Make sure the two ears are level.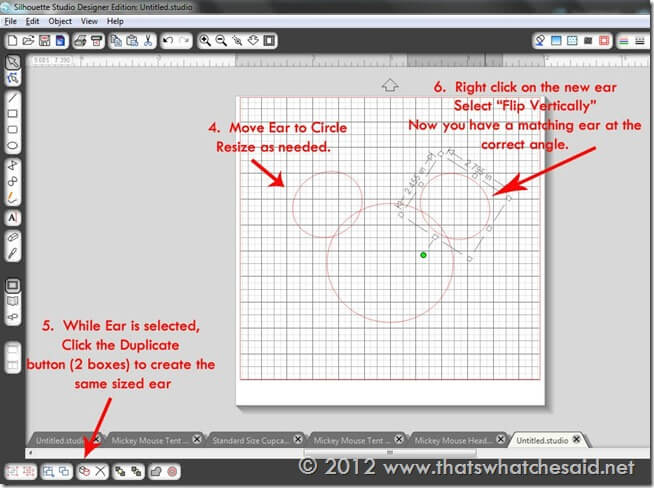 –  Now you want to make all 3 shapes into 1 shape. To do this, click the "Select All" button and then click on the "Weld" button.  This will weld all 3 shapes into one single shape.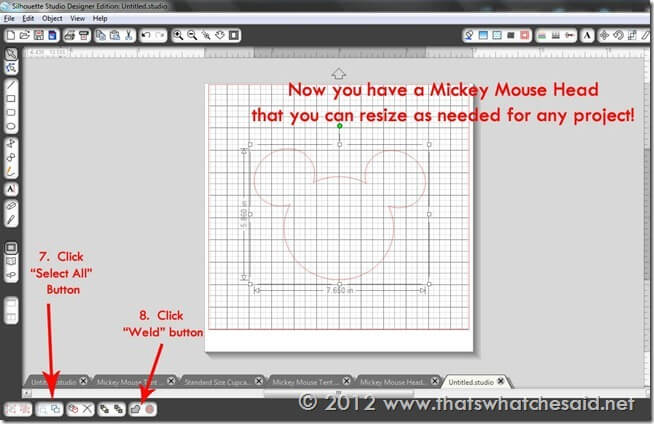 Now you can resize the single image (Mickey's Head) to any size you need for your different projects.  I did this once and used the same shape for everything I made for Ryan's Party, including the cute chalkboard labels for the Mason Jar Lids, his Mickey Birthday Banner , the Food Tent Cards and the Mickey Head on the Water Bottle Lables!
Enter your email address below and get my posts delivered right to your inbox! It's Free!!