Christmas is only 2 days away!  Has anyone given themselves a good pat on the back for being ready and prepared?  Having their gifts bought and wrapped?  Cookies baked and decorated?  Christmas cards sent with love?  Then you sit down with a nice cup of hot chocolate and got all snug on your couch with your favorite Christmas movie and then BAM!  This thought pops in your head, "OH CRAP, I forgot to get a gift for    (insert your recipient here)   "  Don't worry, it happens to the best of us!
Well if you want something quick, how about making my Holiday Puppy Chow, the most delicious Cinnamon Candied Almonds, even my Beer Bread recipe would be awesome in a jar!  Are you thinking your gift needs to be a bit "fancier" than just some snacks in a bag?  Well you can make them super cute for next to nothing!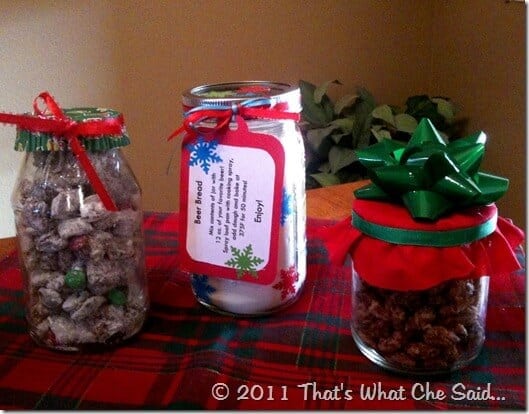 Use jars you have already!  Wide mouth jars are fantastic for packaging and you probably have  few in your fridge right now!  Salsa, pickles, olives, and spaghetti jars normally have wide mouth openings perfect for up-cycling to pretty packaging!
I used a salsa jar and packaged my cinnamon candied almonds.  To jazz up the jar I simply used a scrap of red fabric left over from my Santa Hat decorations and used a bit of hot glue to adhere it to the lid of the jar.  Then I hot glued a piece of ribbon around and topped it off with a regular old bow from my gift wrapping collection.  Use what you have!!!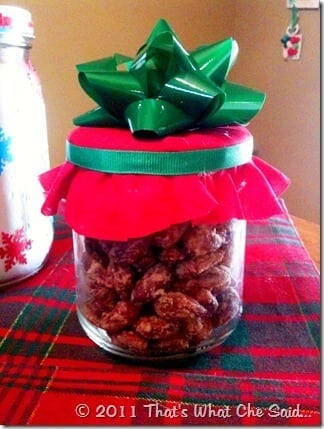 For the Holiday Puppy Chow, I used a jelly jar!  Smuckers to be exact!  Can you tell from the photo what is covering up the jar???  A cupcake liner!  How simple?!  I hot glued the cupcake liner to the lid and tied with a ribbon again.  A small dot of hot glue on the ribbon keeps it snug in place!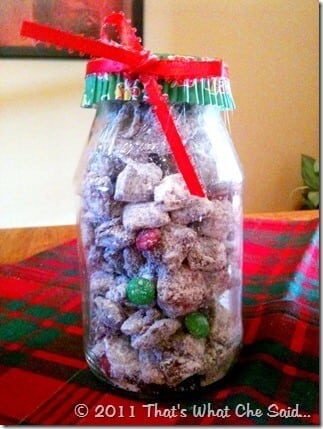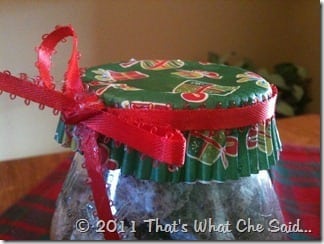 Last but not least, Beer Bread in a Jar!  You can find my recipe here!  Since it consists of just flour and beer you can add the dry ingredients to the jar with directions for your recipient to add their favorite beer!  I did purchase a jar for this one.  I couldn't find a jar in my fridge that would hold 3.5 cups!  I found this one at Hobby Lobby and bought when it was 50% off!  Do you see those pretty snowflakes, can you guess what they are?  VINYL!!!  Why should only people with fancy cutters get to use it???  I cut the snowflakes out with a Martha Punch and applied to my jar.  The vinyl is amazing to work with.  It is sturdy and repositionable and it is colored on BOTH sides…so after you make this beer bread, you can use the jar for a candy jar!  I loved playing with it!!
I attached a tag with directions for the beer bread!  I have attached the file so you can just download, print and attach yourself!  I kept the actual files plain white so that if you use this for an occasion other than Christmas you can just switch out your background color  of cardstock and they will work for you!
If jars aren't you thing, you can also wrap in small candy bags like I did for some of my Almonds and Hot Chocolate on a Stick.

Disclosure:  I received vinyl from Oh My Crafts, that I used on my Beer Bread Jar.  All opinions are 100% my own.  I loved the vinyl and would recommend you checking out their awesome selection!  Please click HERE to view my full disclosure.