Combine two desserts with this Cheesecake Frosting! The perfect frosting for any cupcake.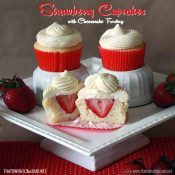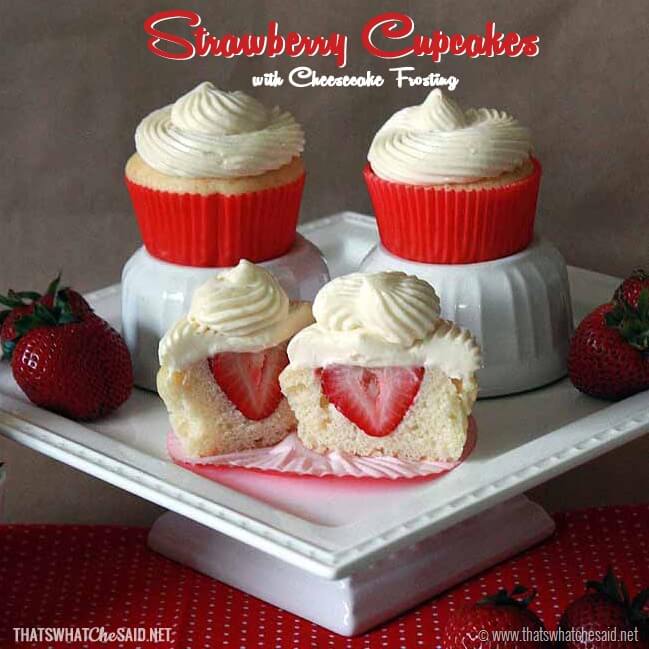 Strawberry Shortcake and Cheesecake happen to be two of my most favorite desserts!  Today I simply combined the two treats into one of the easiest and fun way to eat a dessert…as a cupcake!  These surprise strawberry cupcakes with cheesecake frosting are so satisfying and they will make you look like you are Betty Homemaker, while I show you how to make them in a snap!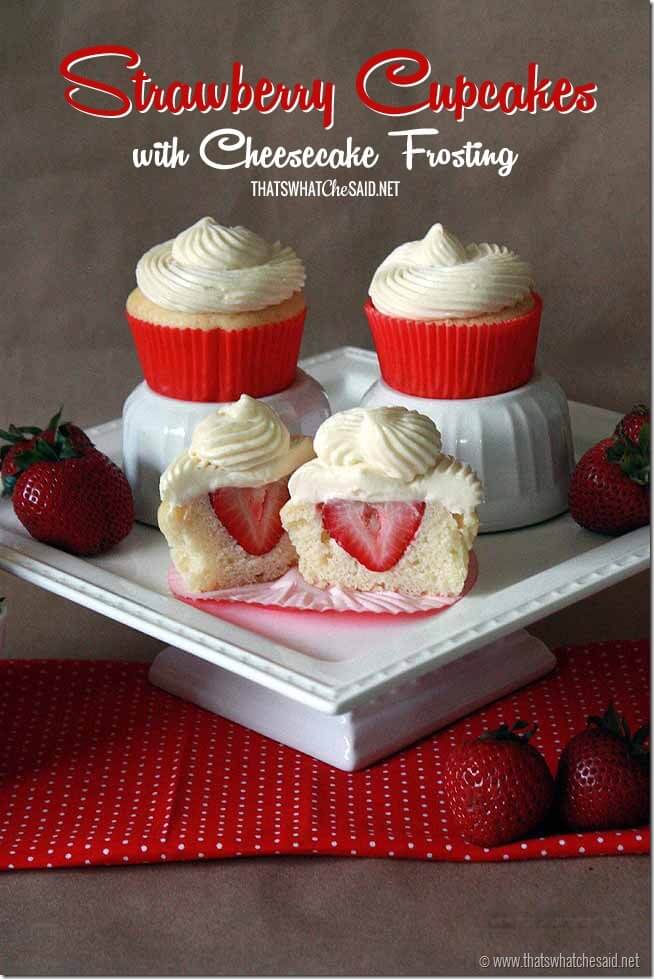 These may look like they took all day while in fact they took no longer than the baking time of the cupcakes!  Really!  I am busy and my kids are busy so I don't have tons of time to make everything from scratch!  I recently showed that when I made my adorable watermelon cookies, all from store bought ingredients! 
Today I am telling you that the cupcake itself is nothing more than a box mix of white cake!  So EASY!   Here is how I did it and I'll share my recipe for the frosting as well!
What You Will Need:
White Boxed Cake Mix (and ingredients on the box to make them)
Strawberries
8 ounces cream cheese, 1 package
2 tablespoons butter
1/4 cup powdered sugar
1 teaspoon Vanilla Extract
1 cup marshmallow fluff
Sharp Paring Knife
Piping bag and tip for frosting (optional)
How to Make Strawberry Cheesecake Cupcakes:
Follow the box directions on the cake mix.  Pour into cupcake pans. Bake.  Let cool. 
While those are baking, whip up some easy, peasy cheesecake frosting  (recipe below)  
Once your cupcakes are cool, size up a nice strawberry and cut the top off so it's flat on top.  Take your cupcake and using a small paring knife cut out the center of the cupcake to fit the strawberry.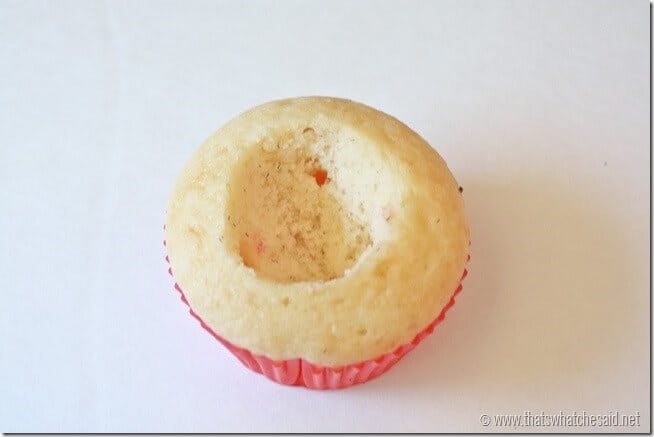 Then gently press in your strawberry.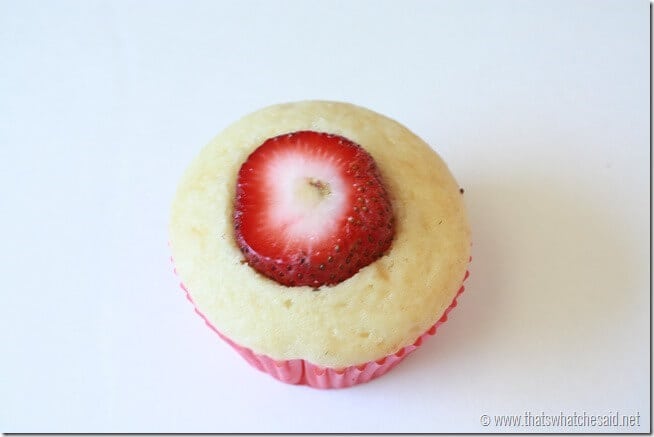 Using the largest star icing tip you have, pipe the icing in a giant swirl on top of the cupcake covering up the strawberry. Enjoy!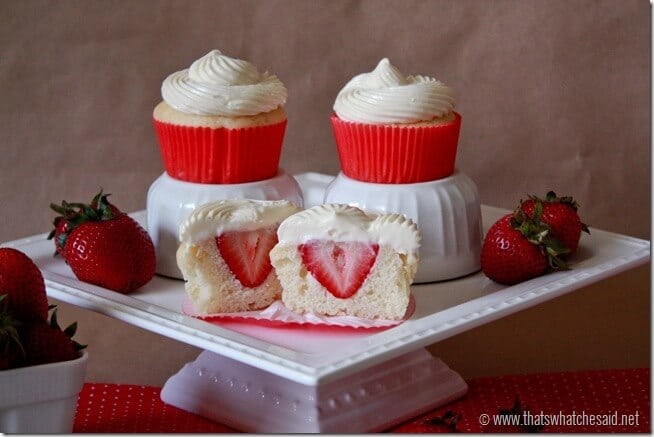 The cheesecake frosting is light and fluffy and not too sweet so it is the perfect accompaniment to the fresh sweet strawberry hiding inside! The white cake mix is perfect little house to hold that hidden strawberry and cheesecake goodness!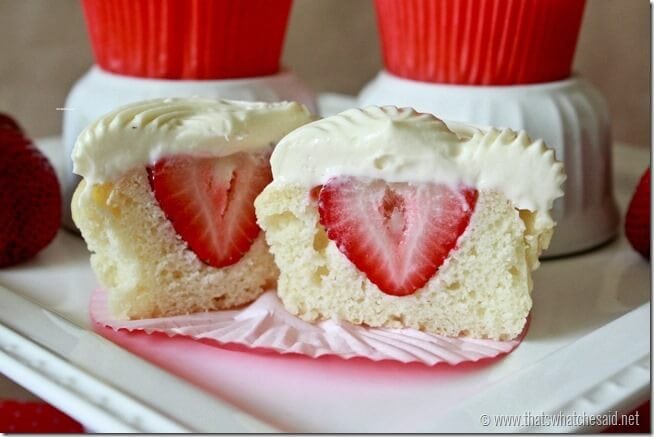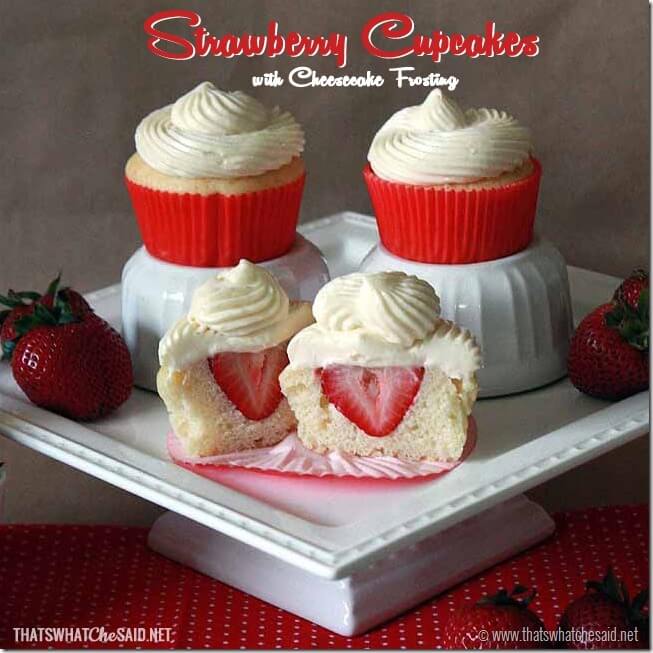 Strawberry Cupcakes with Cheesecake Frosting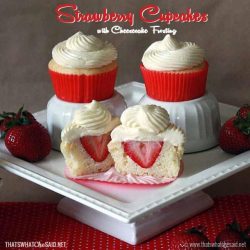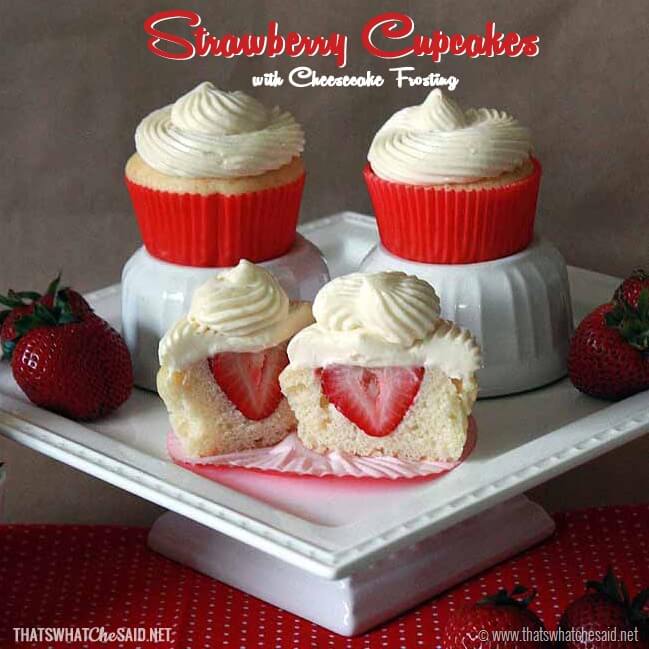 Cheesecake Frosting
Combine two desserts with this Cheesecake Frosting! The perfect frosting for any cupcake.
Print Recipe
Pin Recipe
Instructions
In a medium bowl, beat the cream cheese and butter until blended and creamy with a mixer.

Add vanilla and powdered sugar. Beat until incorporated.

Add marshmallow fluff and fold in the mixture by hand.

Spread on cupcakes or using piping tip and bag to frost cupcakes!
Notes
If using an icing tip and piping bag, it is helpful to chill the frosting before decorating! The icing will keep its form/shape better!
If you like this dessert you will also love:
Raspberry & Cream Frozen Dessert
Watermelon Rice Krispie Treats
Find all my cupcakes here as well as other delicious desserts!
Pin these Strawberry Cupcakes with Cheesecake Frosting