These easy and simple cupcakes are dressed up with a fresh strawberry & cream filling and topped with a powdered sugar dusting. Not too sweet and perfect for brunch, paired with coffee or for a light and refreshing dessert.
If you are looking for a fresh and easy dessert that is perfect for brunch, just sweet enough for an after-dinner dessert or that pairs perfectly with your morning coffee or tea, look no further than these Easy Strawberries and Cream Cupcakes! Pretty enough for a Valentine's Day dessert or to celebrate Mother's Day or even your favorite strawberry lover's birthday!
I am a huge Strawberry lover and sometimes I am just looking for a light and simple dessert option that is not as heavy as some other desserts! There is a time and a place for all desserts, don't get me wrong but this one screams spring!
Strawberry Shortcake Cupcakes scream sitting around with girlfriends chatting over coffee and tea and snacking on these! It screams the cutest Valentine treat or the perfect addition to an Easter brunch!
Let's also not forget these Surprise Strawberry Cupcakes with Cheesecake Frosting! They are some of my favorites also!
This post may contain Amazon Associate and other affiliate links.
As an Amazon affiliate, I earn a small commission from these links at no additional cost to you.
Strawberries and Cream Cupcake Ingredients & Supplies
Strawberry Shortcake Cupcake Ingredients
1 box cake mix, white was used however yellow, strawberry or chocolate are great too!
3 eggs, whites only
1¼ cup of water
3 tbsps butter, unsalted, melted
1 tsp Vanilla Extract
3 tsp strawberry extract, divided
3 cups strawberries, 2 cups diced, 1 cup sliced
1 cup Heavy Whipping Cream
¼ cup powdered sugar
Cupcake Kitchen Supplies Needed
How to Make Strawberry Shortcake Cupcakes
This recipe is really easy because we add a few extra ingredients to store-bought cake mix! So simple! Then we just whip strawberries into fresh cream to make the filling. Nothing fancy! Let's get started!
In a mixing bowl, we will combine cake mix, water, egg whites, vanilla & strawberry extracts, and butter and mix with a hand mixer until smooth. I used a white cake mix but you can use Strawberry, Yellow, or chocolate also!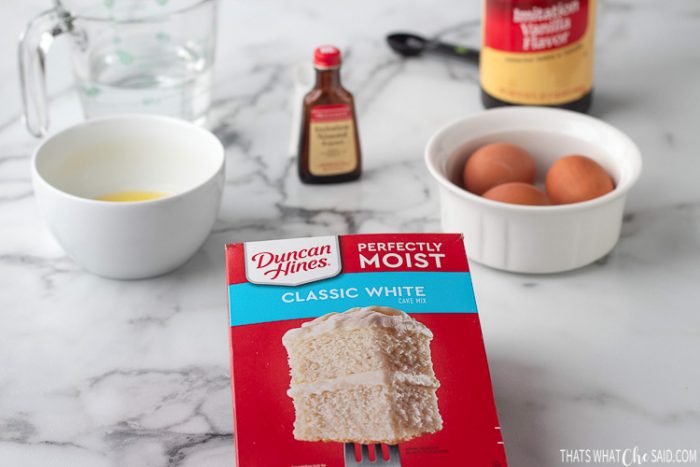 Fill a muffin tin that has been lined with paper cupcake liners until they are about 2/3 the way full. You will get 22-24 cupcakes depending on how full you fill the individual tins.
Next, bake those for approximately 15 minutes or so until a toothpick comes out clean after being inserted into the center of a cupcake!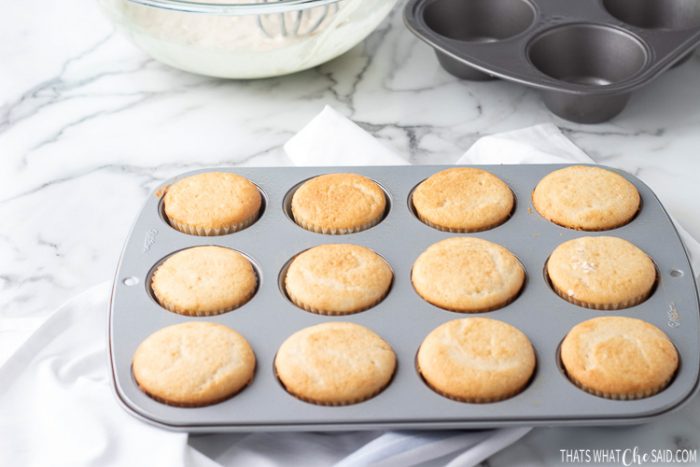 Let those sit in the pan for 5 minutes and then transfer the cupcakes to a cooling rack to cool until room temperature.
While those are cooling you can whip up the strawberry cream filling and cut the strawberry slices. You will need the whipping cream, strawberry extract and 2 cups of strawberries that have been diced. I like to dice them pretty small.
Use a hand mixer to whip the whipping cream, powdered sugar, and remaining strawberry extract until stiff peaks form.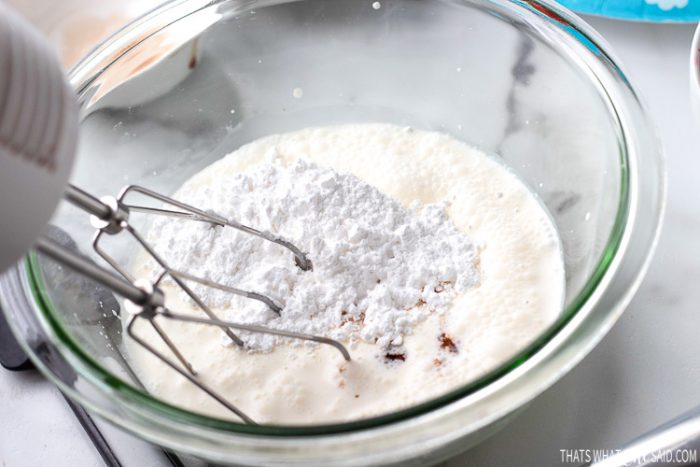 Next, you will fold in the diced strawberries with a spatula as to not deflate your whipped cream!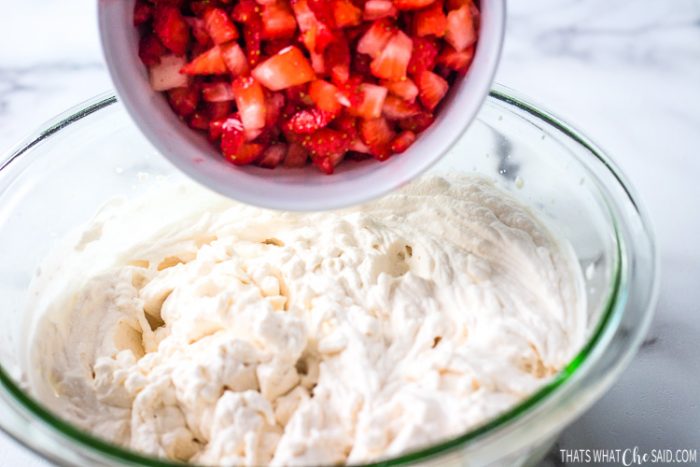 When well incorporated you will have your filling complete. Remove the hulls from whole strawberries and slice in thin slices to layer on top of the whipped topping.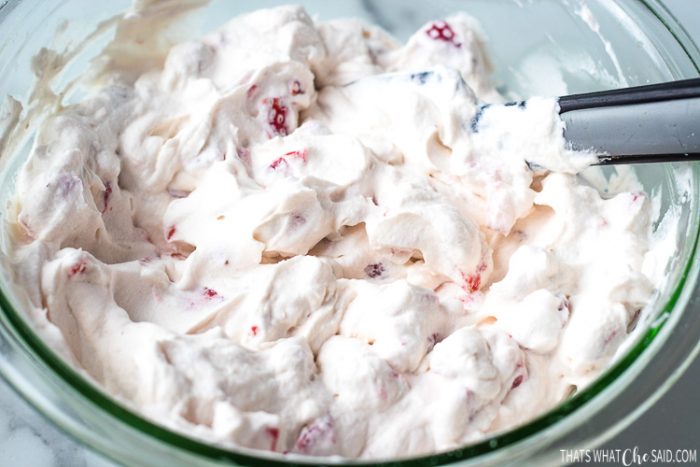 To assemble the cupcakes, you will first remove the paper liner from the cake and cut the cupcake about 1/3 of the way down. Generously add your strawberry cream filling to the bottom 2/3 portion and then layer fresh strawberry slices on top of the cream. Replace the top of the cupcake.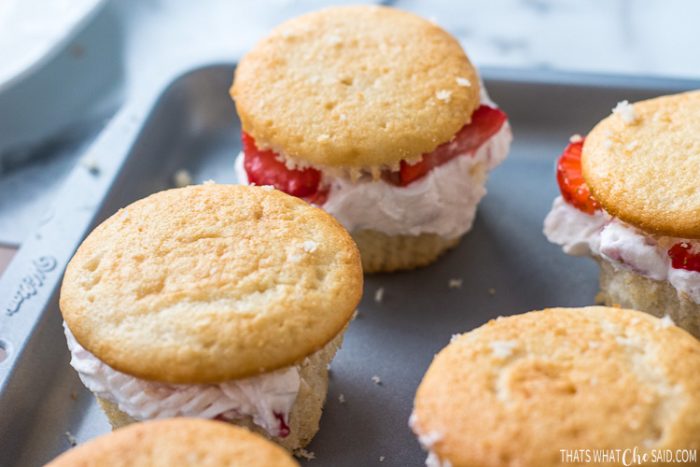 You can add the filling with an offset spatula or use a piping bag with a jumbo tip to pipe it on.
Finally, dust the cupcake with powdered sugar, using a wire sifter or simply your fingers!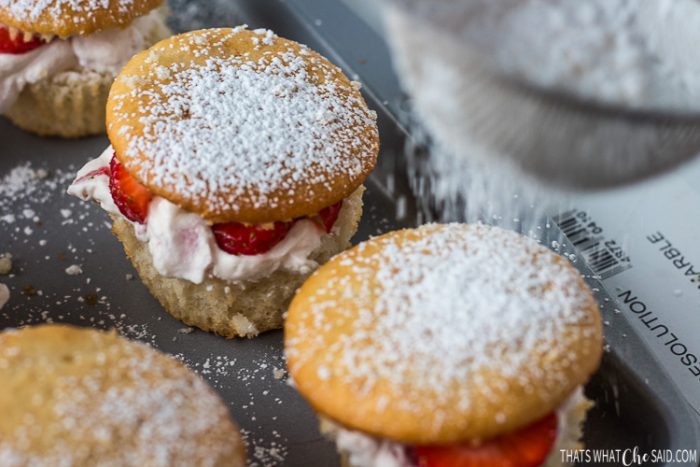 Now you have some beautifully delicious strawberries and cream cupcakes!
How to Store Strawberry Cream Cupcakes
Because of the whipped filling, these will need to be stored in an airtight container in the refrigerator. I would recommend using them within 3-4 days of making them.
If you want to make some of the steps ahead of time, you can make the cupcakes, store in an airtight container and then add the filling when ready to serve.
Don't Miss Out!
Get all my delicious email recipes straight to your inbox!
Get the Recipe Here
Easy Strawberry Cream Cupcakes
These easy and simple cupcakes are dressed up with a fresh strawberry & cream filling and topped with a powdered sugar dusting. Not too sweet and perfect for brunch, paired with coffee or for a light and refreshing dessert.
Print Recipe
Pin Recipe
Instructions
Cupcakes
Preheat your oven to 350 degrees F

Line muffin tin with paper liners

In a large mixing bowl, mix cake mix, water, egg whites, vanilla extract, 2 tsps strawberry extract, and butter with a hand mixer until fully combined.

Add batter to the muffin cups filling until approx 1/2 inch from the top.

Bake for approximately 15 minutes, or until a toothpick inserted in the center of a cupcake removes cleanly.

Let sit in muffin tin for 5 minutes and then transfer to a cooling rack until completely cooled.
Strawberry Cream Filling
In a separate mixing bowl, add heavy whipping cream, remaining strawberry extract, and powdered sugar. Whip until stiff peaks form.

Fold diced berries into the whipped cream mixture using a spatula.
Strawberry Cream Cupcake Assembly
Remove paper liner from cupcakes and cut tops off using a serrated knife. I like to cut the top third off the cupcake.

Spread whip mixture generously onto the bottom half of the cupcake. You can also use a piping bag and a Jumbo tip to apply the cream!

Add top of the cupcake back on top

Sprinkle with powdered sugar. You can use a sifter or just pinch and sprinkle with your fingers.
Nutrition Estimate
Serving:
1
cupcake
Calories:
61
kcal
Carbohydrates:
3
g
Protein:
1
g
Fat:
6
g
Saturated Fat:
3
g
Cholesterol:
19
mg
Sodium:
19
mg
Potassium:
28
mg
Fiber:
1
g
Sugar:
2
g
Vitamin A:
207
IU
Vitamin C:
8
mg
Calcium:
10
mg
Iron:
1
mg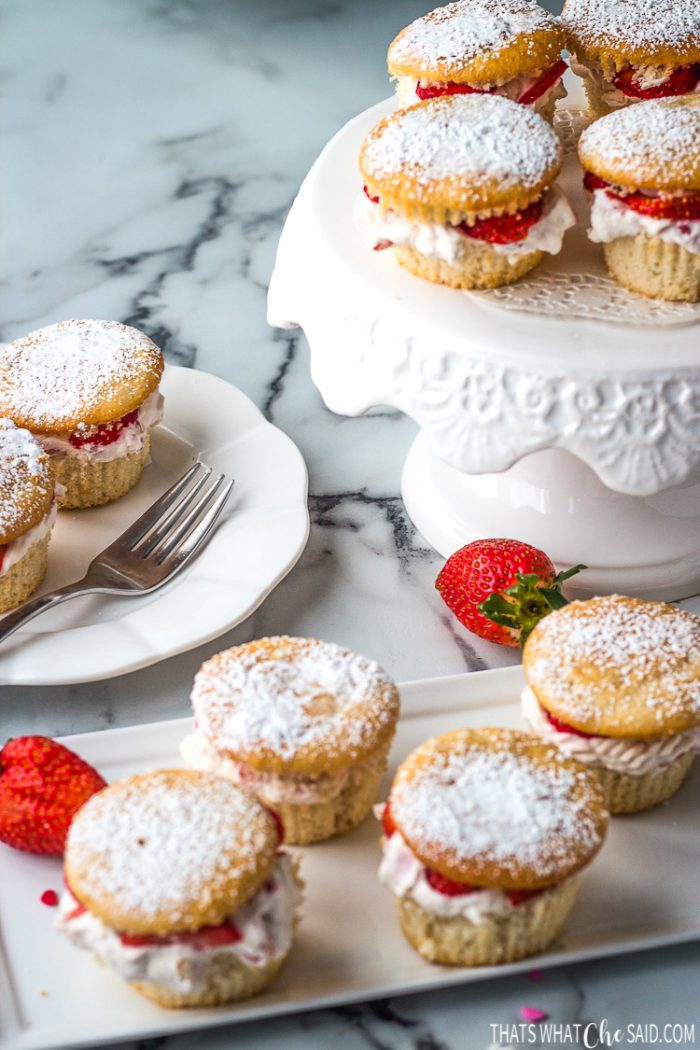 MORE STRAWBERRY CUPCAKE IDEAS:
Pin This Cupcake Recipe!