This Orange Play-Dough Recipe is the perfect thing when stuffed inside these cute carrot eggs!  A great non-candy basket option that will soon become your favorite play-dough recipe to make!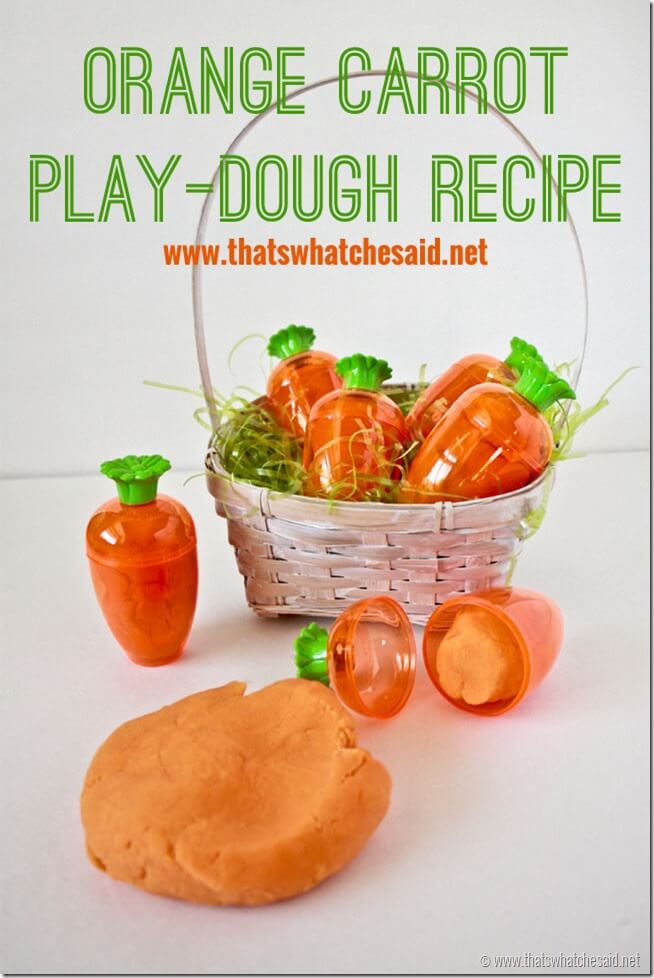 I can't believe Easter is just around the corner!  If you are like me, you are looking for things to add to your children's Easter Baskets that are non-candy items!  My mom alone gives the boys more sugar than they need so I try to find non candy basket ideas for them.
This post contains consultant links that help support That's What Che Said…
Supplies Needed for Play-Dough Recipe:
Carrot Eggs (I found these great ones that stand one end at my local Dollar Tree)
2 cups Flour
1 cup salt
4 teaspoons Cream of Tartar
2 packages of unsweetened Orange Kool-Aid
2 cups water
2 tablespoons vegetable oil
15-20 drops of Orange Essential Oil (optional)
1.  Mix the dry ingredients together in a large saucepan
2.  Combine the water and vegetable oil and gradually stir into the dry ingredients.
3.  Cook over medium heat, stirring constantly, until it thickens.  When cool enough to touch, knead until smooth.  Add your essential oil here if desired and knead into the dough.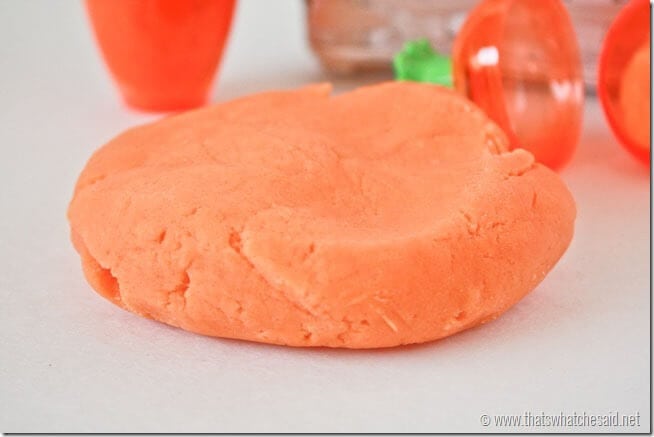 This play dough is super inexpensive and is super soft!  It also smells great!  I rolled a ball of it and stuffed it into the carrot eggs!  Perfect Easter Basket Stuffers that are not candy related!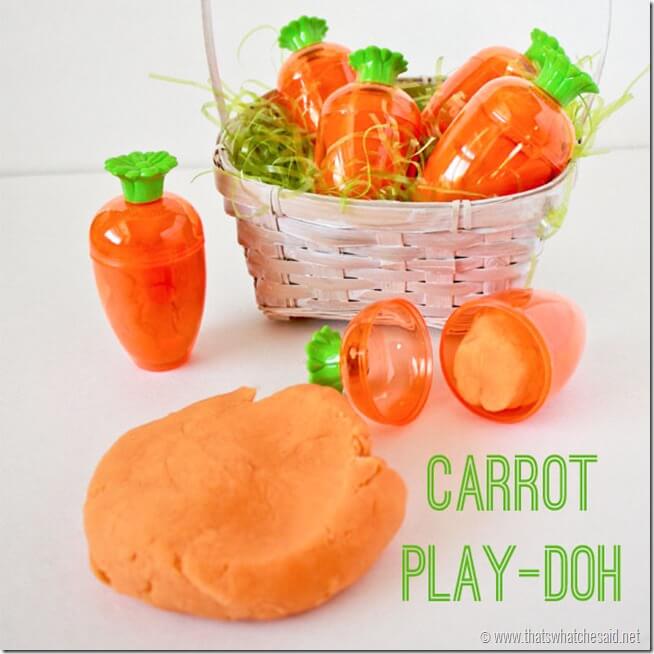 I also hope you will check out these other "Eggcellent Easter Projects" from my very talented friends as part of our Monthly Crafting Blog Hop! You can click any of the images below or the links as well!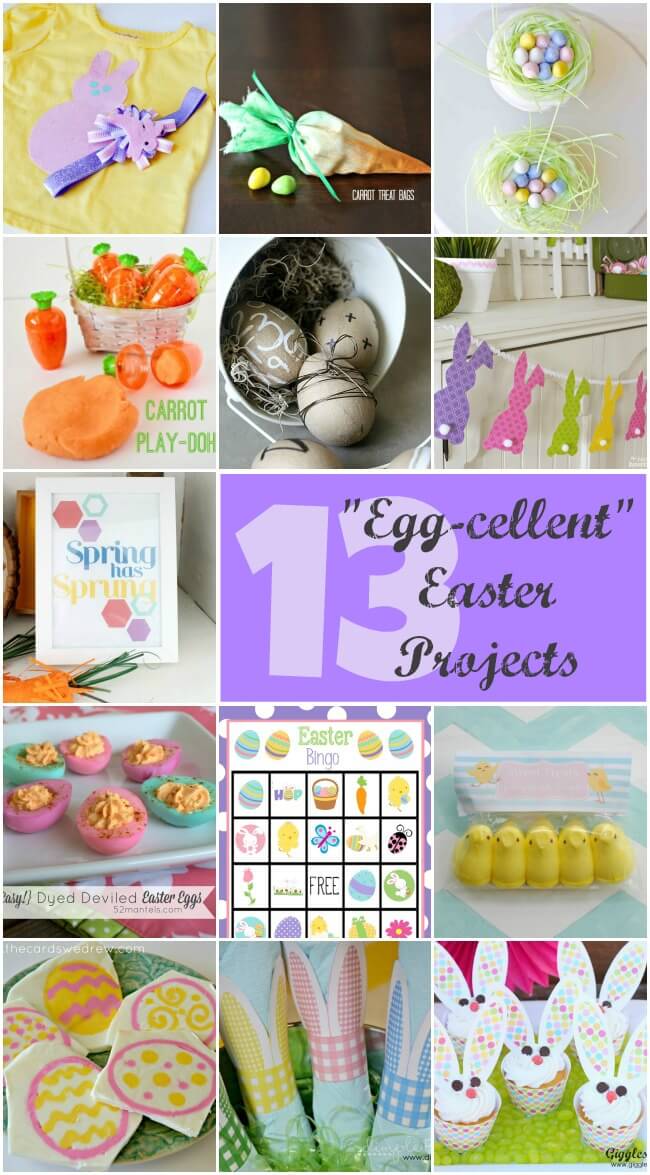 Easter Bunny Outfit | Carrot Treat Bags | Easter Egg Nest Cakes
Carrot Play-Dough Basket Stuffer | Modern Easter Eggs | Easter Bunny Bunting
Free Spring Printable | Easter Deviled Eggs | Easter Bingo | Sweet Treats
Chocolate Easter Egg Bark | Bunny Ear Napkin Wraps | Easter Bunny Cupcakes
If you'd like to learn more about essential oils, please hop over here to see what else you can do with them and then be sure to check out the amazing deals on this Premium Starter Kit!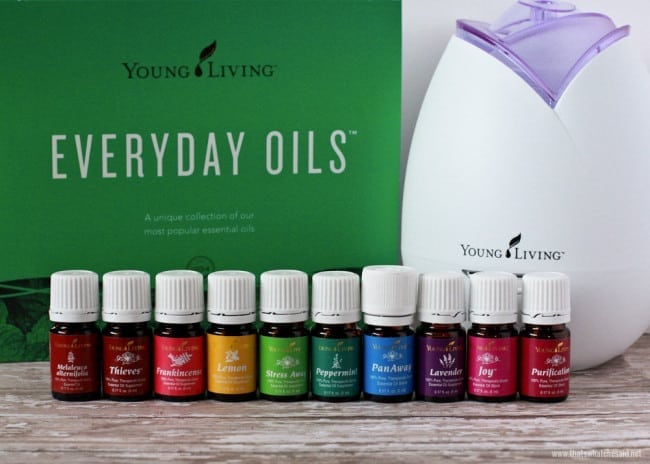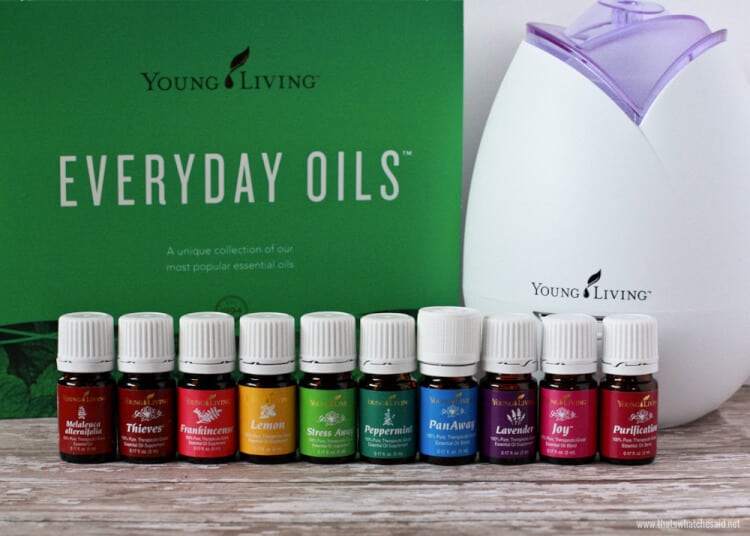 Everything you need to get started and some great educational reference materials for FREE!!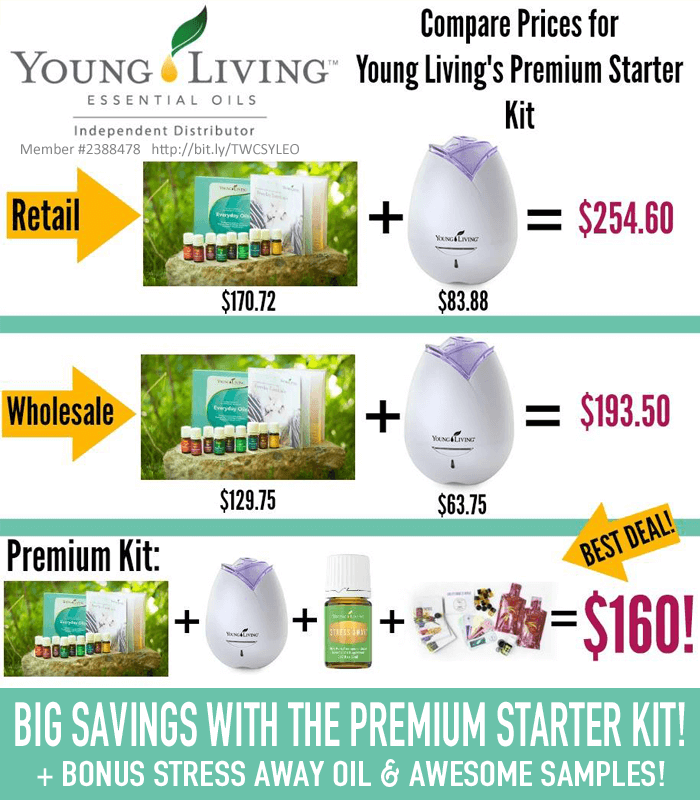 You also might like these
Washcloth Bunnies
and these
fabric carrot treat bags
!  Also excellent Easter Basket Stuffers!