Good Morning!
I recently was privileged to work with Jo-Ann Fabric & Craft Stores to help promote their Creativity Made Simple Campaign.  It's message is that creativity can be simple, you can find time in your day to be creative and that creativity is for everyone, not just "crafty" people!  I couldn't agree more with their message and really try to gear most of my own craft tutorials with the same idea.  I hope to inspire others to do a project, especially if they don't think they can!  I love showing shortcuts to things or just explaining that a project is not as hard as the finished product would make you think it is!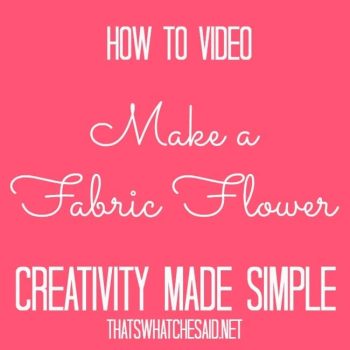 I was asked to create a video showing how to make a simple project!  I chose to explain how to make a fabric flower.  You can use fabric flowers for so many applications I thought this would be a perfect project to have in your repertoire.  Attach to a headband, put a pin or alligator clip on the back and it's perfect to add flair to a solid cardigan or as a clip on your purse handle.  Add a hair clip and pin on a cute ponytail!  Add Velcro to the back and make an interchangeable picture frame!  Change out the flower colors for the seasons or holidays!
There's even more exciting news about the video!
The blogger with the most views will get $100 gift card to Jo-Ann's AND I get to give one of my readers a $100 gift card as well!  I would love, love, love to be able to give one of you that gift card!  So I need your help with video views and shares!  The more the merrier!  I really, really appreciate any help!  View it, pin it, share it!  Thank you, thank you, thank you!
Create a fabric flowers with this simple how-to video from Cheryl at www.thatswhatchesaid.net
Follow my blog with Bloglovin
Disclosure:  I received an initial gift card to Jo-Ann Fabric & Craft stores to cover supplies for the video.  All opinions are 100% my own.