Happy National Craft Month!  I mentioned before with my Clay Pot Leprechaun Hats that I was participating with some blogging friends to celebrate national craft month!  Today I have this adorable and EASY Hello Sunshine Quote Frame.  Sometimes when I think of painting a project, I make a scrunchy face.  The paint, the brushes, the mess, the drying time, the clean up…GAH!  Well this project was so easy and it was therapeutic to paint a little!

I am working on really organizing my craft room and making it a great space to create and work in.  When we moved in to this house, my craft room was the first room I painted and has now become the dumping grounds for everything we want out of sight when people come over.  I am taking my craft room back and making it mine again.
My room is in our basement and has no windows so I painted it a nice sunshiny yellow!  I am using bright colors to get my creativity juices flowing and I mean, bright fun colors just make me happy!  I am using a lot of my supplies and tools as art in the room, displaying small supplies in glass jars on a shelf, my threads arranged in pretty color order and so on but I do want some real art things in there after all this is a creative space.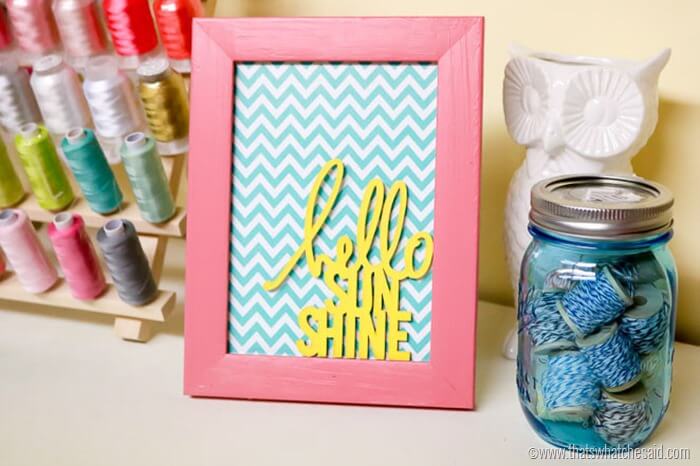 Enter this easy frame.
Supplies Needed to Make a Hello Sunshine Quote Frame:
Frame (old, new, it doesn't matter)
Paint
Paint Brushes
hot glue gun & hot glue sticks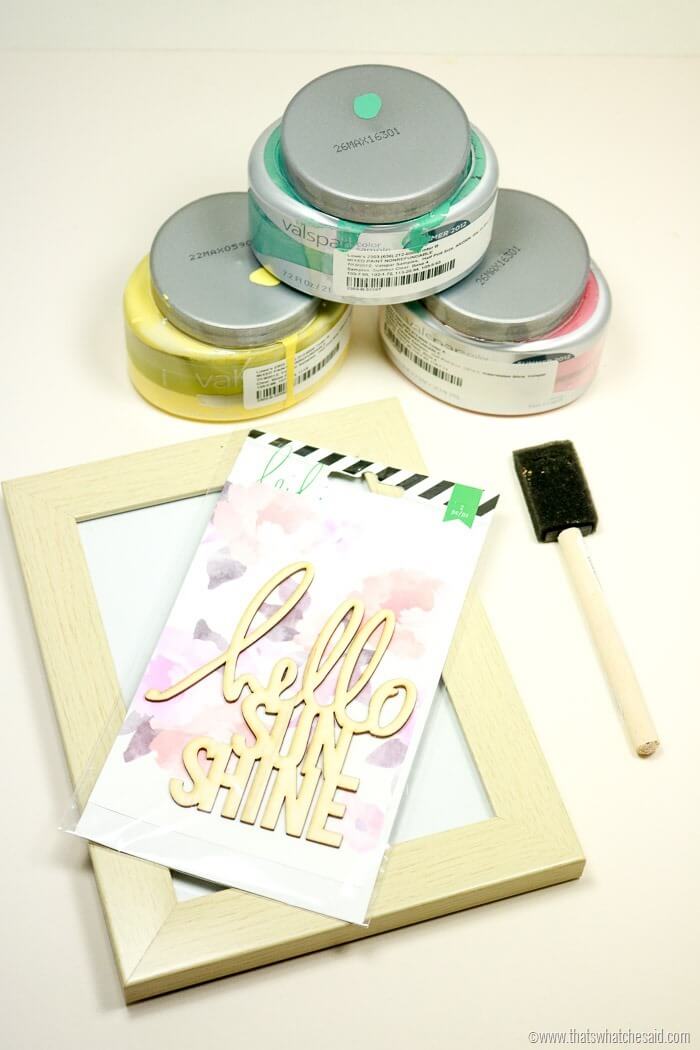 I started out with a blank frame and decided to paint it with the same paint I used for my color block dresser I finished for my craft room.  I chose the pink color for the frame and the yellow for the wooden quote.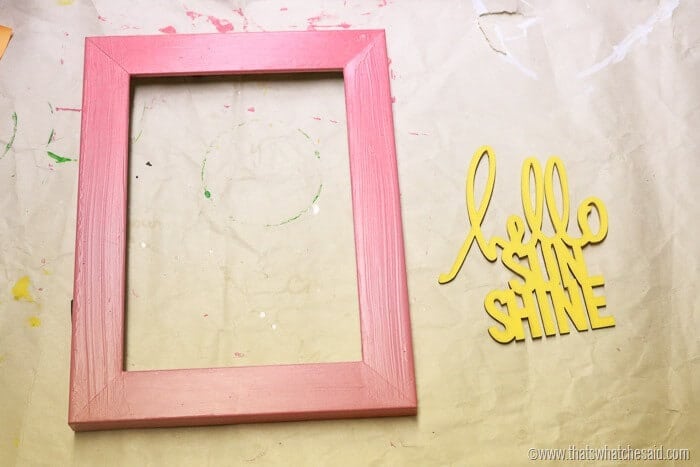 The I cut a piece of this double sided scrapbooking cardstock and decided I liked the chevron print the best and put that facing forward.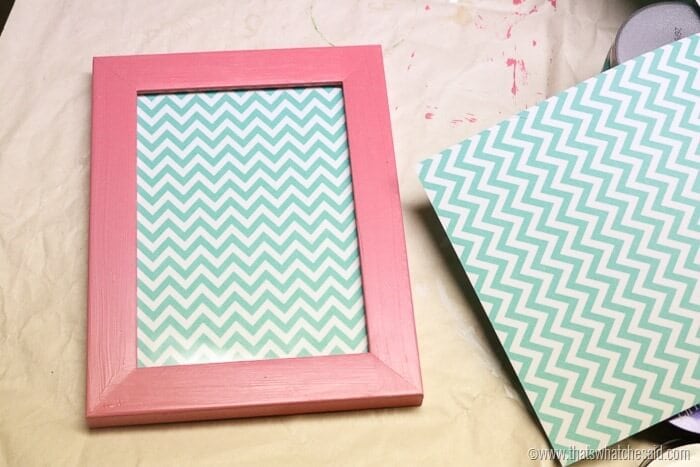 I added the wooden quote to the OUTSIDE of the frame's glass because it gives a 3D effect and I like how you can see the shadow of the wooden quote on the chevron background.  I tacked in place with a few spots of hot glue.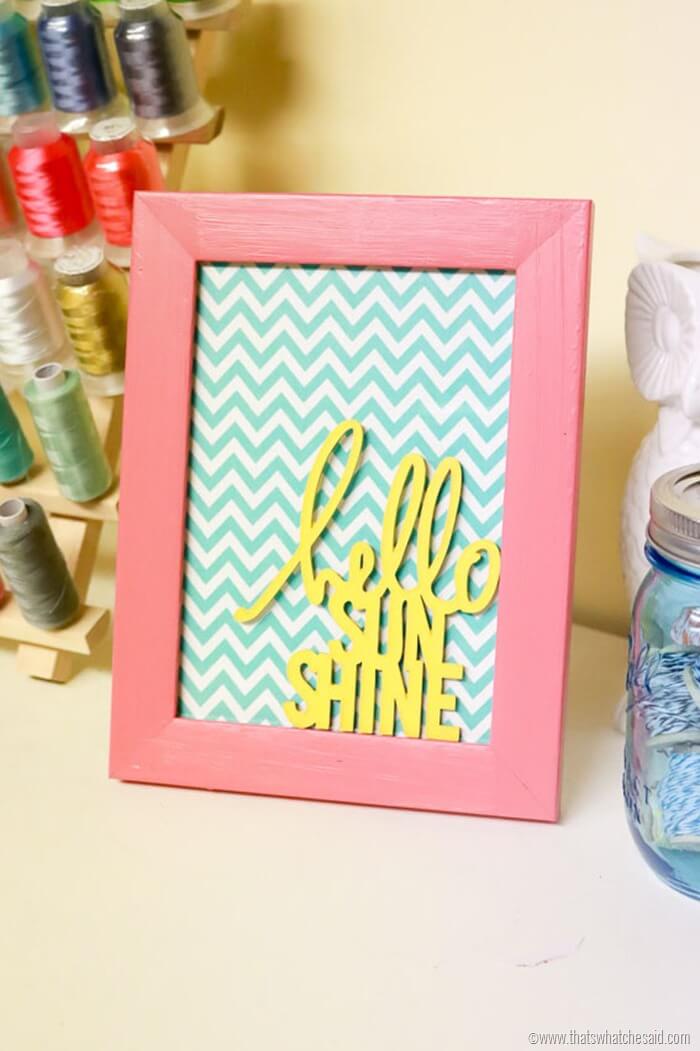 I love this and it does add sunshine to my craft room!   Check out more painted projects during National Craft Month!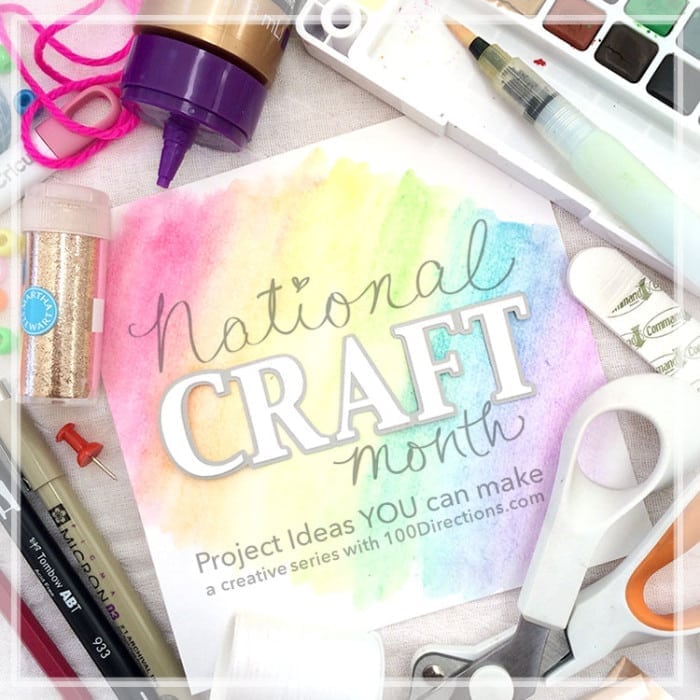 Some other fun projects I love are my Color Outside The Lines Painted Canvas and also my Happiness Quote Plaque!