I am so excited to share this little project with you all!  My string of "Ghost Lights".  I heart them!  They were really fun to make and only require a few supplies and your imagination!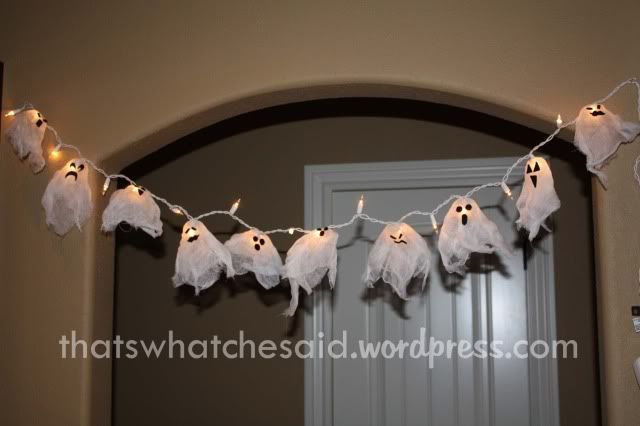 Supplies Needed for Ghost Lights:
Cheesecloth
20 ct. light set (white cord preferred)
Black Felt or cloth (or Black Vinyl for Silhouette/Cricut if you have one)
Mod Podge
scissors
tacky glue
popsicle molds or small dixie cups
I started out by unfolding my cheesecloth.  It came in a big folded ribbon.  I ended up using 2 layers of it in roughly a 7″ x 7″ square.

Next I draped the cheesecloth over my Popsicle mold.   Using a paintbrush, I applied a thin layer of Mod Podge over the top half of the ghost head.
Note:  I mixed a *very* small amount of water into my Mod Podge.  I wanted to thin the Mod Podge out a bit so that it didn't leave dried glue clumps on the openings of the cheesecloth.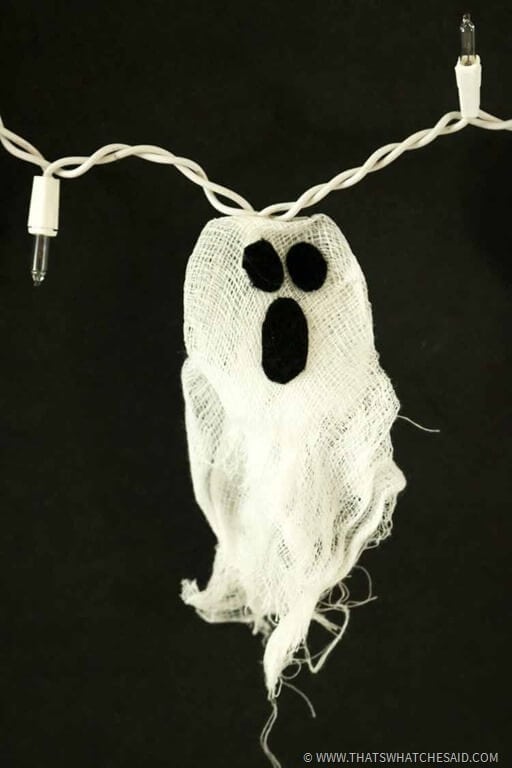 While the glue was drying I cut faces and mouths out of black felt.  Get creative!   UPDATE:  If you have a Silhouette Cutting Machine you can grab the ghost faces from my Boo Bowling and they would work perfectly for this project as well!
Once the ghosts were dry, I carefully pulled the cheesecloth off the molds and using tacky glue, glued on the felt pieces for the face.  I tried hot glue but it was really, really hard to keep the cheesecloth layers separated with the hot glue.  The front wanted to glue to the back!
Insert a light through the top of the cheesecloth.  Some of mine just poked right through and others I had to help by cutting a small slit in the top.
Here they are with a ghost on every other light!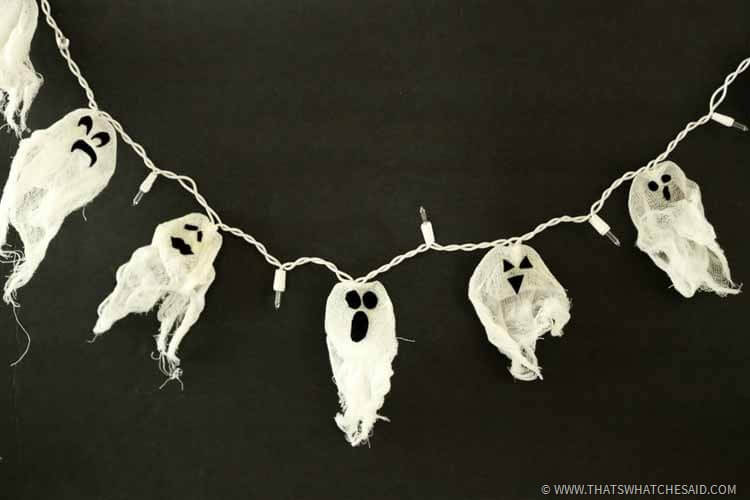 Here are the Ghost Lights with a ghost on every light.  You can do what you like better!
The pictures don't even do them justice when they are hung and lit!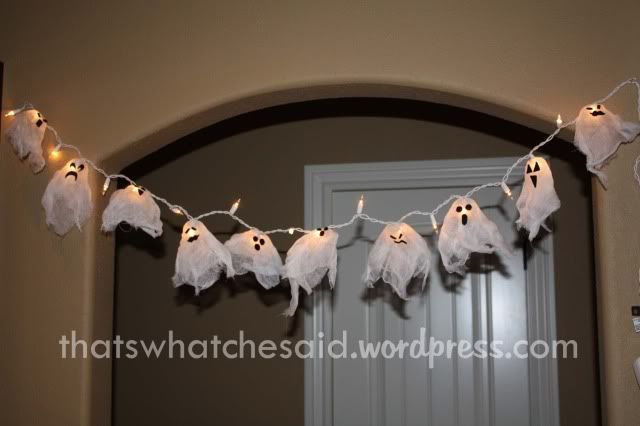 I couldn't resist making one of these little guys with a mustache!  Mustaches are so popular right now and I wanted one of my little ghosts to be cool and popular! ;-)
I also really like this angry guy!  The options for faces are endless!
Hang and enjoy!   Note: These are recommended for indoor use only!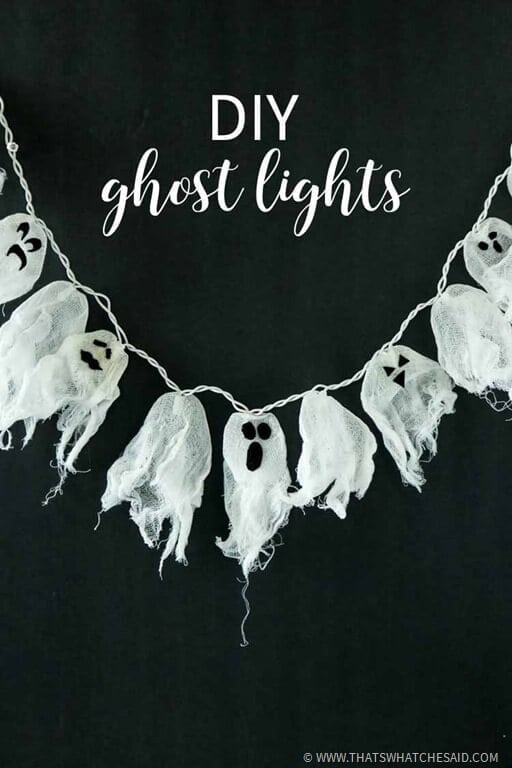 If you like Ghost Projects, I invite you to check out these projects!
[cgview id=21 name=crafts tags=ghost size=275×400 quality=75 lightbox=0]
You can also browse my complete collection of Holloween projects here

If you like these cute little ghost lights please share them!  There are handy buttons below!  Also be sure to sign up for my free emails so you don't miss another fun craft!