Add some adorable fiesta decor to your Taco Tuesday, Cinco de Mayo party or your Fiesta! These Sombrero Clay Pots are a fun centerpiece and can double as place card holders or Taco Bar name cards! An easy craft project to let the kids help with as well!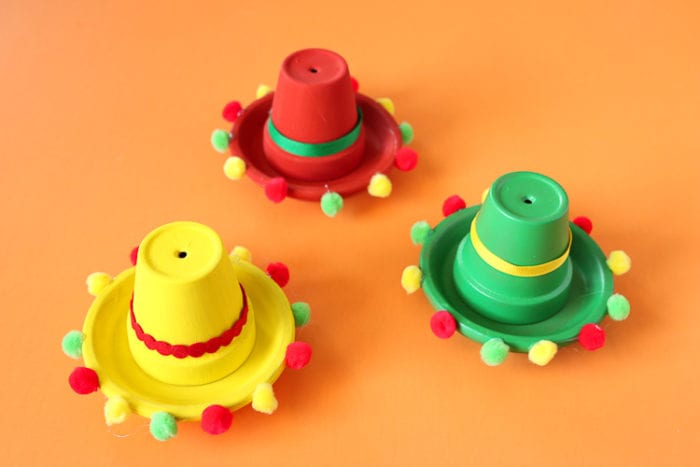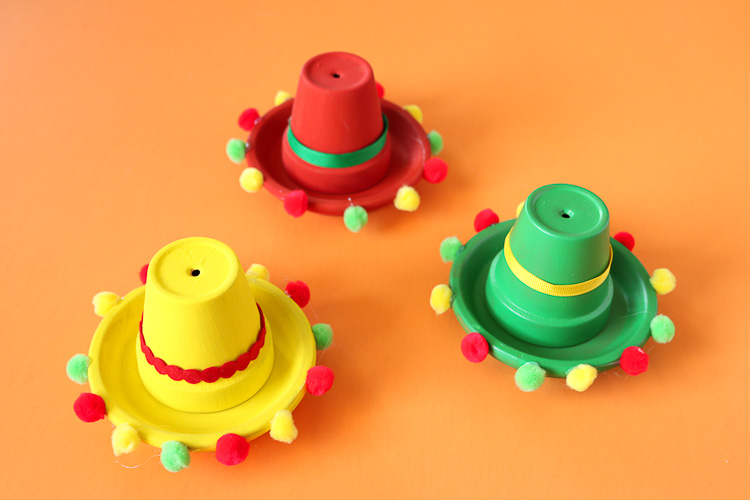 If you have been around this neck of the woods for a bit, you might already know we have a standing reservation every Friday night at our favorite Mexican restaurant. The staff knows us by name, we have our own booth and we do not even need a menu to order…we have it memorized!
In celebration of the next Fiesta or Taco Tuesday…these clay pot sombreros are a must have on your table!
Supplies Needed for Clay Pot Sombrero:
How to Make Clay Pot Sombreros
Time needed: 1 hour
Clay Pot Sombreros are perfect party decor and can double as place cards or buffet cards! Easy to make and perfect Cinco de Mayo craft with the kids!
Paint the clay pots

I painted three pots and three drip trays. One each in red, green and yellow acrylic paint.  You will need 2 to 3 coats as the terracotta absorbs the paint. 

You can also spray paint (which is what I did for my Pumpkin Clay Pots)

Add Coordinating Ribbon & Pom Pom Trim

When the paint was dry, I simply added a ribbon around the clay pot and some pom poms around the drip tray. 

I secured them both with some hot glue!

Assemble the Clay Pot Sombrero

Turn the painted clay pot upside down on top of a drip tray and it now resembles a sombrero! So easy!

If using as a place card or food name card, simply insert a small dowel rod into the hole in the top and adhere a paper name card!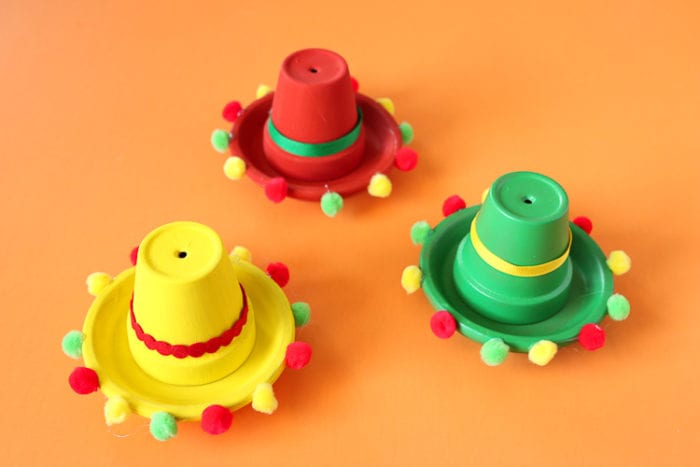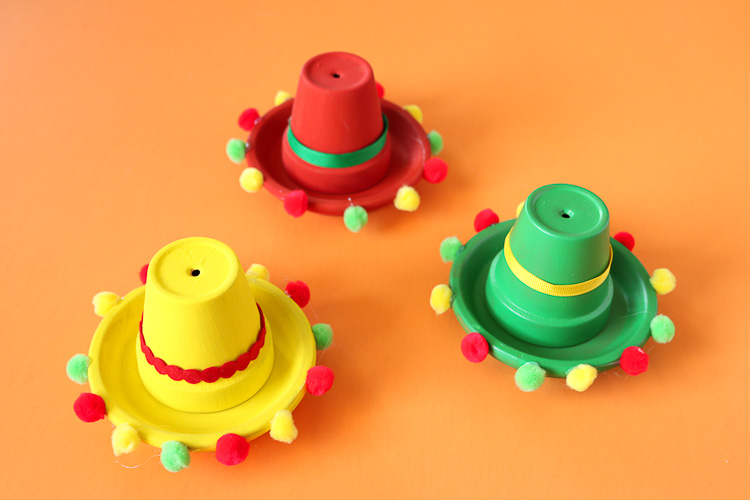 Sombrero Place Cards or Buffet Labels:
If you would like to use these for place cards or buffet labels for a taco or burrito bar it's really easy!
I grabbed this package of small dowel rods at my Dollar Tree. You can cut out rectangles of cardstock using scissors and then write your name or taco add in. Using hot glue attach the card to the dowel and place in the hold of the clay pot!
If using larger pots, you will need to make sure you have larger dowels or use a foam ball inside the pot to hold the dowel in place!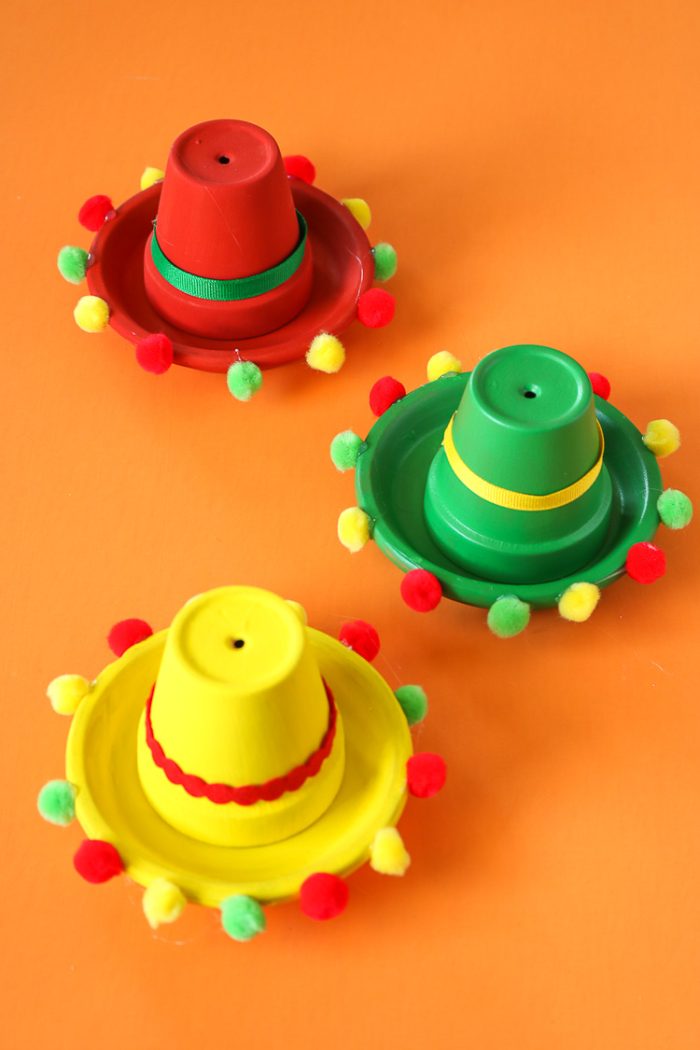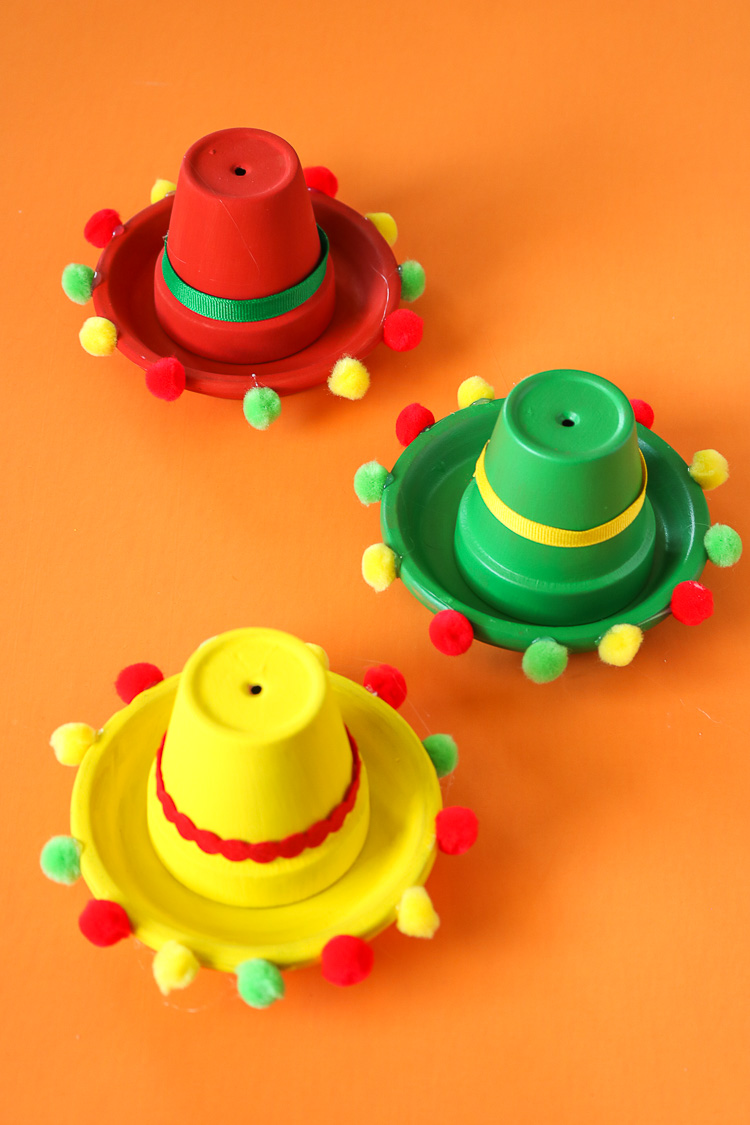 You can also use your Cricut Pens for this project!
Draw a rectangle in Cricut Design Space.
Add your name or ingredient using a writing font (more about this here)
Double check that the writing layer is set to write and not cut.
Attach your rectangle to your writing.
Repeat for all remaining names or ingredients.
Write and cut using the prompts on Design Space!
You can find the file I made here: https://design.cricut.com/#/design/91268643
Don't have a Cricut? You can get one here and also find the pens here. I have many more projects and tutorials over on my All Things Cricut page!
Pin Sombrero Fiesta Party Decor