Easter sure did "spring" up on us didn't it?!  Yes, I am oober cheesy these days…not sure why exactly!  It doesn't really feel like Easter should be a week a way because it just snowed about a foot here yesterday and is still snowing!!  Hello?! I thought it was Spring now?  Did someone forget to forward the memo to Mother Nature?!?  I think so!  Anyway, I made these really cute blooming Easter eggs for my Spring Mantel to get more in the holiday spirit!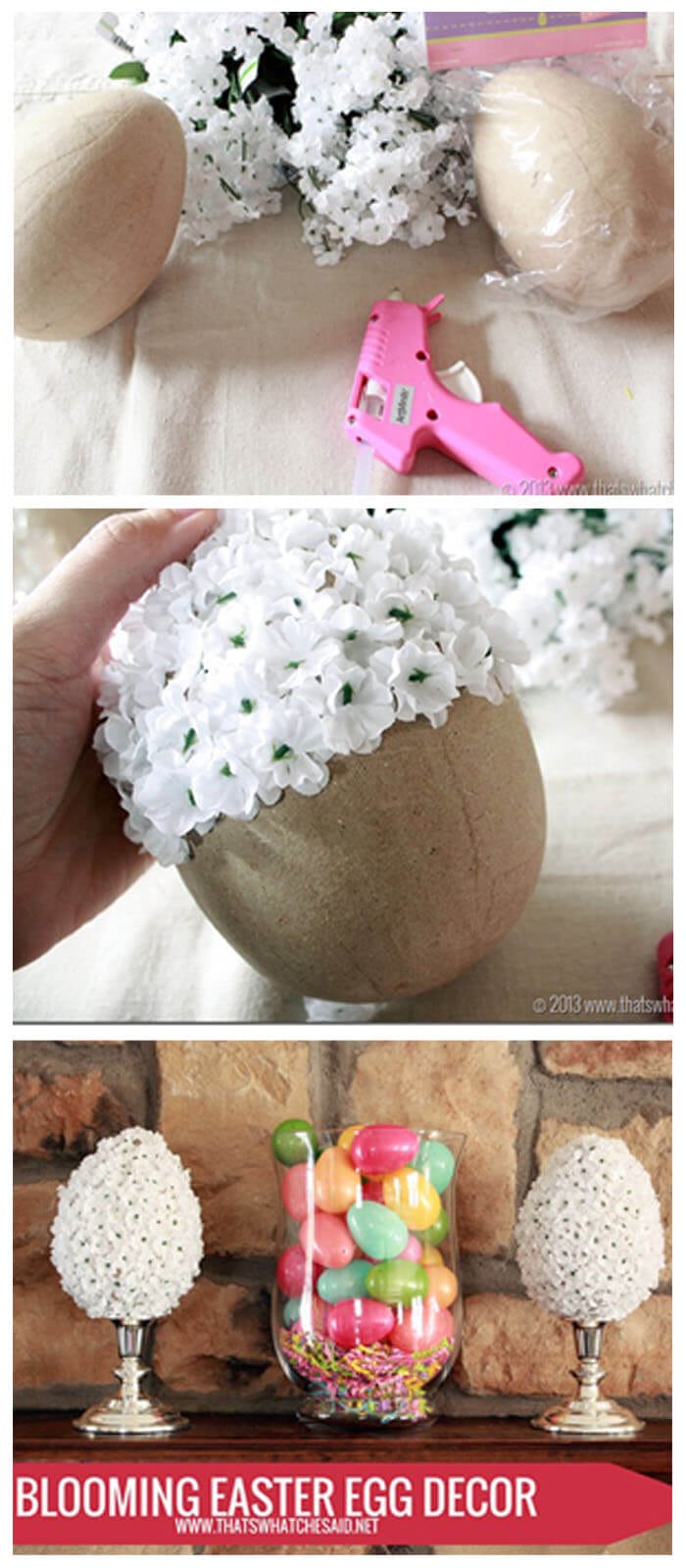 I kept décor for Easter/Spring this year really simple and these guys were just that.  I bought some flowers from Dollar Tree and some large paper mache eggs from Hobby Lobby (on sale), added a bit of hot glue and some patience and voila!  Perch them on top of some candle sticks and you have décor!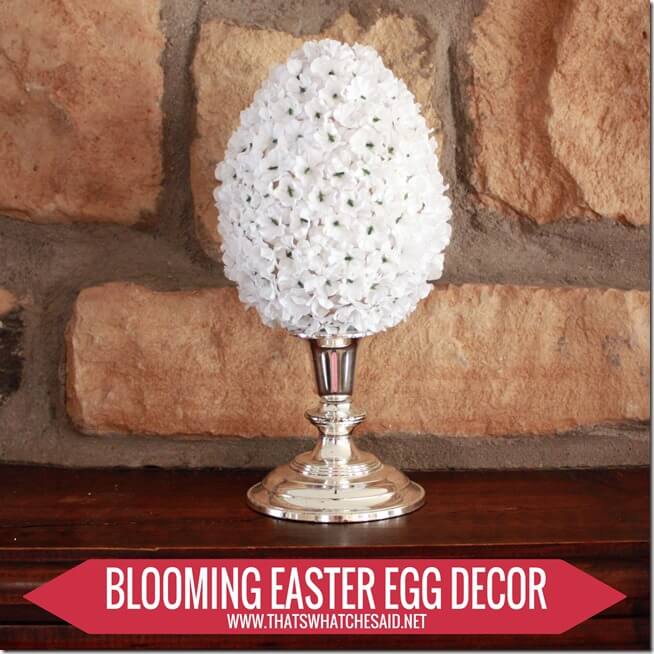 These are so easy to make!  I chose white flowers only because they had the most white flower blooms at the store.  They also had pink, purple and a lovely blue/violet color as well!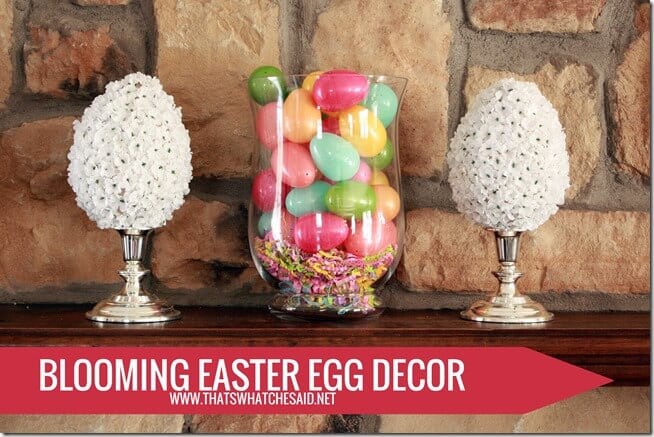 Supplies Needed for Blooming Easter Egg Decor:
12 stems of small blooms of fake flowers
2 Large paper mache eggs
Hot glue/glue gun
Scissors
Candle Stick Holders
Start by snipping the blooms from the stems.  Next start at the top of the egg and hot glue a bloom on.  Then circle the next layer around the single top bloom.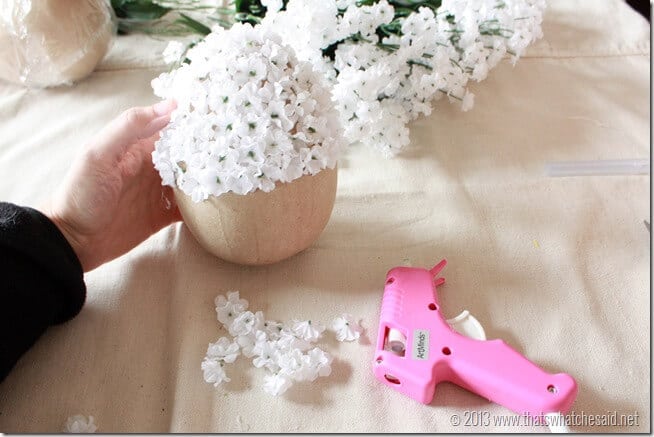 Continue on until you have filled the whole egg.  Note:  Apply in a circular motion around the egg top to bottom versus filling one side and moving left to right.  The coverage is better if you just do circles around the whole egg.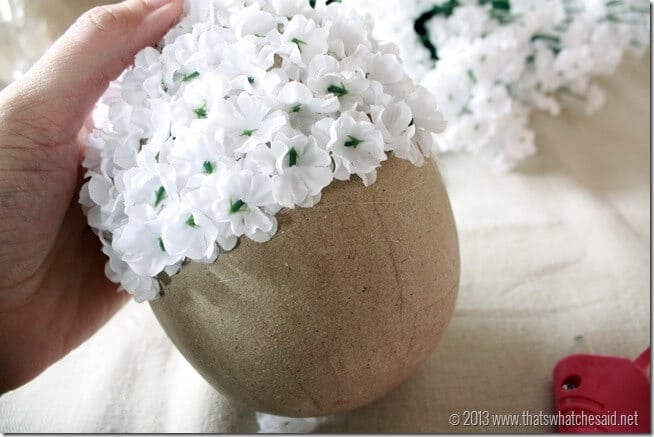 You might also like a few of my previous Easter posts, these cute fabric carrot treat bags as well as this washcloth bunny!  I also am so proud of my Spring Berry Wreath!  I love the way it turned out!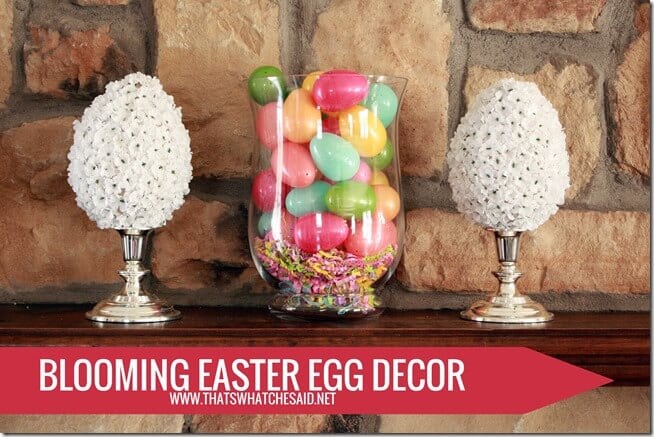 If you are looking for more inspiration you can check out all my Easter Projects + Printables here!