OK cuteness overload…I love these things!  Not to mention they are E to the Z!    I shared my Make-shift Valentine's Day Mantle with you earlier today and here is the tutorial on how to make these little mailboxes!  (so easy you really don't need a tutorial but I wrote one anyway!)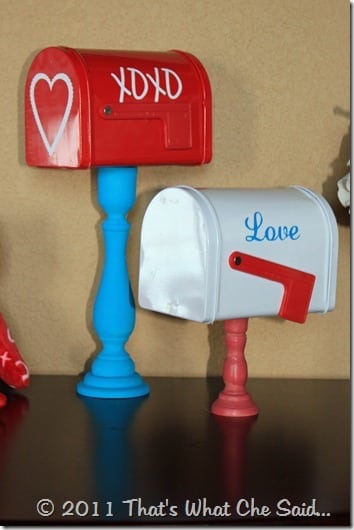 Items Needed:
Small Metal Mailboxes ($ bins at Tar-jay)
3" candlestick
6" candlestick
paint/paintbrush or spray paint
hot glue/hot glue sticks
(optional) Vinyl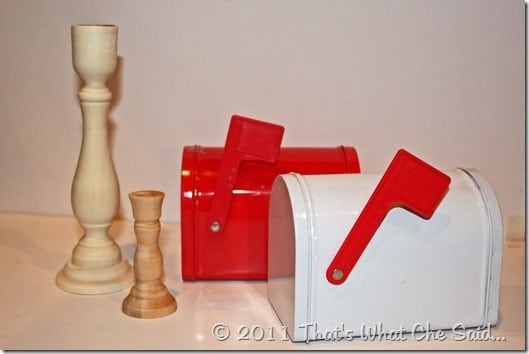 I gave the small candlestick a few shots of Krylon Watermelon Spray Paint (I had it on hand from another project) and the larger candlestick a quick coat of turquoise acrylic paint.  Your kids can even paint these for you!  Michael was too busy playing with letters to bother to help me so I did it myself!
Once the paint is dry, I simply hot glued the mailboxes to the candle sticks in the center!
To jazz the mailboxes up a bit, I used some vinyl and my new CAMEO (!!!!!!!) to cut out some hearts, the word "Love" and "XOXO" and applied them to the mailboxes!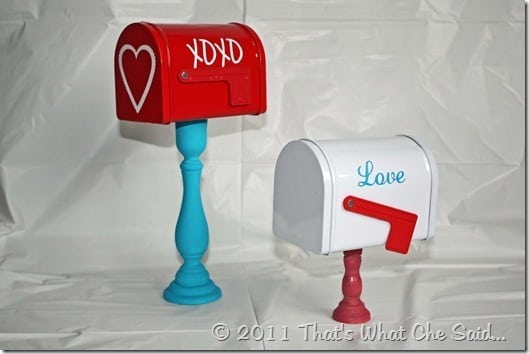 You could also put your kids names on them as well!  I am planning on leaving little love notes or little goodies inside for the boys to find!  I'll put the flags up when they are filled with surprises!  They love little surprises!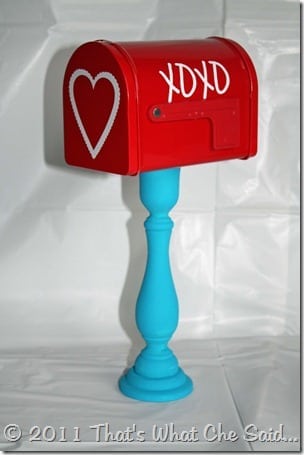 You can also decorate them with Scrapbooking stickers!  Like I mentioned for my Soaps, use the scrapbooking stickers that have clear backgrounds for the best results.  They will look more like vinyl and less like stickers!
Linking Up Here
Disclosure:  I was provided the vinyl used in this project by Oh My Crafts!  All opinions are 100% my own.  I love their vinyl!  The colors are amazing, the selection is awesome and the vinyl and transfer paper is so easy to use!  I think you will love it also!   I bought my own vinyl when I bought my Cameo.  I bought my Cameo from them also, all on my own and was not compensated in any way other than a great deal which is open the public!  I recommend taking look at their site if you are in the market for a Cameo also!  To read my full Disclosure, click Here!