Happy Wednesday everyone!  With the holiday I am all out of wack!  Does anyone else get that way with long weekends?!?  I am so excited to share with you all my lamp up-cycle using the brand new line of Martha Stewart Glass Paints!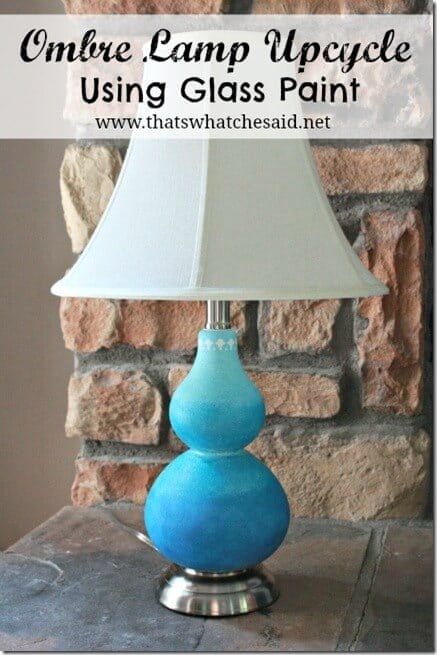 Items Needed:
Rubbing Alcohol/Paper towels
Glass Lamp
Martha Stewart Opaque Glass paint in Wedding Cake
Spray Paint kit
Stencil of choice
3/4" sponge Dauber tool & regular foam paint brush
OK here is how it started…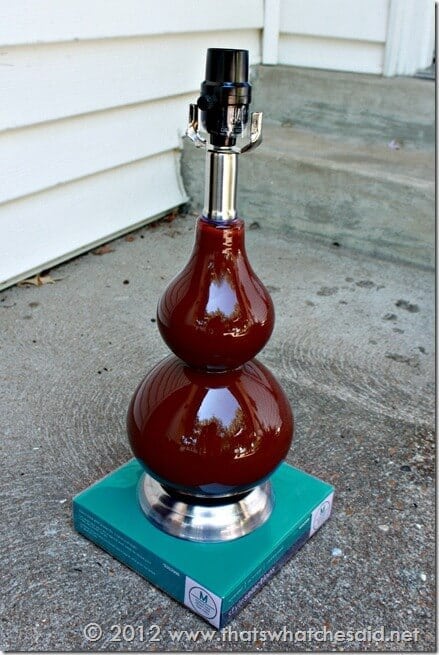 Yep, that's it!  I scored two of these lamps for $4.99 each at Lowe's on clearance.  I loved the shape, the size and the PRICE…so I couldn't pass them up!  The color was all wrong, but I knew I could do something with them, right?!  Enter this awesome collection of Martha Stewart Glass Paints and Accessories!
I started off by taping off the chrome areas with plastic and painters tape.  I wanted to keep that area the chrome color.  Then clean your surface with rubbing alcohol to get rid of any residue on the glass.  Then I mixed one part of the Wedding Cake Opaque Glass paint with one part of the Spray Medium that came in this awesome paint sprayer kit! I gave the lamp a good coat of paint! It covered AWESOME! And since it's not normal spray paint, it didn't get me high or make me lose any brain cells! We all know my kids do that for me now! The sprayer also gave it a great texture!

Then I let that dry for about 45 minutes and then I started with Blue Calico on the bottom, blended into Polar Blue and topped it off with Sea Lavender.    I created the ombre effect by dabbing the paint on in layers with a 3/4" sponge tip dauber.  I did about 3 coats of each color.  It was a process but totally worth it!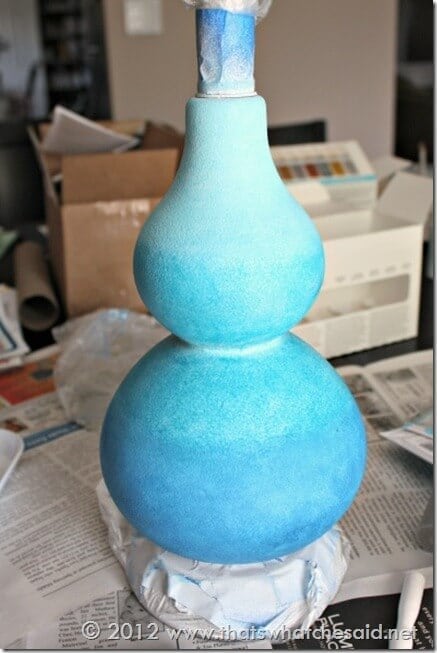 (Don't mind the messy work table/school paper central/mail landing spot)
I love the way the paints blended together!  I used a foam brush to get inside the crease.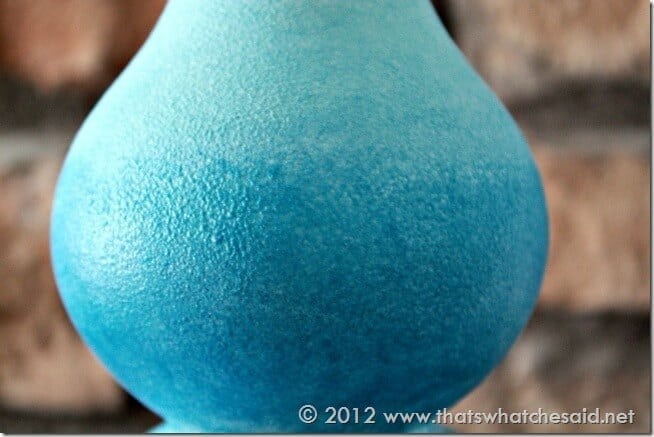 Once that dried I used one of the awesome stencils and added a design just to the top of the lamp.  I personally used too much paint on my dabber for this.  I am warning you to go at it lightly.  I was distracted.  You have been warned :)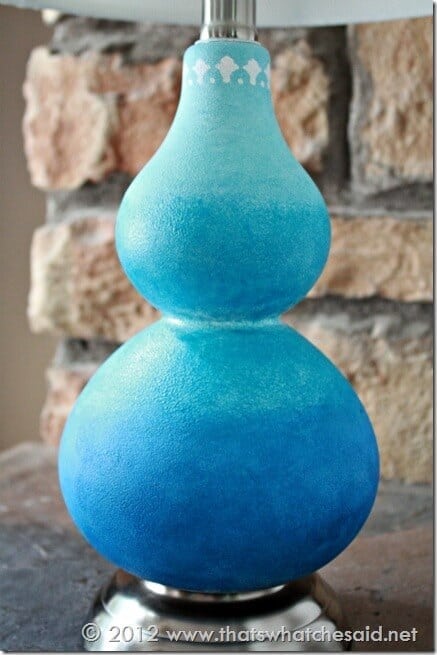 I added a bulb and a shade and I am in love with my $4.99 lamp!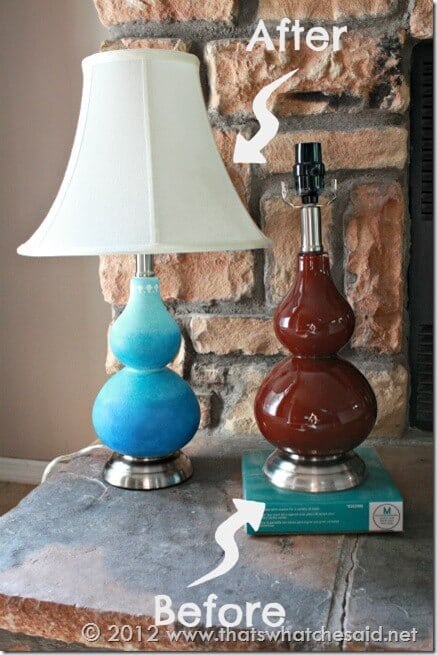 It will look perfect in my new craft room that I am working so hard on!  If you have been here for a bit you might remember that this is my color scheme!  So this lamp will fit right in with the teal/aqua and chrome!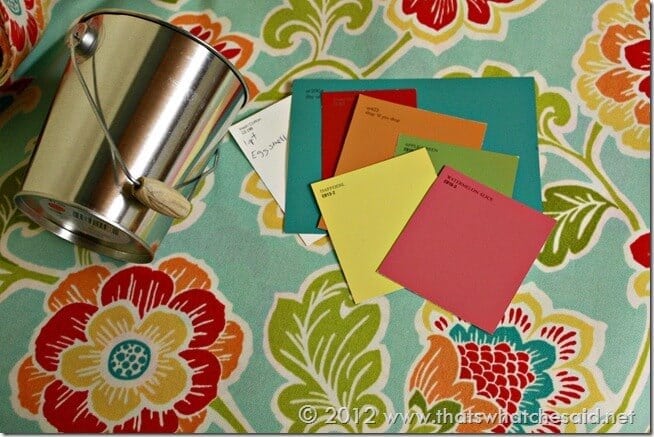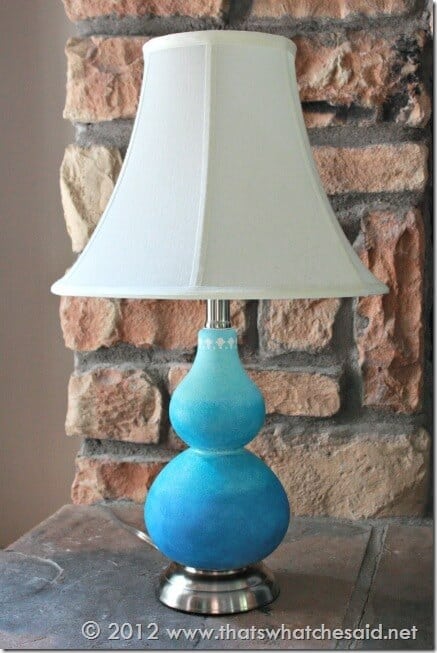 You can check out all these great products from the Martha Stewart Glass Paint line for yourself and while you are at it, be sure to follow Plaid Crafts on Facebook, Twitter and Pinterest to get the latest on these products and more inspiration, tips and tricks!
You can also check out the other awesome projects made by other awesome bloggers!  So much creativity and inspiration here!
I have another project with these awesome products coming up!  Be sure to check back to see how to use the silkscreens and more stencils with the glass paints!  I am really loving this stuff!  Nothing that is glass is safe in my house!  :)  You can follow along on Facebook or through email updates to get the goods!
I wrote this post as part of a paid campaign with Plaid Crafts and BluePrint Social.  All opinions are 100% my own.  Please feel free to read my full disclosure.
Linking Up to These Great Parties Here
and The 36th Avenue | Today's Creative Blog