Toddler Tutus may be the cutest thing to grace little diapered baby bums! Having all boys, I jumped at the chance to make one for my cousin and thought you all may like to learn How to Make a Toddler Tutu easily!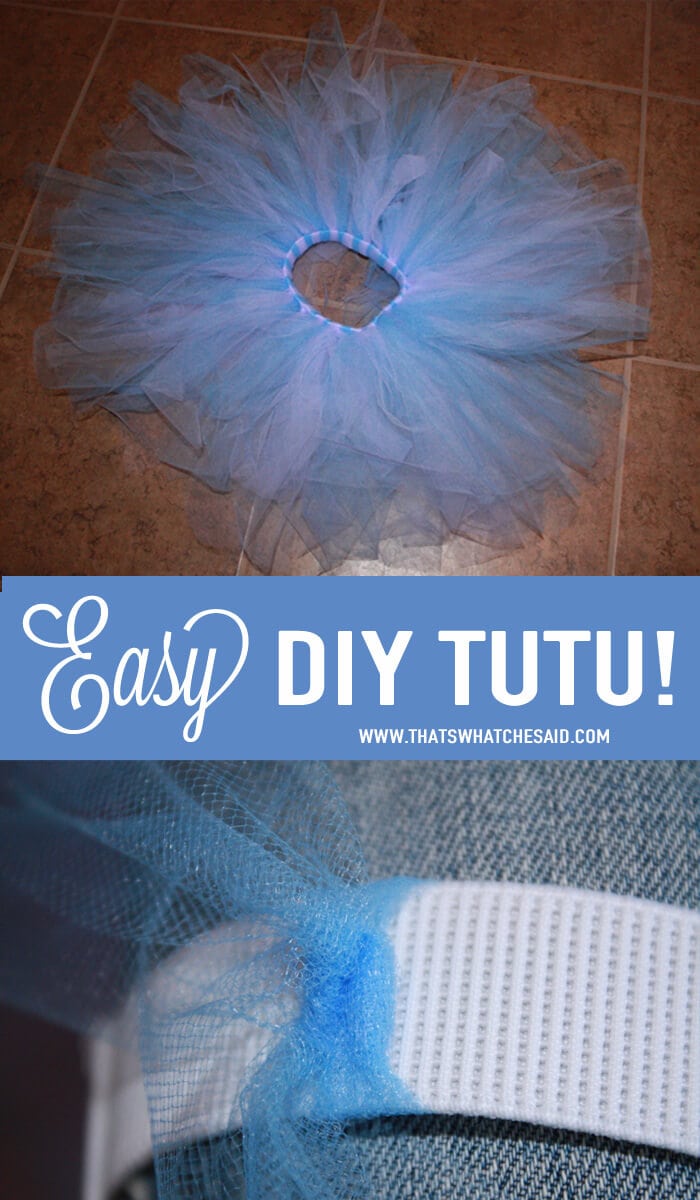 Below are my step by step instructions for How to Make a Toddler Tutu. Obviously I do not get to make any for my household! wah!
Supplies Needed for Toddler Tutu:
*UPDATE: It is so much easier to use the pre-cut rolls of tulle! You can find those here!
You can also order the supplies online and pick up in store! Saves so much time and hassle if you have to drag your kids with you.
How to Make a Tutu
To get started, measure the length of elastic you need according to your child's clothes size. I took a pair of my son's 5T pants and just copied the circumference of the waistband. Overlap the length by one inch. You can either hand sew the elastic, use a sewing machine or use a heavy duty stapler to staple the elastic. The tulle will cover the staples. (When stapling make sure to staple parallel to the elasic loop not perpendicular) I chose to hand sew the elastic together
Note: When making sizes smaller than 5T I would recommend using 1/2″ to 3/4″ width non-roll elastic. Sizes 5T and larger use 1 1/4″ width.
Cut the tulle into 6″ strips and then in half as a bolt of tulle yields about 59-60″ in width. So you will now have a 6″ by 29.5″ strip of tulle. You do not need to be precise in your measuring. I measured the first strip and then used that as a template to cut the remaining. Since you do not have to be precise I also recommend folding the tulle several times and cutting multiple layers at time to help your sanity!
*Here is where the roll saves you so much time! You just have to cut the roll into lengths!
Note: If you are making a newborn-12 months size, you can choose to cut the tulle strips in half again to shorten the length of the tutu. These smaller sizes also require less tulle. If making girl sizes (not toddler), you can choose to not cut the strips in half at all for a longer length tutu.
Place the center of the tulle strip inside of the elastic loop. Tie twice.
Repeat with all the strips of tulle. If using multiple colors of tulle, I recommend doing the same color twice in a row so the pattern shows up more. Example a pink yellow and blue tutu, your pattern would be, pink, pink, yellow, yellow, blue, blue. Since the strips are tied versus sewn on, you can play around with your patterns and see what you like.
After all the strips are tied, fluff and enjoy!
Now I have 5 more to make!
But it's perfectly fine because Little Goose has decided to assist! As any mother knows, things always go faster when kids assist! *sigh* Good thing he's cute!
You can also find my No-Sew Newborn Tutu tutorial, as well as some adorable Barefoot Baby Sandals to accompany the adorable tutus! If you want to complete an outfit you can check out these super cute Onesie Ideas and a fun newborn Rosette headband tutorial or this Easy Fabric Flower Tutorial. Now if I only had some little girls to wear these ;-)