This hand drawn charger has to be one of the easiest things you can do to bring some Holiday Cheer to your house!  I am in love and it was completed in a matter of minutes!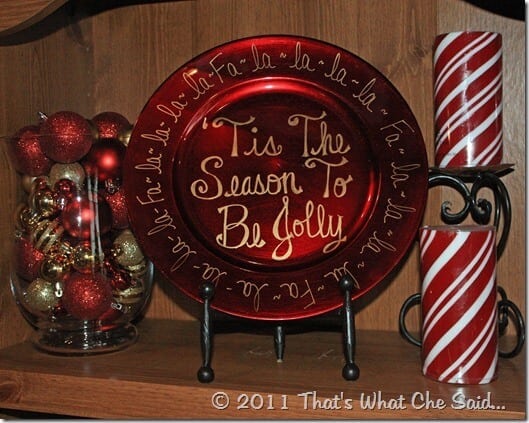 I nabbed this Red Charger at Michaels for $0.50!  They are regularly $1.99 and I have seen them on sale for $1 but I just so happened to be in the store on a day where these guys were a "daily deal" and they were 2/$1.  Even at $1.99 it's worth it!
Items Needed:
Charger
Paint Marker (Gold or Silver)
OK this really isn't much of a tutorial.  Here it goes:  Write on your charger with the paint pen.  (I told you it was easy!)    After it dries slap it up on a plate stand!  Wah-Lah.
I kid you not, that's all there is to it!  Be creative, use your family name, your favorite song, a bible verse, whatever you like!