Welcome to Day 1 of the 25 Days of Christmas Series!!  Today I am sharing my Thrifty Decorated Christmas Tree!  I chose a fabulous Kennedy Fir from Christmas Tree Market and then decorated it with ornaments from the dollar store!  I'd love for you to see how a beautiful decorated tree does not need to break your bank account!
I realized that in the past two years of this series I have not shared my Christmas Tree with you.  If you happen to follow me on instagram you may or may not have caught this photo last year.  My tree's lights started to quit.  They were not very tis the season at all.  It actually got worse from here.  Another 2 segments went out and then it was just sad.  I am happy to show you this new beautiful tree with full working lights and branches that look realistic!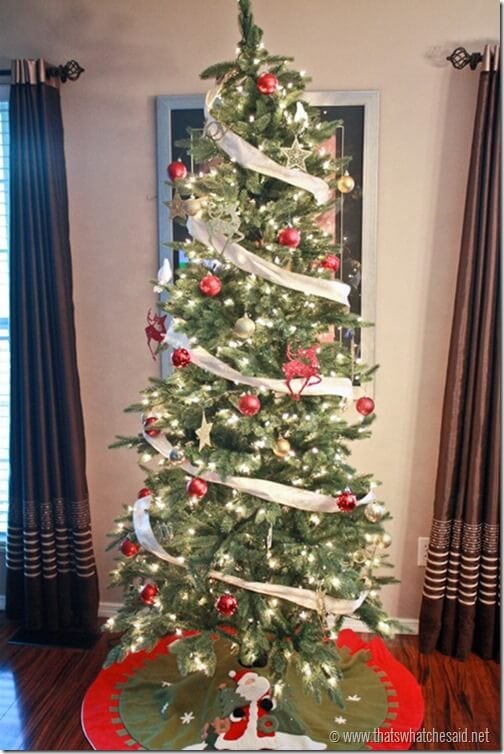 Are you a real Christmas Tree fan or a fake Christmas Tree lover??  We have always been a fake Christmas tree family.  I remember we got a real one once when I was younger and all I can remember is walking too close and stepping on the dead, dropped needles and them poking my feet!  The thing I hear the most from Team Real Tree Fans are that the fake ones don't look real and the smell of a fresh is just perfection.  I will give you the smell thing…totally.  But I am super happy to report that fake trees have come a LONG way!
Take for instance this beautiful Kennedy Fir that Christmas Tree Market sent me.  The "needles" are not that stiff papery material.  They are formed plastic needles and branches that look exactly like a real tree!  See….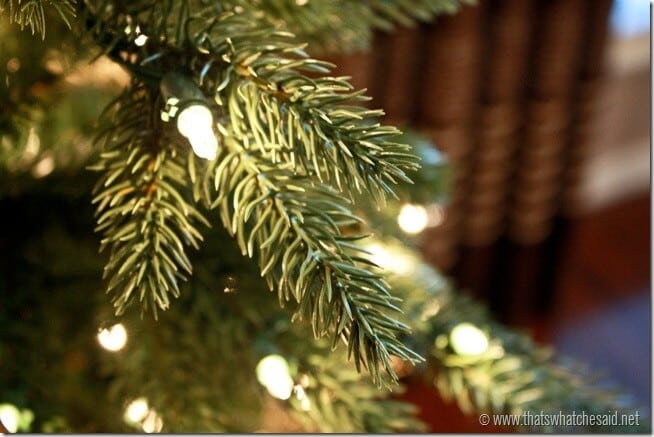 It is really beautiful and it is the most realistic fake tree I have ever owned!  I chose the slim version because my house isn't that big and I don't like when my tree takes up my entire room!  It's perfect for our space!
Then to decorate my new Christmas Tree Market Tree, I simply shopped at the dollar store!  Yep, you heard me, the dollar store!  I stuck to 2 colors as to not overwhelm my slim tree.  I chose Red and Gold!  I picked up some cute glittery reindeers, a mixture of red and gold ball ornaments and a few that say "Joy"!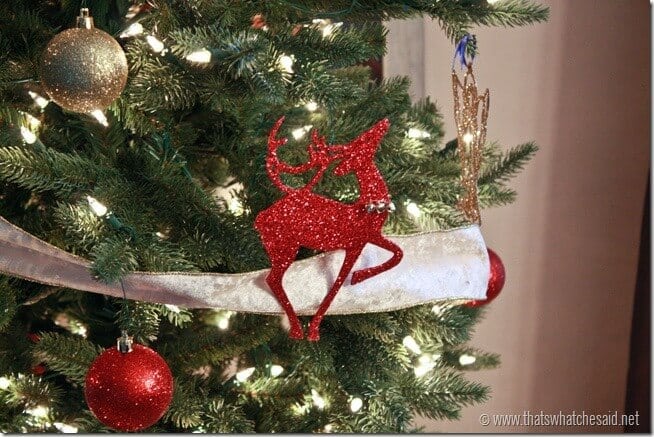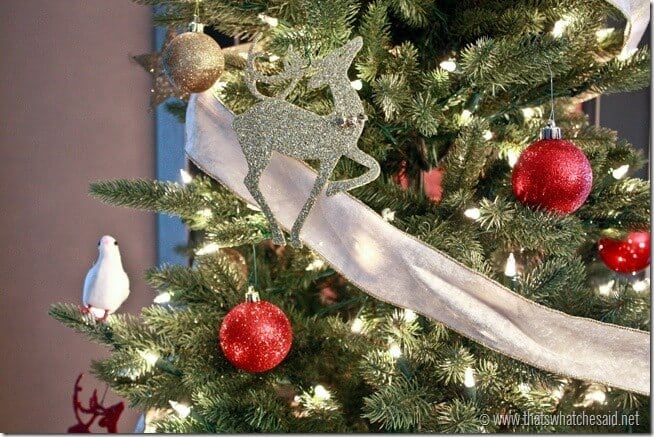 I also chose to use wide ribbon on my tree in place of garland or tinsel.  I figured the glittered ornaments were enough and the soft cream with gold edges of the ribbon rounded out the glitter nicely!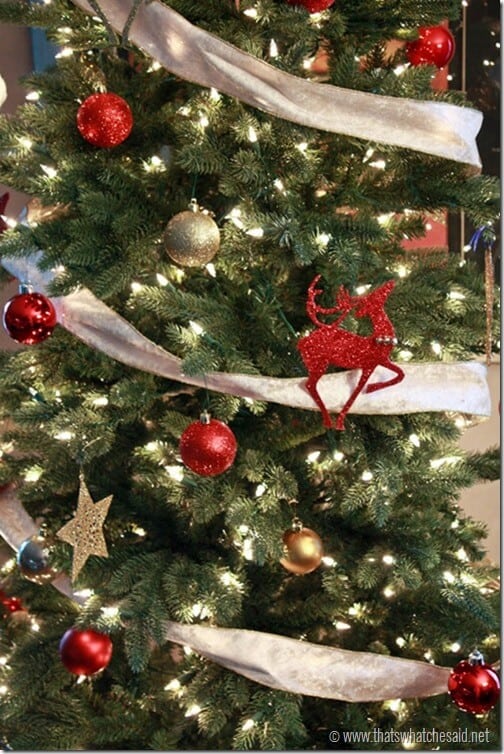 I even picked up some of these cute birds because I am not kidding, you'd think there be one in this tree because it looks so real.
There's tons of lights on my tree too so its bright and beautiful when it's lit up in our living room!  I love that I can enjoy this tree again next year, and the year after and after!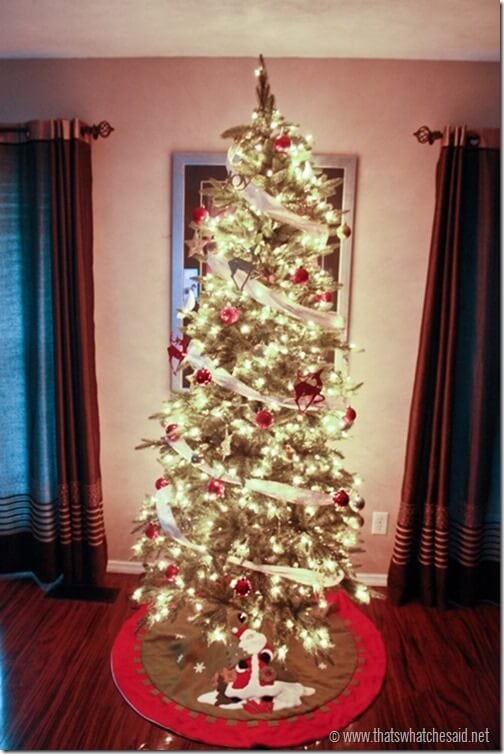 So tell me…are you on Team Fake Tree or on Team Real Tree?  How do you decorate your tree?
Thank you to the Christmas Tree Market for sending me this beautiful tree.  All opinions are 100% my own.
Need a bit more holiday inspiration?  I'd love for you to hop over to Mom 4 Real and check out Jessica's beautiful Christmas Mantel!  It's absolutely stunning!  You will definitely want to grab a hot beverage, you will be lost in her site for hours!  Cleaning Tricks, decorating ideas, crafts, recipes and so much more!