You didn't think I'd let Turkey Day slip by without a soap did you?  Of course not!  Here is my Subway Art Thanksgiving Soap.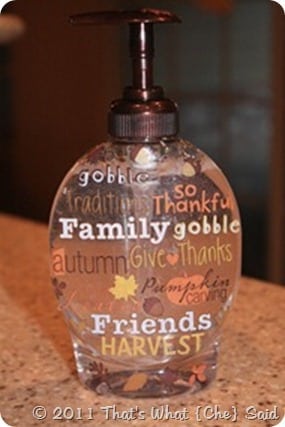 Same drill as before .  I start out with a hand soap that I bought at Wal-Mart for $1.08.  I found this great one with a brown pump and it worked great for Thanksgiving!  Next, I removed the stickers of the hand soaps.  This time I soaked the bottle in warm soapy water and the glue left behind from the stickers scraped off really easily after that.  UPDATE:  Check out my most awesome way to easily remove labels!  It's my new go to way to get all the sticky off!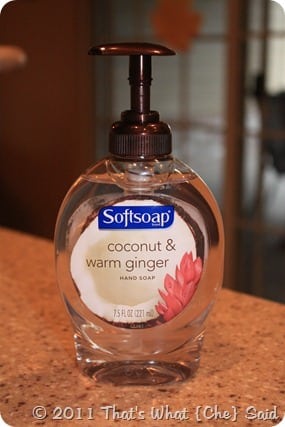 Then I just applied some scrapbooking stickers!  Be sure to use stickers with clear backgrounds.  Then it will look less like stickers and more like something you whipped up from your Cricut or Silhouette.  I like this one because it also resembles subway art!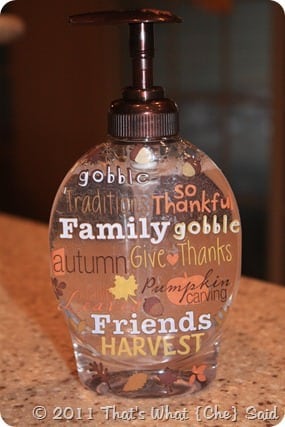 And of course a few cute little ones on the pump itself!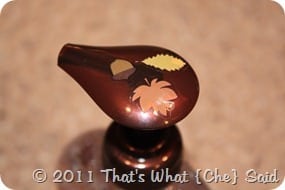 These would be cute to bring to your Thanksgiving host/hostess!  Tie a cute bow around the neck of the pump!  The bow would just get decimated in my house so I left it off!!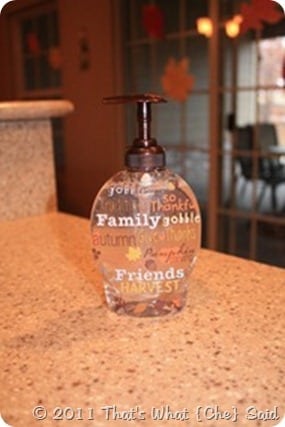 Super Easy, Super Cute!  You can also see my collection of Holiday Soaps!!