This post brought to you by Bolthouse Farms. All opinions are 100% mine.
Enjoy this delicious Strawberry Mango Smoothie Recipe with Bolthouse Farms juices!  Packed with nutrition and tastes great!!!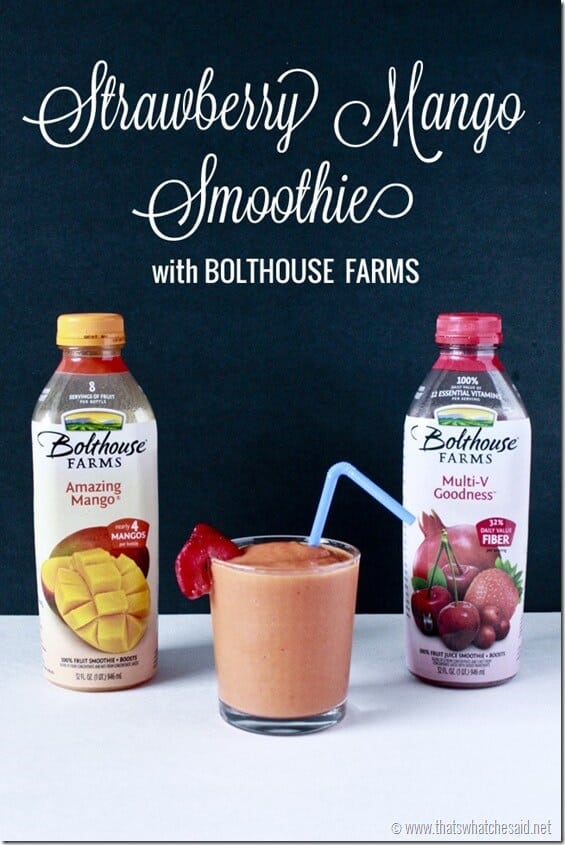 You might never guess who the people are behind Bolthouse Farms.  Carrot farmers! Yep, you heard me, carrot farmers!  They not only grow the carrots but also make delicious fruit and vegetable juices.  All of the Bolthouse Farms carrot juice and carrot juice blends are made with the exact carrots that are grown on their farms.   Bolthouse Frams practices sustainable farming by making use of the entire carrot – from tips to greens!  The leftover carrot tops are used as fertilizer in the fields!  That's efficient if you ask me!
Do you ever wonder how much good stuff your kids are actually getting into their bodies?  Does anyone else have a child who just moves the vegetables around on their plate to make it appear that he has eaten some? Bolthouse juice and juice blends are so tasty that my kids think it's a treat to get some!
Bolthouse features 30+ flavors ranging from carrot juice and carrot juice blends to Amazing Mango juice to breakfast smoothies and protein shakes!  They even features holiday egg nog treats.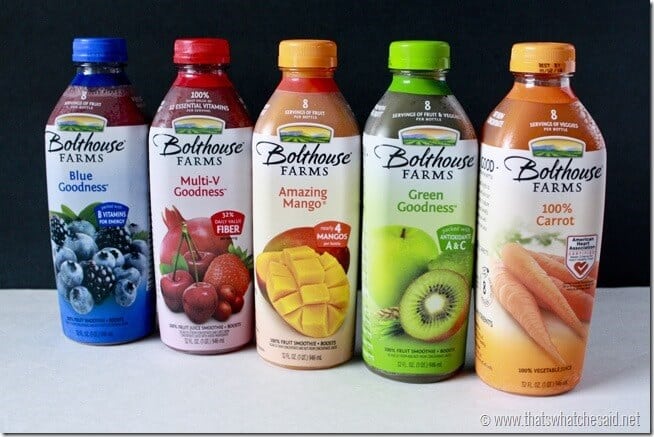 You can use these for more than just a juice  Add to recipes, a mixer in cocktails, mix them together!  I made a fabulous Strawberry Mango Smoothing using the Amazing Mango & Multi-V Goodness blend!
1.  Add some Mango Juice  2.  Add some Multi-V Goodness Blend  3.  Add frozen strawberries and frozen Mango chuncks  4.  Blend.  I am using my Blendtec Blender that I ADORE!