I thought it might be time for a new Halloween shirt.  I have been wearing the same one for probably the past 5 years.  I was looking for one that was toned down a bit and definitely one that was not so "cartoon-ish". I prefer to wear things that are festive for the season without being like "HELLO! HERE I AM!! A GIANT ORANGE PUMPKIN!"  I couldn't find one I liked for the price I wanted to pay. I mean I am going to wear this thing maybe 3 times in the month of October and I am not willing to pay $40 for a shirt. (Here my engineer in me kicks in!) That is like spending $13.33 each time I wear it?  No thanks! So I made one for a fraction of the cost.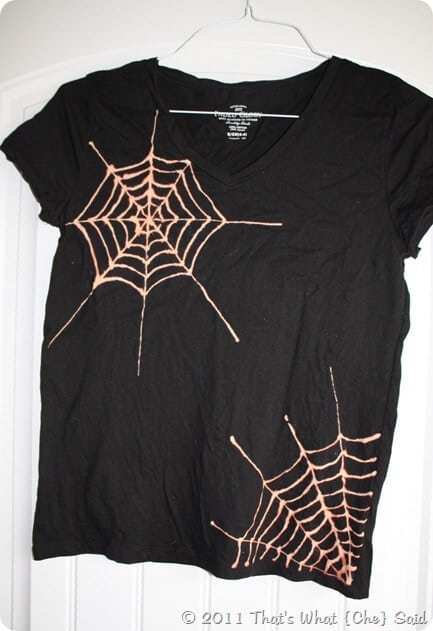 Items Needed:
Black Shirt of your choice (maybe one already in your closet?)
Bleach Pen
Chalk/chalk pencil
Cardboard box or Cardboard T-shirt Insert to prevent bleeding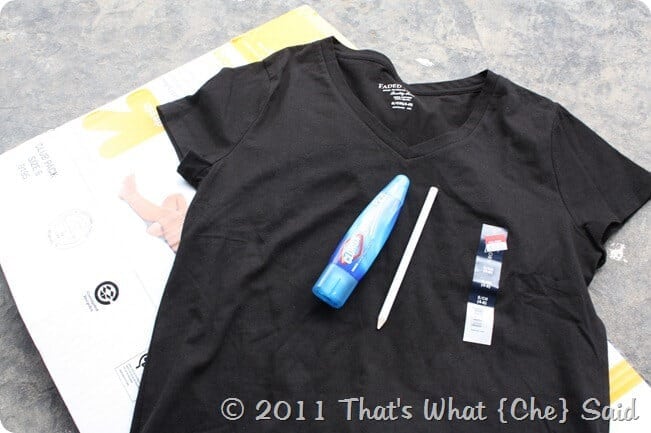 I found this V-neck Tee at Wal-Mart on clearance for $3. I also made my DIY Flower T-Shirt from a similar Wal-Mart find!  You can also use a shirt you already have in your closet!
Using my sewing pencil, I sketched out a spider web in the top right and bottom left corners of the shirt. I recommend trying the shirt on at this point to make sure the spider web is laying in the correct spot, or rather not laying directly on top of a certain area
.  After the pattern is drawn, I used an empty diaper box we had laying around to stick inside the shirt so that nothing would bleed through to the backside. Then I used the fine tip end of a Bleach Pen and traced the pattern.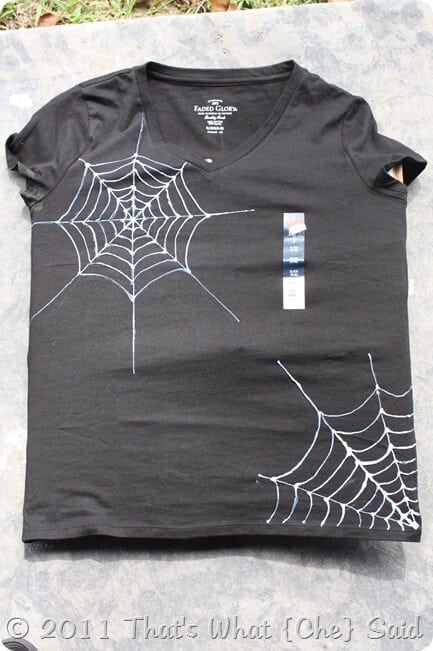 I let the bleach sit on the shirt until it dried.  (I didn't actually mean to do this but the two boys distracted me and that was what happened! )  It worked out nicely though.  I just rinsed the bleach off the shirt in the sink and then washed with a load of darks.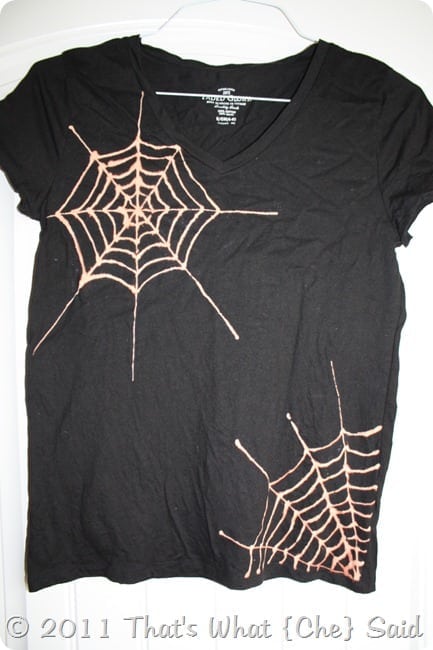 Wah-Lah!  The bleach on the black shirt gives off sort of an orange color which is perfect for Halloween!  You could also try this on a gray shirt and it would bleach out a more white color.  I am very happy with my new $3 Halloween shirt!  And for the record that is now $1 each time I wear it!  Much better
I'm not a very good "take a picture of myself wearing the shirt in the mirror" person so you just get it hanging on a hanger!
I received information about Clorox's Bleach It Away campaign and am sharing my messy moment/craft fail/bleach project for the chance to win prizes from Tatertots & Jello and Clorox. You can find out more information about this campaign –  www.BleachItAway.com.  If you share YOUR messy moment story, you can enter to win $25,000 and daily prizes, and you can get a coupon for Clorox® Regular Bleach.
Joining in the Halloween Fun over at: