I love decorating for Halloween. Since I have a five year old and a two year old, I LOVE decorating "fun" for Halloween! They love things with the cartoonish feel. You know, bright colors, pumpkins, bats, spiders, googly eyes…that kind of stuff. I am happy to oblige because truth be told, soon they just won't care about my holiday decorations. They will grow, it won't be cool to care about that stuff anymore and they won't be as excited to help me as they are RIGHT NOW!
When they stop caring, then I will decorate all sophisticated and trendy. For now, I will decorate like I have a five and a two year old :) I asked the boys what we needed more of in our décor and surprisingly spiders came up! They aren't big fans in real life of the eight-legged creatures but I guess as paper decorations amidst bright orange pom poms, they are good with them! :)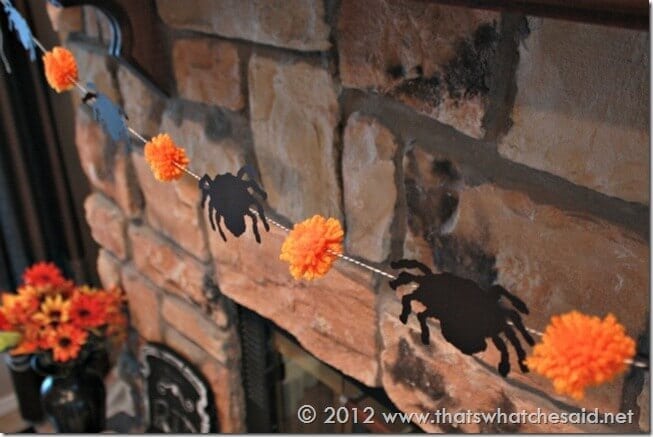 What you'll need to make Halloween Garland:
Black Cardstock

Black Twine or string or ribbon

Orange Yarn

Embroidery needle

Silhouette Cameo or scissors
For the spiders, I cut them out on heavy cardstock using my Silhouette Cameo. If you don't have a cutting tool, don't worry! I saw some great spider and bat cut outs at Dollar Tree that would work GREAT! Or get on with your bad self and trace and cut some out by hand! Have your kids do it! This is a fun garland and certainly doesn't need to be precise!
Gather your pom-poms…you can see how to make Pom-poms from my tutorial yesterday!
Thread your embroidery needle with the twine and then "thread" on your pom-poms making sure to stick the needle through the very center of the pom-pom. Hang up your twine and space out the pom-poms, using some scotch tape I just stuck the spiders onto the twine in between the pom-poms! Simple as that!
See how cute it looks on my Halloween Mantle?!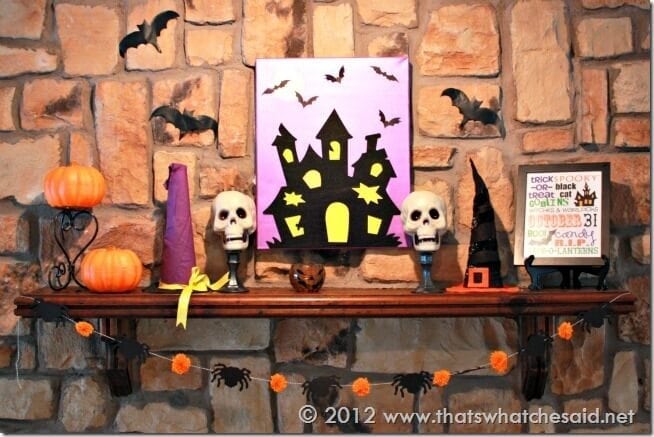 You can also find the following tutorials for the other projects on my mantle also:  DIY Styrofoam Cone Witch Hats, Skull Pedestals, & my FREE Halloween printable from last year!  The bats that are flying around are actually the negatives of the stencil that I created for my Halloween Table Runner!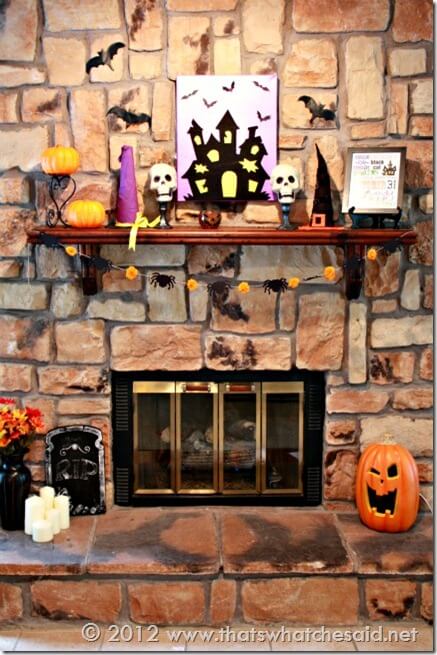 Can you tell we like Halloween in my house?!?  So tell me…do you decorate Fun and Festive?  Scary and Creepy? or Sophisticated and Chic?




Linking Up to These Great Parties Here
and The 36th Avenue | Today's Creative Blog |
& Fox Hollow Cottage Fall Mantle Post