Wow…it's been a really long time since I did one of these posts!  I got off track and never jumped back on.  These are basically about funny things my kids do or silly stuff that goes on in our life and a play on our last name…Spangenberg.
Ryan got this giant beach ball for his birthday.  You hook it up to the hose and it sprays out water like a sprinkler.  A TOTAL HIT with the boys!  They love it.  However when we first turned it on…Ryan could not get over the fact that the "ball was going potty on the ground"  Seriously…this kid is going to give me a run for my money!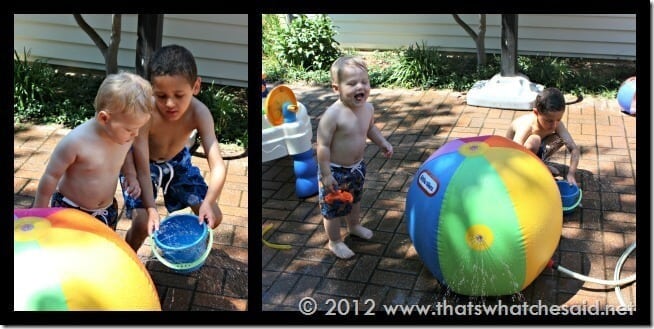 Michael thought he could totally pump up his flat soccer ball by blowing in it with a straw!  Good Luck Buddy!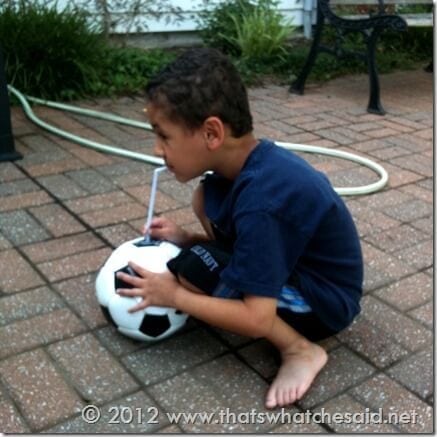 In honor of being two…Ryan's car seat was turned forward.  Can you tell this is his BEST. DAY. EVER. ???
One of our favorite summer time activities/treats is going to get Snow Cones!  We make this a family affair and normally go with my parents, brother & sister.  Who ever is available at the time to go!   This picture below is from my birthday…the boys, husband and my brother.  Can you sense a resemblance between Ryan and my brother?  Holy Cow!  Funny how DNA works!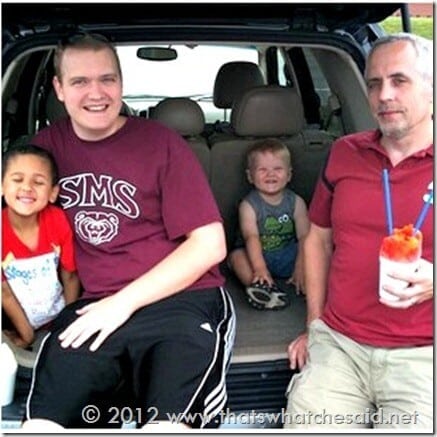 then here is how the little likes to enjoy his…It must be nice to have an Aunt who will just feed you every time you open you mouth like a little bird while you sprawl out and relax in the back of Mom's SUV! He really has a rough life!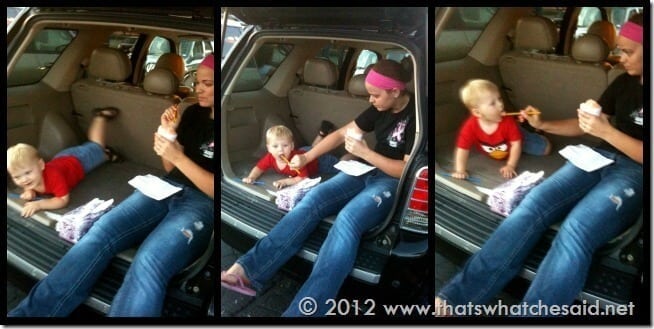 And the killer of all killers….Ryan's new Phrase:
"Mom!  Watch This!"
Oh help me!  Between the two of them…I am saying "Uh-Huh" "I see!" "That's cool!" "Awesome Dude!" approximately 9,853,713 times a day.  I am tired.   Oh so tired.
and then….
"Again!"
Rinse and repeat.  Seriously tired!  But kind of love it!
Hope you all are having a wonderful weekend!  Enjoy your day and whatever you may be doing!