Without further ado…the crazy things said and done around my house this past week!
This week has been kind of tech-savvy related.  (Be glad not poop related!)
Michael
Michael's new thing is to add a .com to everything.
M: "Mom can  you please download me a SpongeBob Game on your phone?"
C:  "I'm not sure they have a SpongeBob game."
M: "Just type in spongebobgame.com and see what comes up!"
That same mentality was also used to tell me to look up abc.com, 123.com, funwithletters.com and then while cooking dinner, I threw the box away (shhhh…yes I use box stuff) before I read how long it had to cook and I mumbled something to myself and he replied with "Just type in howlongdoesitcook.com and see what it pulls up!"
He gets that from me, I "Google" almost everything!
Ryan
Ryan gets 110% PISSED OFF when he touches our laptop screen and nothing happens.  As opposed to when something happens when the touches the screen on my iPhone.  He points that little chubby finger and screams at the laptop screen when he doesn't get anything to do anything on there with the touch of his finger!    If it weren't for the crusty, fingerprinted computer screen, I'd let him do it for much longer than I currently do, just to watch his little 17 month old head gear up to almost explode.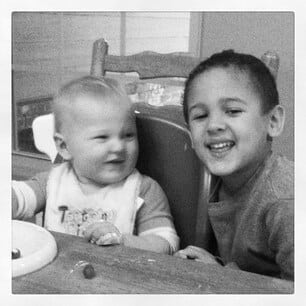 Freddy
Yep, Freddy came to play this week!  So I haven't mentioned it before but he just took a new position where he can work from home.  So our bedroom, for the time being, is serving as a bedroom and an office.  His new favorite thing to do is call to me and say "Hey, can I see you in my office?"  Yeah, probably not that funny…but he thinks he is hilarious.
——————————————————————-
I'm gearing up for Thanksgiving food!  I can't wait.  We are spending the holiday at my parent's house in St. Louis!  I wait all year for Thanksgiving dinner…and then leftovers.  I can't even pick a favorite food because I love them all!  I'm off to dig up my maternity jeans so I can have some breathing room this year!  I knew when I bought them they'd be handy for something other than a baby belly!  They will be perfect for a Thanksgiving Food belly! 
I hope your weekend has been great and you enjoy the last bit of it!