Need a great fall meal with minimal work?  I have one for you, Slow Cooker Beef Roast!  Literally takes 5 minutes to prep and then you let the slow cooker do all the work and you get to take all the credit!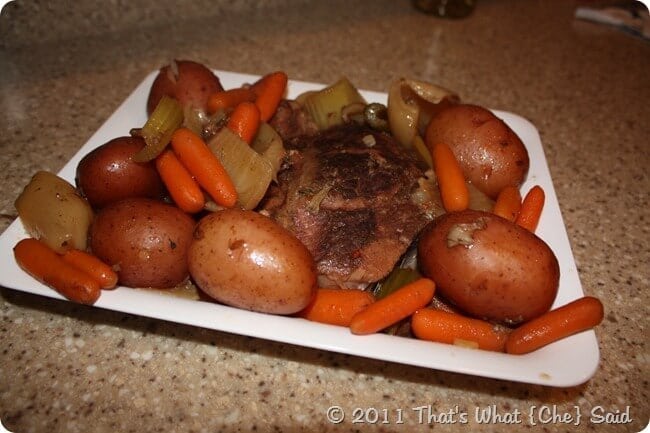 Ingredients Needed:
Boneless Beef Chuck Roast
7-10 Red Potatoes, whole
1 cup of carrots, cut or used baby ones
1 stalk of celery, cut in 2 inch sections
1 medium onion, quartered
1 packet of Beef Roast Seasoning
1 cup of water
2 tablespoons all purpose flour
1 tablespoon butter
I used a slow cooker bag. like I mentioned when I shared my Root beer Pulled Pork recipe.  They are a lifesaver.  Pop it in  your slow cooker before you add any ingredients and clean up is as simple as pulling the bag out and throwing it away!  LOVE!
Start by layering the onion in the bottom of your slow cooker.  Next add your Beef Roast on top of the onion.  Cover the roast with the carrots, celery and potatoes.  Next mix your seasoning packet with 1 cup of water and pour over the roast and vegetables.  Cover slow cooker with lid and cook for 10-11 hours on low or 4-6 hours on high until the internal temperature of the roast is above 145 degrees F.
It's that simple!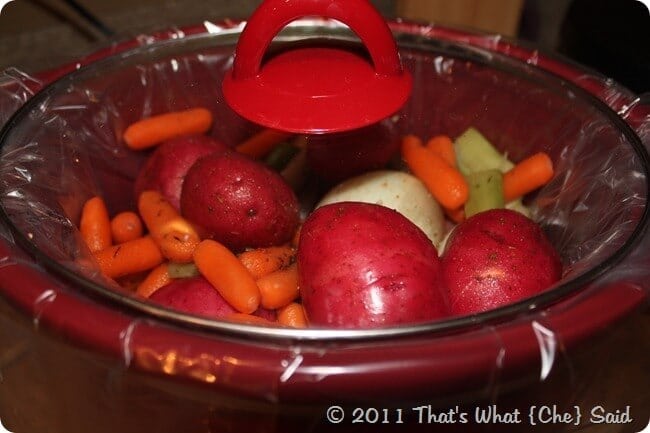 When roast is ready, remove and set on plate with vegetables.  Cover with aluminum foil to keep warm.
Add butter and flour to liquid remaining in crock pot.  Mix well.  Let simmer on high for about 15 minutes so that the flour taste cooks out and your gravy thickens.  Serve alongside the Roast and vegetables.
I also like to make either crescent rolls or biscuits to accompany!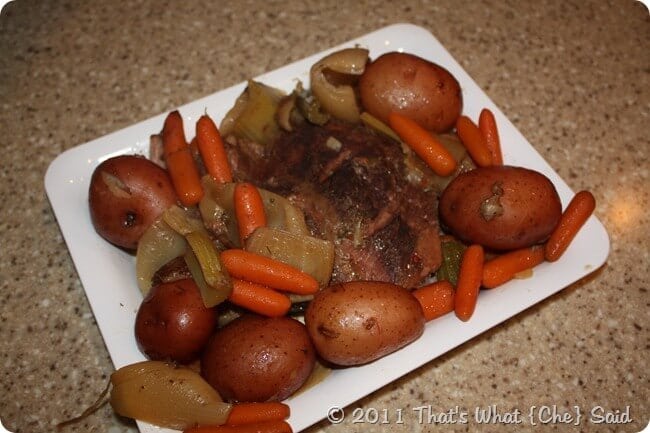 Enjoy!




Get all my recpies delivered to your inbox!  Sign up below!  It's free and I promise no spam!