When giving gift cards this year, give them in style with my Santa Sack Gift Card Holders!  These bags are so adorable and easy!!
Everyone has those hard to buy for people on their list. You know who I am talking about…the guy who has everything, the lady who returns everything you ever get her or you have a tween in that stage where what you think is cool is NOT what they think is cool so you just play it safe and let them shop for themselves!  Gift Cards are perfect for teachers, bus drivers, dance teachers, coaches, tutors, you name it!  All the people you want to show appreciation for but may not know them well enough personally to pick out something they would like! Well let me help you give those gift cards in a cute little pouch!
These Santa Sack Gift Card Holders can also be used for small gifts like if you were to make one of my Ribbon & Pearl Bracelets, or a Thumbprint Heart Necklace or a Puzzle Piece Necklace!  Those would fit perfectly in this bag as well!

Supplies Needed:
Red Burlap Bags
Black 5/8" Gross grain ribbon
Rhinestone Loops
Sewing Machine/black thread or Hot Glue/Glue Sticks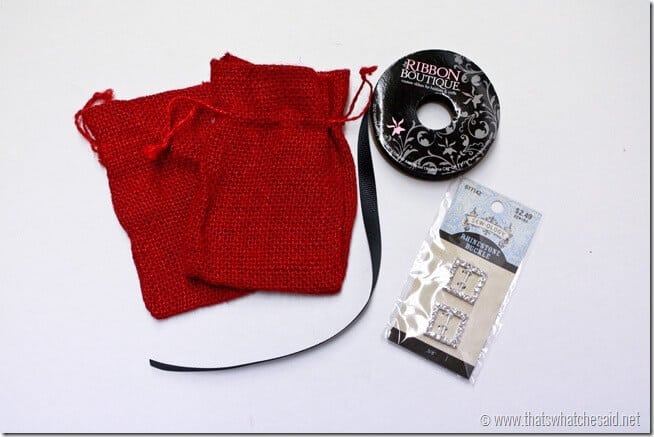 I picked up these adorable red burlap bags in the dollar section at Michaels.  I also saw them at Hobby Lobby as well.  The rhinestone embellishments I found near the buttons in Hobby Lobby.
Start out by threading your ribbon onto the rhinestone embellishment.
Place one end at the seam of your burlap bag, measure across to the other seam and then cut your ribbon.  It's important to thread your embellishment first because it will add extra length to your ribbon.
Sew ribbon along edge of the bag or use hot glue.  Be sure to sew or glue along the SEAM so that you don't sew/glue your bag together!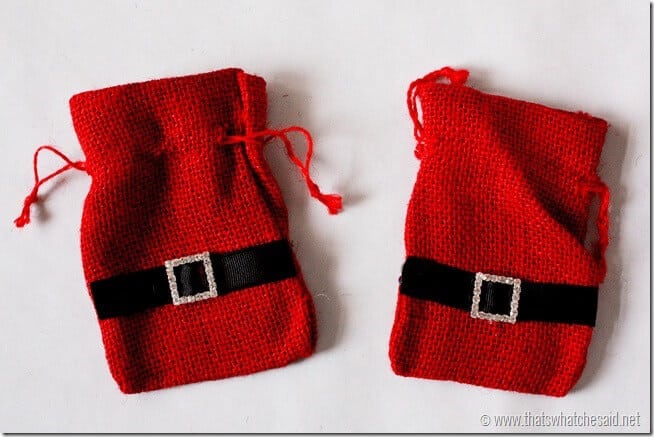 Insert your gift card and happily give the gift of purchasing freedom!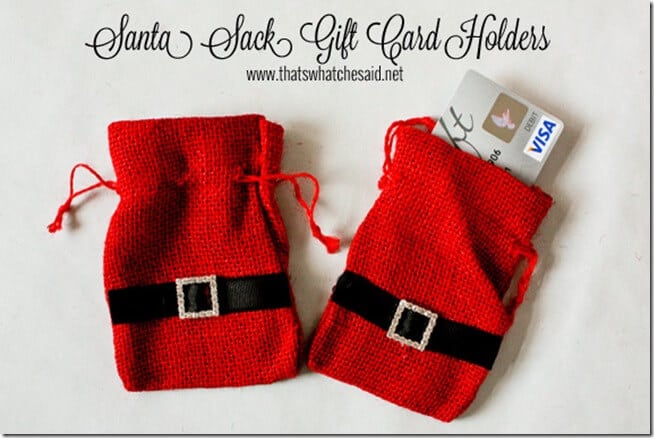 I kind of have a thing for Santa!  Check out the Dollar Store Santa Placemats I made last year!  Need something to collect your holiday cards?  How about this Santa Bucket?  You can check out all my Santa Projects as well!
I'd also LOVE for you to hop over to Fox Hollow Cottage and check out these AMAZING Christmas printables that Shannon made to help me celebrate the Christmas Series!  Head over to her place to print copies for yourself!  I am in love!  I am so lucky to have such amazing bloggy friends!  You will LOVE Shannon's site!