These super adorable puzzle piece necklace are a perfect gift for that special person (or persons) in your life.  They are light weight and simple to make and can be customized easily!  These would make excellent end of the year gifts between friends at school.  I'd love to show you how easy they are to whip up!!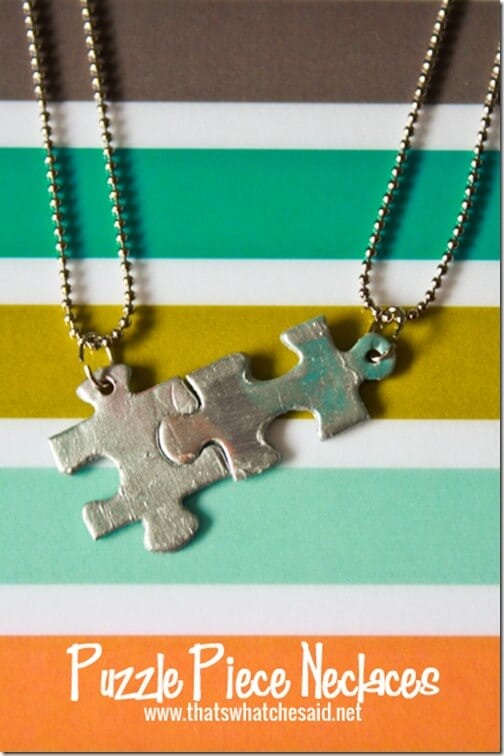 Supplies Needed for Puzzle Piece Necklace:
(*affiliate links below.  Affiliate links offer a commission to me at no extra cost to you.  They are what keep content free!  Thanks for the support!)
TIP:  You could also substitute the necklaces for a key ring!
OK…let's talk puzzles.  I picked this one up at the Dollar Tree some time ago.  I have made these super cute snowflake ornaments from this particular puzzle as well as come cute frames.  Why, oh why did I choose this design???  After I picked apart the pieces for the snowflake ornaments (that we made in Michael's Kindergarten class as a craft (23 of them!), I was left with quite a challenge to find pieces that actually went together.  The design of a bagillion jelly beans was the worst idea ever!  So please use a fresh puzzle and pick a design you can match easily!  I just stuck with searching for pieces around the blue jelly beans because they were the fewest and stood out.  Luckily I was able to find some that fit together!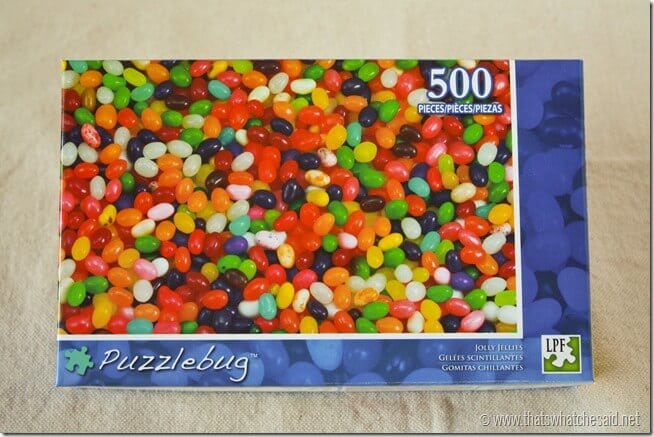 I started out by painting the pieces a metallic silver.  This is the same paint I used for my Heart Thumbprint Charms and it worked great!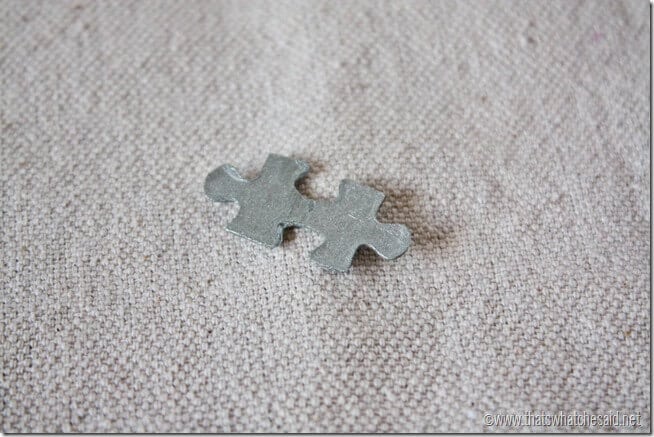 When those were dry I simply used this "tag hole" punch.  Think of a tag on a piece of clothing…that small hole where they attach to the plastic brad…it's that sized.  You can find them in most craft stores in the punch section.  I used a coupon one day and got mine for just a few dollars.
Punch your puzzle pieces on one arm of the piece.  Be sure to put them together so that you don't punch a part that fits in the middle of another piece!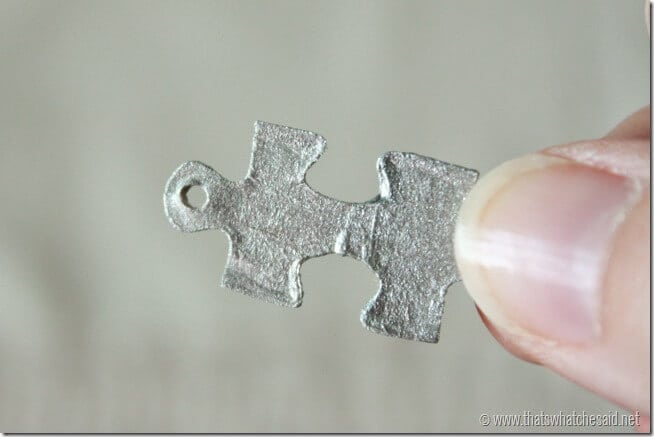 Add a jump ring with a small pair of pliers.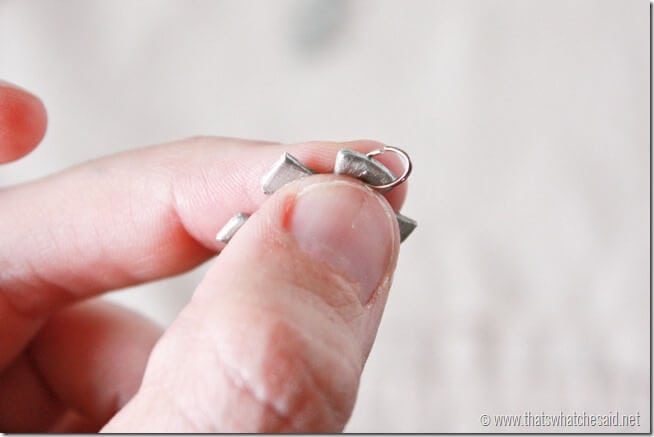 String your necklace through and enjoy!  Note: If using a key ring instead of necklace, simply add the key ring inside the jump ring before you close the jump ring back up!
If your daughter has 4 friends that normally hang out together it'd be cute to find 4 pieces that fit together and give each girl one!  If you have a set of metal stamps, like the ones I used for my personalized washer necklaces…you can lightly tap the stamps into the puzzle piece and use the permanent marker in the same way to add initials!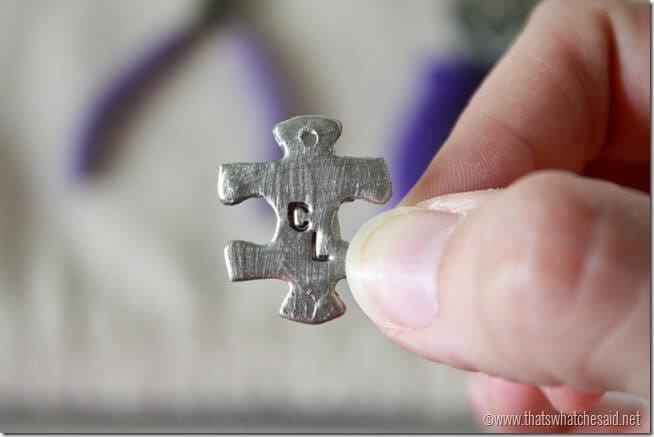 I am just loving how this puzzle piece necklace turned out!  They were so simple and fast and you could certainly make these with your kids as well!  My boys probably wont' care about them but if you have a Girl Scout troop or are in need of a summer camp craft these would be perfect!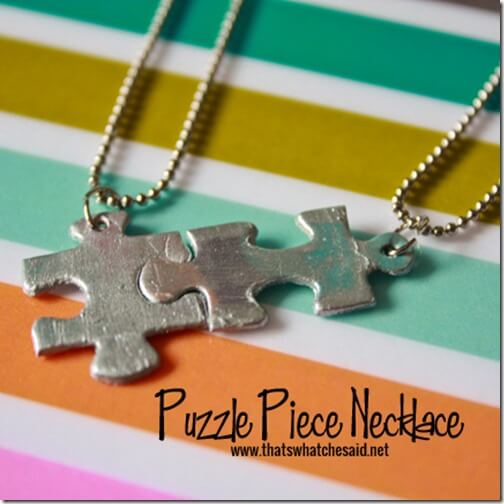 I have made a few other necklaces that you might like as well:
Antrho Gumball Knock Off Necklace
More Puzzle Piece Projects:
Happy Crafting Friends!!!

*This post may contain affiliate links. You may read my full disclosure here. Affiliate links help keep the content on That's What Che Said FREE at no additional cost to you! Thanks for supporting me and companies and products that I think rock!