Happy New Year!
Well it's the first post of the new year!  I hope everyone enjoyed my 25 Days of Christmas Series as much as I did!!!  I love doing it however I also kind of missed just "talking" with you all.  With all the projects for the series, the shopping, wrapping, baking, decorating, Pre-K party planning, mommy duties, wife duties, house duties (maid) and my husband being gone ALL WEEK, the THREE weeks before Christmas traveling for work….I was TIRED!   I had hoped to still post regular stuff but, well, that didn't happen.  I was lucky to get a shower squeezed in there!  So let's play catch up shall we?  Grab a cup of coffee and let's chat!!!
Christmas was awesome.  Now I am left with three of these boxes to fit into our already overly crowded, no storage anywhere townhouse.  Wish me luck!  My boys are spoiled!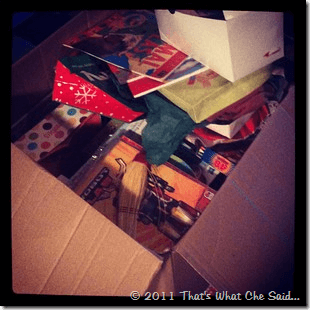 Boxes of toys and awesome gifts aren't the only thing we brought home…we brought the damn cold from hell home with us also.  'Tis the Season to share nasty ass germs!  There is so much booger/snot production going on in my house these days that I am frantically trying to figure out a way to sell this stuff.  I'd make a million!

We are moving to St. Louis!!!  Freddy took a new position where he can work from home (most of the time when he is not travelling ALL WEEK, the THREE weeks before Christmas.  (Yep still bitter about that) so that means that "home" can be anywhere.  I am from St. Louis and am super excited about heading home.  We did a bit of house hunting while home for Christmas so you can quit hearing me complain about renting and not being able to decorate!  See…you are as excited as me now, right?

Freddy gave me a Silhouette Cameo for Christmas!!!!!  Now you can quit hearing me complain about that also!  (even happier aren't you!)  He didn't order it, he just printed off the sheet from the internet and we are going to order it this week.  I was hoping I could win one from the 3.124 million blogs giving one away…everyone else had that same idea!  Imagine that!  Per Nicole's request, I will still offer ways to make my projects sans cameo!

January is National Organization Month.  Seriously, like, OH MAH GAWD I am giddy.  Like orgasmic giddy!  I love organizing.  I apologize in advance.

In efforts to prepare for our move, happening  during the month of March, I am going to be very busy (organizing and) purging.  Did I mention it was National Organization Month?  Yes?  Sorry again.

I have some "winter themed" projects up my sleeve, I will do my best to make those happen!  Oh and I also heart Valentine's decorations.  I love the colors and how cupcakes, hearts, and cute things are all associated with this holiday!  (but think the actual holiday is retarded and made up!)  Yes I am one of those girls…

My kitchen floor needs to be mopped so badly that I am considering just holding off doing it and then taking a power washer to it before we move out.  Seriously.

Um, I hate moving.  I hate packing, I HATE lifting heavy things all day long and I hate unpacking.  I'd debating selling everything and then just buying new stuff when we get there.  (except my cameo that is…that thing will sleep with me!)

I am so happy to be out of the Arctic that is Minnesota!  It was December 31st and my boys could play, OUTSIDE, with only little sweat jackets on, keep all their extremities free from frost bite, AND not have to trek through 4 feet of snow in order to get anywhere!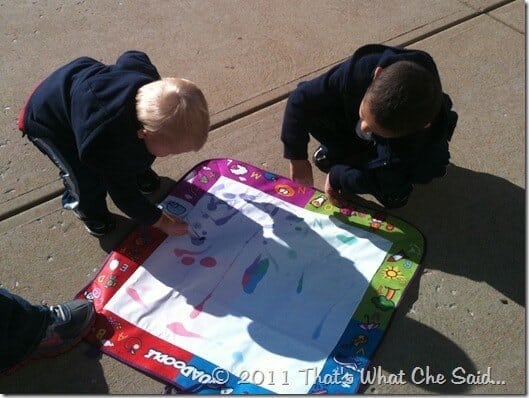 Oh and by the way, since we left Minnesota they have had like NO EFFING SNOW and nice weather.  Mother Nature HATES me!  Seriously.  Here's a picture of last year right before Christmas.  They had a brown Christmas this year!  That's Freddy standing there to give you an idea on the height…and sadly this was only the BEGINNING of like 2.678 billion snow storms of epic proportion!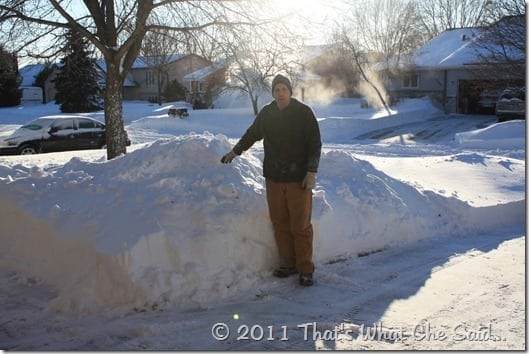 Oh and one of a really cute boy who LOVED to play while daddy shoveled!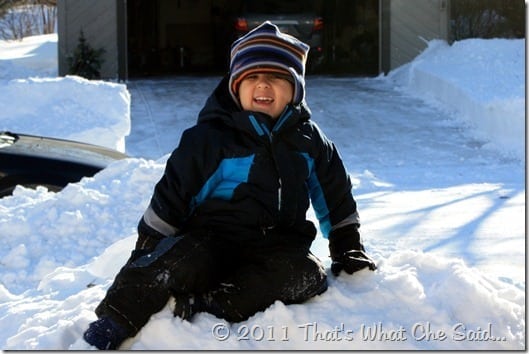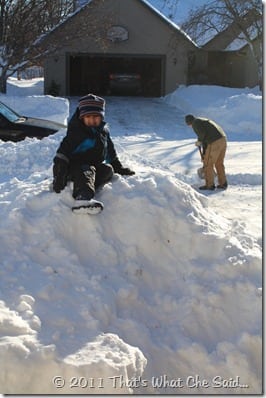 Are you still with me?  This is a lot of rambling.  I'm sorry.
I am going to jump on the #photoaday train on Instagram.  I will be 4 days late to the game but Oh well.  I would never last for a 365 one so I thought the monthly one would be a good start.  If you have Instagram…you can search CheSaysCheryl and find me!  I will follow you back!  I will post them to my Facebook page also.  So if you are curious and don't have Instagram…you can find them there also!
OK enough for now.  Thank you for reading.  Or for many of you, you are welcome for providing you a good little nap!  hehe!