A light and delicious holiday spritzer recipe perfect for sipping throughout the holidays!
I love a good cocktail, that is no secret!  I love seasonal cocktails as much as I love seasonal coffees!  Today I am sharing my Peppermint Cranberry Spritzer Recipe.  This drink is light and refreshing and perfect for a session of wrapping presents or a cocktail party with friends!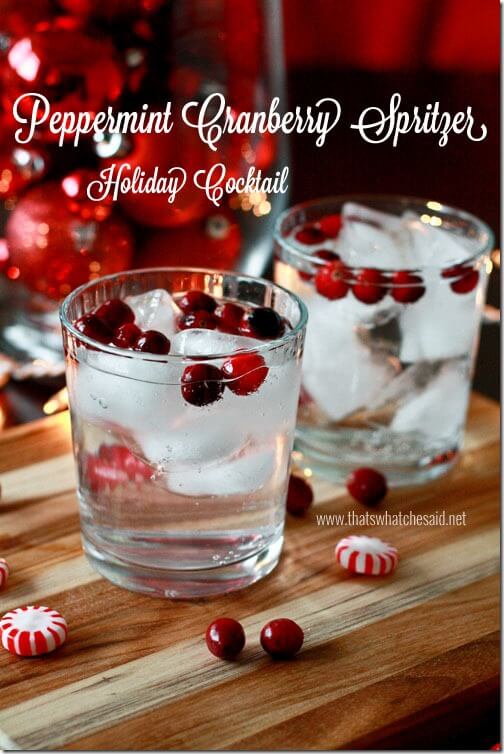 Have you heard of SodaStream?  Basically, it's awesome!  It is a countertop "small appliance" that takes regular tap water and turns it into a sparkling water! 
Accompanied with tons of flavored syrups, you can have yourself a Cola, Orange, Lemonade and so much more…in sparkling fashion!  My kids love the Country Time Lemonade with added fizz! 
Fred loves the caffeine-free cola and the diet cherry cola for his Rum & Diets after the kids are in bed!  I…well I just about love them all!
You can find Soda Streams at Target or on Amazon or Walmart!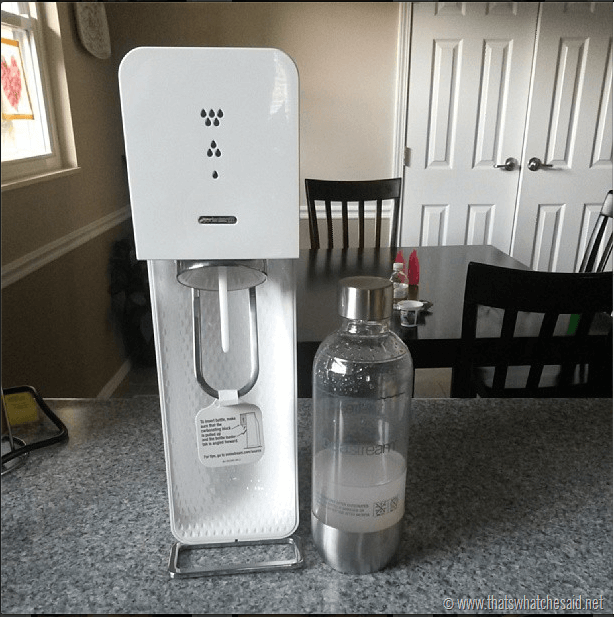 Things I love about Soda Stream:
1 L bottle is the perfect size. We can change our minds frequently and it doesn't get wasted.
The bottles are amazing at keeping the fizz in. So much better than regular soda bottles! They seal really, really well!
I can adjust the carbonation level. (We tend to like our beverages less carbonated and I can do that easily with the LED display on the front! However can make bubbly rich tonic when my dad comes over to go with his gin!)
Flavor options are endless! My kids love the Kool-Aid flavors and the Crystal Light's. These below are just FEW of the many flavors!
I can find replacement CO2 Canisters and flavors pretty much anywhere! Wal-Mart, Target, Bed Bath & Beyond and even my grocery store!
The unit is self contained. No plugs or electricity needed so it's perfect for picnics, tailgates, take outside by the pool or to move around my kitchen with ease.
It is SO NICE to pick up a compact flavored syrup bottle versus having to haul around 2 liter bottles of soda! In the cart, out of the cart on the conveyer, bagged back into the cart, into your car, out of your car in your house, out of the bag into your pantry! Sheesh! And the small bottles store so much easier than large 2 liters do!
In honor of the approaching holiday I thought I'd share this easy Peppermint Cranberry Spritzer Cocktail Recipe! It's pepperminty, it's refreshing and it's fun!
Peppermint Cranberry Spritzer Cocktail Recipe
A light and delicious holiday spritzer recipe perfect for sipping throughout the holidays!
Print Recipe
Pin Recipe
Ingredients
ice

1.5

ounces

Cranberry Vodka

1.0

ounce

Peppermint Schnapps

6

ounces

Sparkling Water or White Soda

Cranberries and/or peppermints for garnish
Instructions
Fill glass with ice. If garnishing with cranberries add these before the ice.

In a shaker, combine ice, vodka, and schnapps. Shake well until chilled.

Pour over ice in glass.

Top off with sparkling water or for a sweeter drink, top with white soda. I used SodaStream's Diet Lemon LIme.

Garnish with peppermint (optional)
Notes
This drink is very flexible.  Ingredient Variations: 
Cranberry Vodka or Peppermint Vodka
Cranberry Flavored Sprite
Nutrition Estimate
Serving:
1
glass
Calories:
202
kcal
Carbohydrates:
11
g
Sodium:
36
mg
Potassium:
4
mg
Sugar:
11
g
Calcium:
9
mg
Iron:
1
mg
I like to garnish with things that give an idea of what the drink is about! So I used some floating cranberries! (Put them in your glass first then the ice, then your drink) You can also drop in a peppermint too! (it might turn your drink pink but drink it fast enough and it won't be a problem {wink})