Brrr….right?  Want something super warm to add to your favorite cozy corner of your house?  How about this No-Sew Fleece Throw with matching Envelope Pillow?!?  I am super excited to be a part of the JoAnn Fabric & Crafts Blogger Team and share with you awesome projects you can make yourself!
This cozy combo would be a fabulous Holiday Gift as well!  I would LOVE it if someone gifted me these beauties.  Not only are they so warm and snuggly but the prints they make now for fleece is off the wall!  You can get your favorite team fleece, solids, characters and prints like this cute polka dot fleece at JoAnn Fabric & Craft Stores.  Their selection is awesome!
My basement is where the kids' playroom is and my craft room.  We also have this living room area down there where I spend time when the kids are playing.  We needed something warm and snuggly on this cold leather couch!
Supplies Needed:
For Throw:
Fleece* (see below)
Scissors
For Pillow:
Fleece*
Scissors
Sewing Machine/Thread
Pillow or Pillow insert
*Your yardage will depend on what size blanket and pillow you are making.  I wanted to make a large adult sized blanket and my pillow is an 18" pillow. I used 5 yards for both.
The no sew throw is very self explanatory.  Take two equal size pieces of fleece and cut the edges about 3-4 inches or so along the edges.  Tie together in double knots!   Do this for all four sides.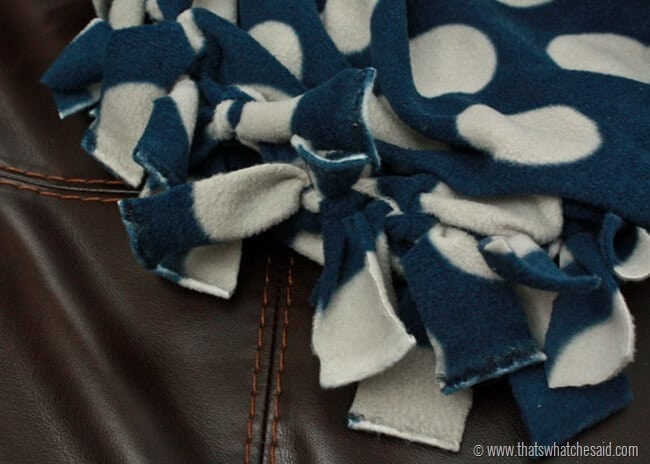 The pillow is really easy as well.  You could do the same thing with the pillow and tie it around the pillow form and make a no sew version however my pillows that I was covering were colored and I didn't want the color popping through the spaces between the knots.
I cut a piece of fabric that was 20 inches x 20 inches.  Then I cut two pieces that were each 15 x 20 inches.
Take one of your 15 inch pieces and hem one of the 20" sides.
Place your 20 inch square down right side up.  Place a 15inch piece on the left side right side down (hemmed edge to the center).  Place a 15 inch piece on the right side, right side down.  Pin in place and hem around the edges.  Cut the corners so they fold in nicely and then flip inside out.  There you have it…a envelope pillow cover.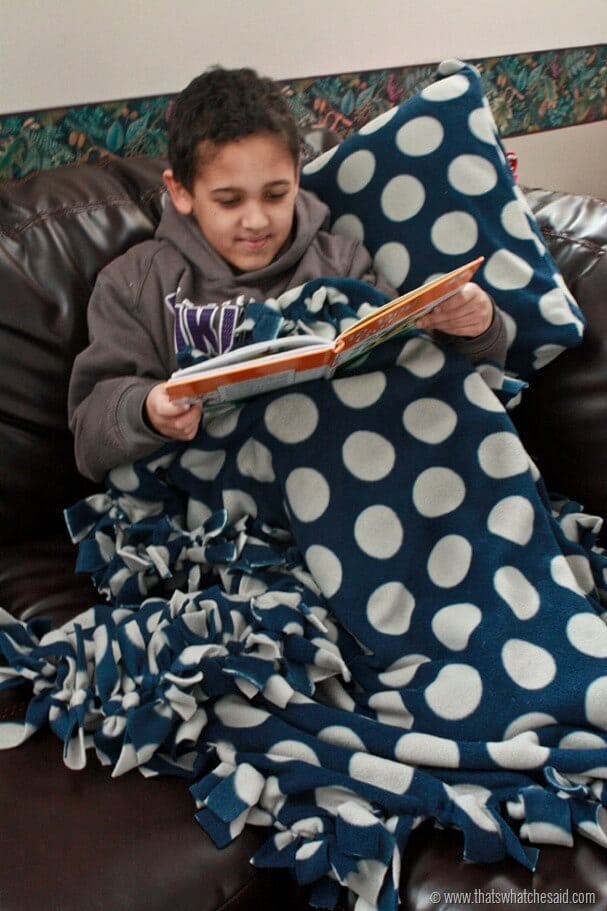 Now you can snuggle up in your favorite cozy corner and watch a movie, read a book or just snuggle.  This cute cuddly guy wants me to watch a movie with him and there is nothing more I'd rather do right now!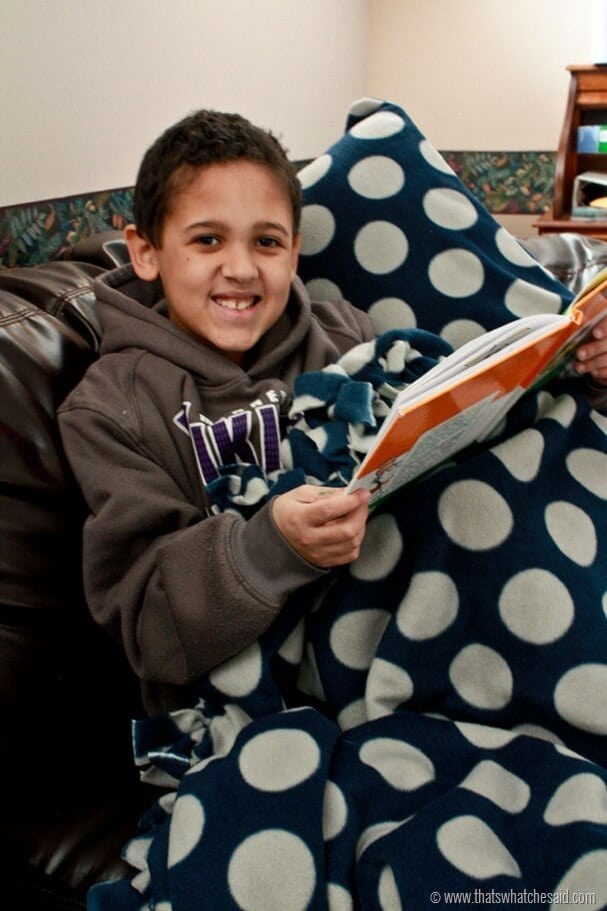 Right now JoAnns is having a #Makeitgiveit sweepstakes!  #Makeitgiveit is more than just an online sweepstakes; it is a partnership between Jo-Ann and the National Military Family Association this holiday season.
To celebrate, we want to give you a $100 Jo-Ann gift card as part of our Holiday Make it – Give it Sweepstakes! Entering is easy, just share a picture on Instagram of a holiday project you are working on and tag it with #MakeItGiveIt and you're entered! You have until December 25th, so start snapping pics! We'll pick 5 winners and announce them on December 30th. Joann's will also be donating 5 – $100 gift cards to the National Military Family Association to distribute to families. See official rules here: https://bit.ly/MIGI14. All entries will be featured on our Make Gifts Merrier Holiday Hub at https://share.joann.com, so be sure to check it out!
Also be sure to check out all my 25 Days of Christmas Posts and Projects!