This DIY Miniature Nativity Scene might be the cutest little craft that you can accomplish in less than 5 minutes!  A Miniature Nativity Scene!  Or "Activity Scene" as Michael calls it!   So grab your kids, this is a great activity for them to help with!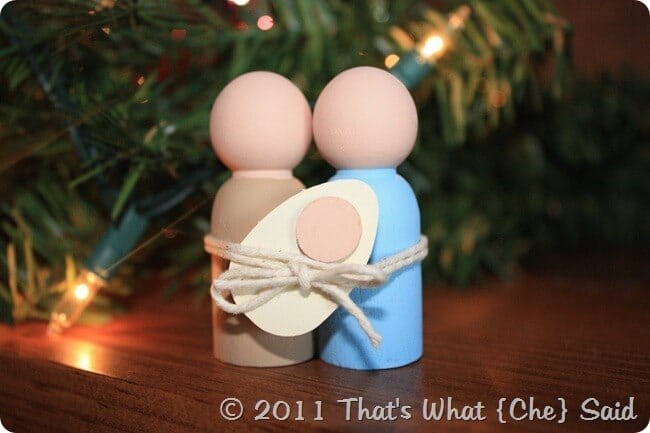 Items Needed:
Wooden People
Wooden Half-Eggs
Small wooden circles
Twine
Hot glue/glue sticks
Paint (Flesh, brown, blue, cream)
Paint brushes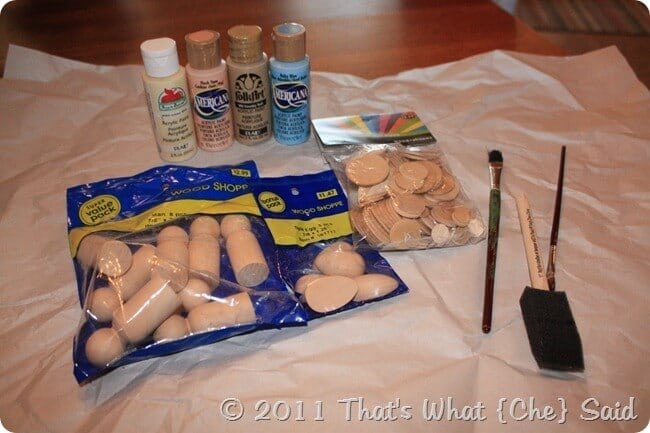 I got all my supplies at Hobby Lobby.  The wooden people, egg halves, and assortment of small wooden circles were back in the unfinished wood section and all 30% off.  The paints were $0.99 each or I had them already as well as paintbrushes and hot glue.
Start off by painting your people.
Mary has a blue body, flesh face.
Joseph has a brown body,  flesh face.
Baby Jesus has white swaddling (half egg) and flesh face (smallest wooden circle from bag)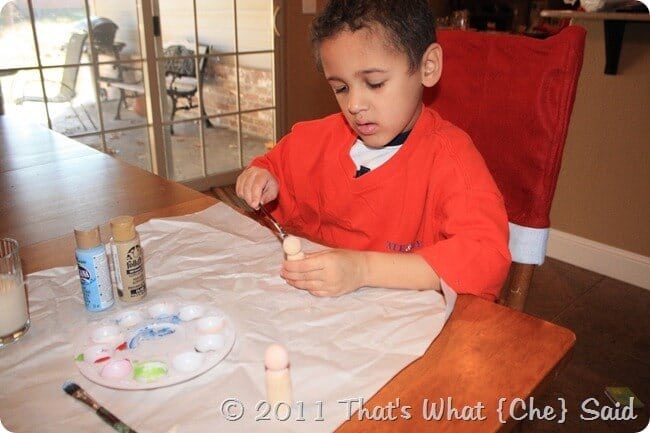 Once your people are painted and dry, I stuck Mary and Joseph together with a strip of hot glue.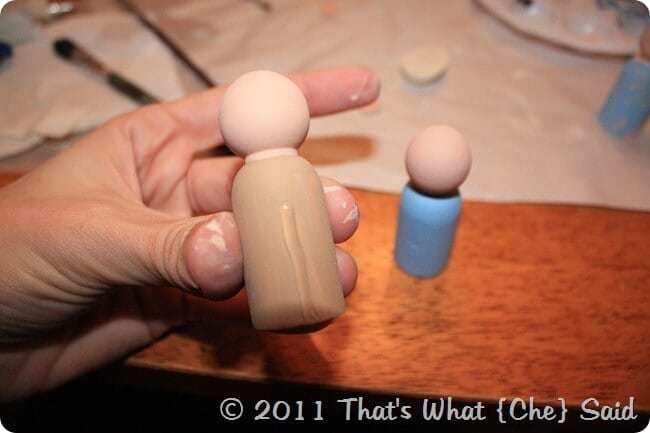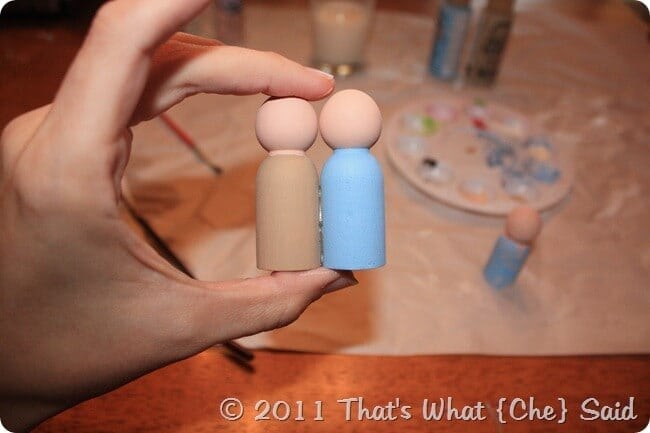 Then I hot glued baby Jesus' face to the flat side of the half egg.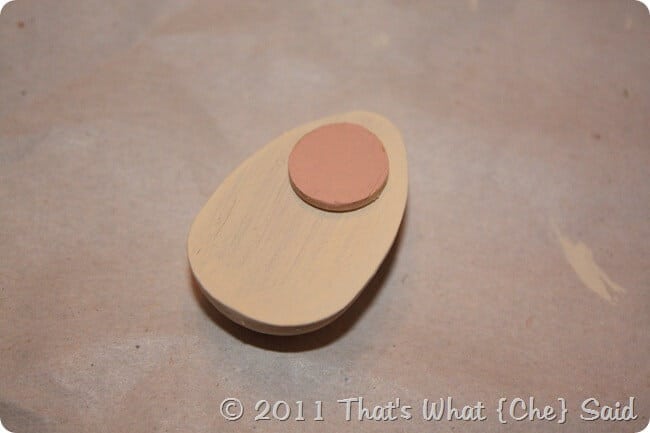 Then glue the egg to Mary and Joseph.  I did it tilted like they were holding a newborn baby.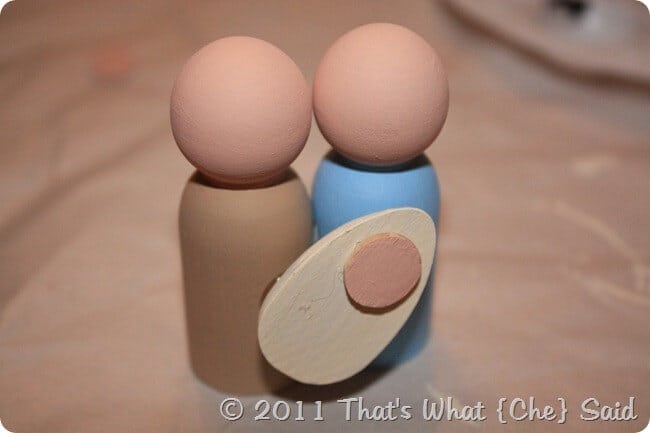 Finally I wrapped all three up twice in some twine and tied a small bow in the front.  It kind of makes me think they are all hugging with the twine wrapped around!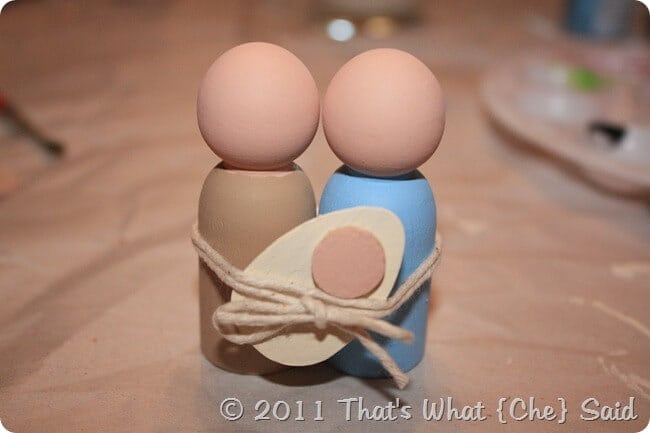 See how cute they look up on our shelf!  I did not put our full nativity out this year because we have small curious fingers that belong to a Mr. Ryan and I did not want it to be broken, however didn't really want to have Christmas without one so this was my compromise.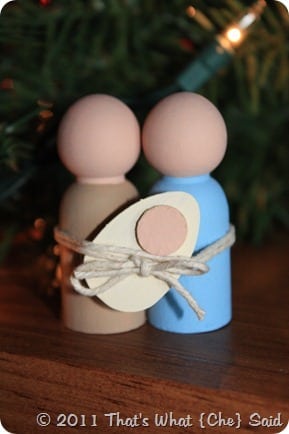 But leave it to my GENIUS 5 year old to come up with this!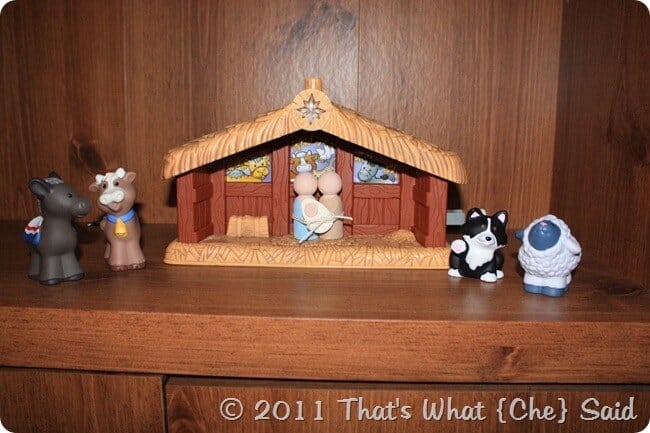 Why yes, OF COURSE!!!  Mersidotes had given this Little People Nativity to the boys last year for Christmas.  They LOVE it, we keep it out all year long.  So we set this up on our shelf.  Now it doesn't matter if curious fingers find it, it is supposed to be played with!  Lucky Little People Mary & Joseph don't mind sharing their pad with wooden Mary & Joseph! 
  Michael is currently rounding up the rest of the Little People that belong to this set so that it's complete!
Don't forget to link up your Holiday Creations Here!