Want some fun things to do with your kids??  I'll share what we like to do here in our house!!  Some are simple and some a bit more complex.
Spider Ice
We like to make spider ice.  It makes our drinks a little more "Halloween-y".  Simply freeze some spider rings in ice cube trays (the old fashioned way!)  Then add to your beverages!  Our favorites are green or orange Hi-C.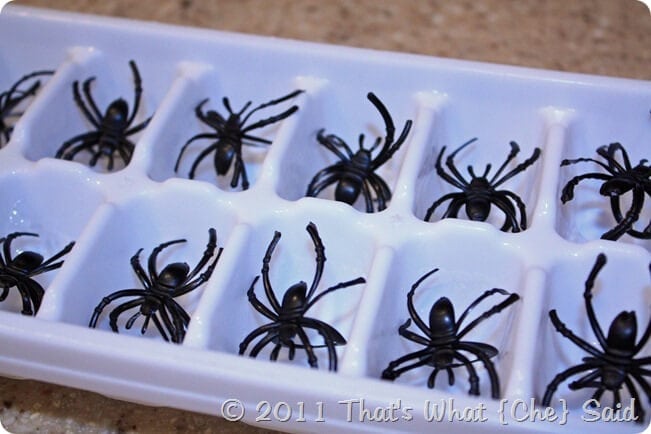 Ghost Socks
Not like real socks, but like wind socks!  October seems to be particularly breezy here and these are fun to watch blow in the wind!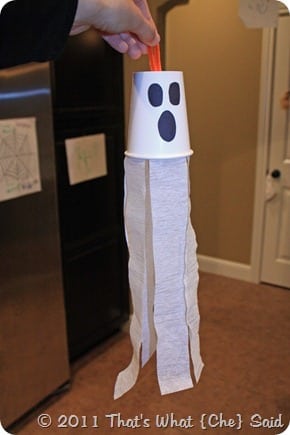 Items Needed:
White paper cups
White Crepe Paper
Black Construction Paper
Pipe Cleaner
Glue
Scissors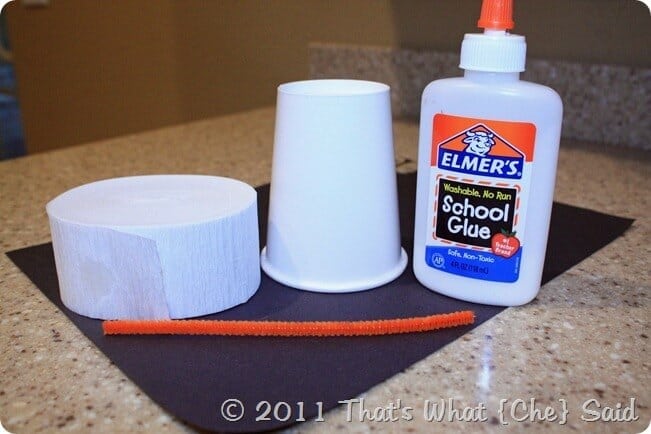 Start by poking a hole in the top of the paper cup.  (I used the tip of our corkscrew).  Bend a piece of pipe cleaner (about 3-4 inch length) in half and insert the ends through the hole.  then bend the ends outward inside the cup to form a loop to hang your ghost sock from.
Cut the crepe paper in strips about 15 inches long and glue into the inside of the cup.  Cut eyes and a mouth from the black construction paper and glue on the paper cup.  Enjoy your Ghost Sock!
I cut the things for Ryan's ghost sock but let Michael do his own.  I did the hanging loops for both of them, but I am positive Michael would have had no problems with it!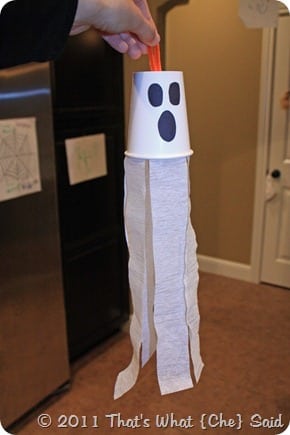 Spider Web
This is a great activity that works on eye/hand coordination.  Let your kids string their own spider web with some yarn and a paper plate!!
Items Needed:
Paper Plate
Black Yarn
Scotch Tape
Scissors
Hole Punch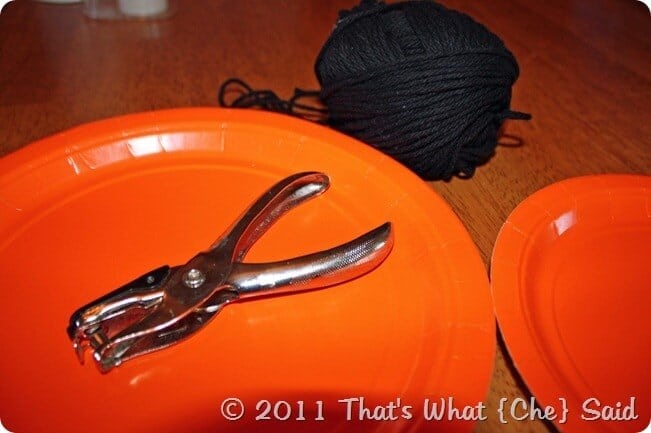 Start by punching holes with your hole punch around the outside of a paper plate.  I happened to have some orange ones left from a past Halloween party.  Cut a good length of yarn and wrap a small piece of scotch tape around the end like the end of a pair of shoe laces.  This will help the yarn from fraying as the kids push it through the wholes in the paper plate.  Tape the other end to the back of the paper plate and let the kids string their web!
The kids had a great time.  Michael of course made a letter "A"!  Shocking…he is a number/letter fanatic!
Ryan had fun exploring the plate. He tasted it, he wore it like a hat, he fanned me with it and twirled the yarn around.  He tried so hard to get the yarn through the hole but was unsuccessful.  So he showed me which hole and I threaded it and then he pulled the rest of the yarn through. He liked that part a bunch!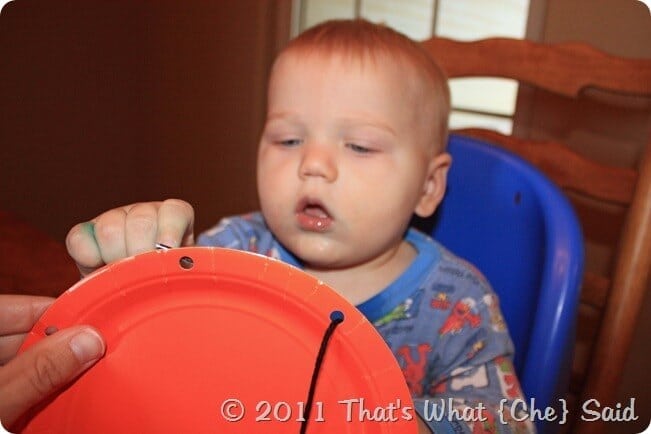 Egg Carton Spiders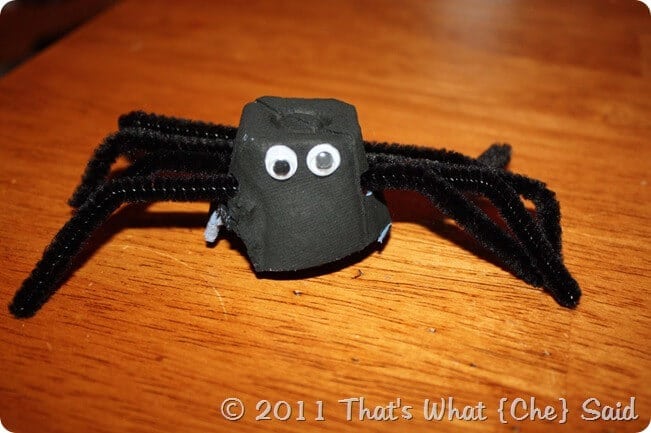 Items Needed:
Empty Egg Carton, cut into individual egg holders
Black paint/paintbrush
Googly Eyes
Black pipe cleaners (2 full cleaners cut in half to make 4)
Hole Punch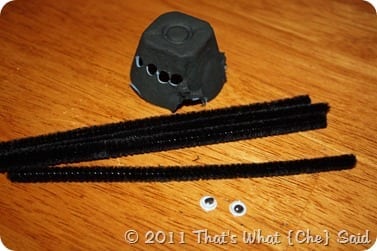 Start by painting your egg cartons black.  Punch four holes in opposite sides of the carton.  Feed pipe cleaners through the holes matching them up on each side.  Bend cleaners to make legs.  Glue on googly eyes!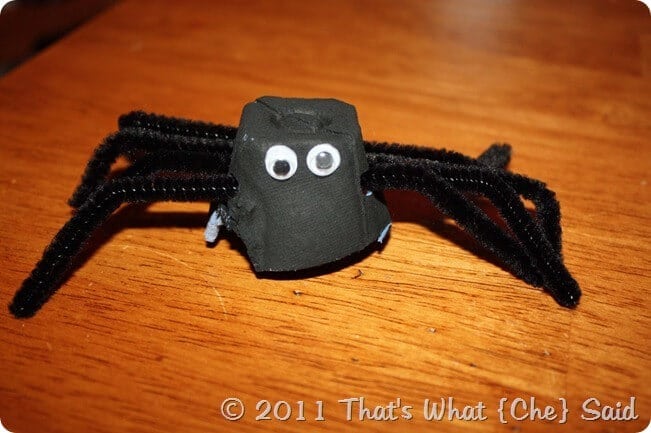 Candy Corn Bean Bag Toss
I used a left over piece of press board from my builders scrap pile!  Freddy cut the shape and holes out while he had all the saws out for another project.  The edges were a bit rough and this was really cheap press board so sanding and painting was ruled out.   I opted to cover with a thin batting we had left over from when we made our headboard and colored fabric and ribbon to finish off the toss!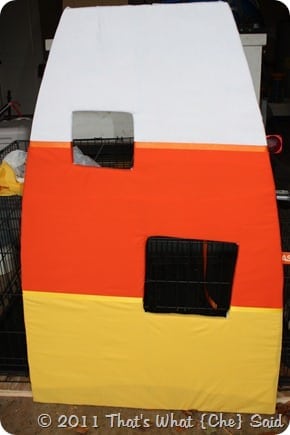 I started with the batting and when I got to the holes I just cut a large "X" and then wrapped it tight around the edges, securing with a staple gun.  (above)  next I added the fabric and held in place with staples as well (below)
I applied a thin wiggle of tacky glue along the seam and then covered with corresponding ribbon.  I secured the edges of the ribbon to the back of the board with staples also.