I was channeling my inner girl scout reminded myself how to make pom poms for a project and thought I'd share the tutorial in case anyone else was not a girl scout…or didn't have the energy to channel anything :)  I forgot how fun they are!  Both to make and the finished product!  I also forgot how simple they were to make!
Items Needed for Pom-Poms:
Yep, that's it!  I told you these were easy!
Let's start on making some pom-poms shall we?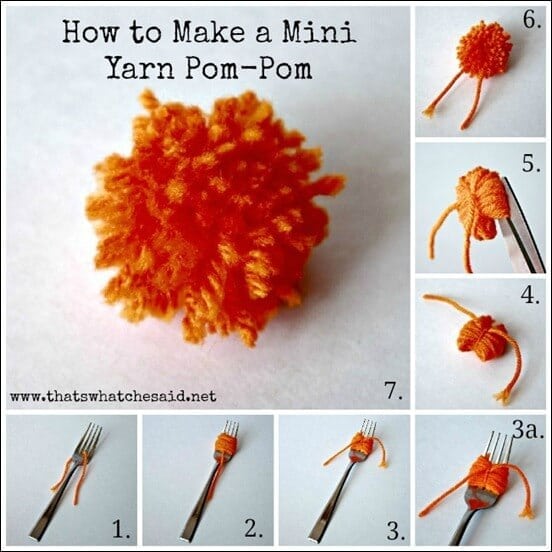 Cut a piece of string about 6 inches long and place it through the center prongs of a fork.
Wrap your yarn around your fork until it's good and thick!  The more you wrap the fuller the pom-pom.
Using the piece of string you centered in the fork, tie a knot around the wrapped yarn tight.  3a is a close up of the yarn tied tight!
Carefully remove the wrapped yarn bundle from your fork.
Using scissors, cut the "loops" of the yarn, making sure not to cut the center string that tied them all together!
Cut the string tails
Fluff and enjoy your cute little Pom-Pom!

And then repeat, and repeat, and repeat until you have as many little fuzzy guys as you want!
It's the cutest little thing ever!  It measures about 1.5 across!  Want larger ones?  They actually make pom-pom makers and sell them in the craft stores!  For me, my inner girl scout is just telling me to use a piece of cardboard with a slit cut in it!  ;-)
What will you make with your pom-poms???  I hope you check back in tomorrow to see how I used these little guys!  Have a great day!!!




Linking Up to These Great Parties Here
a The 36th Avenue | Today's Creative Blog