Remember when I made this cute little gift for Michael's teacher?  Well I am back at it again, only this time I made some cute Halloween Soaps for our house!  This is so easy and fun and is a functioning decoration!
Items Needed
Hand Soaps (Orange, Purple, White or Clear)
Scrapbooking stickers or Vinyl for Silhouette/Cricut
First I found these soaps at Wal-Mart.  Each were only $0.88 or $0.94 each!  I removed the labels from the front and back of the soaps.   If any of the sticky goo is left behind, just soak a paper towel in vinegar and let it rest on the goo for about 10 minutes and then scrape it off.  UPDATE:  Be sure to check out my new method for Easily Removing Labels and the sticky goo they leave behind!  Hands down the best method I have tried!
Next, I found some Halloween Scrapbooking stickers at Hobby Lobby.  If you have a Silhouette or Cricut you can use those to make your designs instead of the stickers.  If you use stickers, just be sure you get the ones that have clear backgrounds.
Then I simply placed the stickers!  You can add a bow around the neck of the pump also but it would just get untied or destroyed with my boys,  so I chose to leave it off!  I used a black cat and star for the purple soap.  I couldn't find any pumpkin face stickers so I used this cute haunted house sticker for the orange soap.
This one might be my favorite.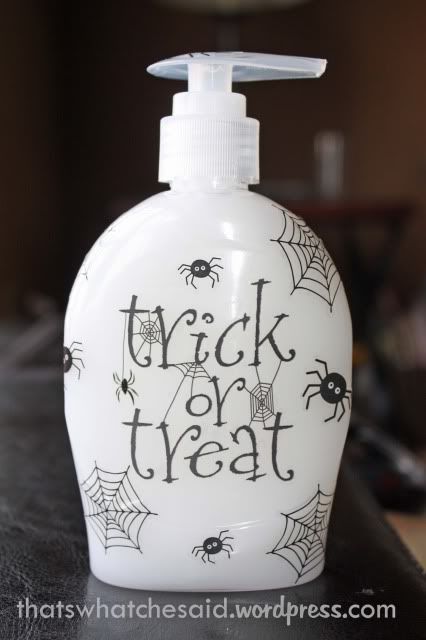 I even added a little spider to the pump top!
If you have a Silhouette/Cricut you could make the orange one a pumpkin and cut out a vinyl face, the white one a ghost face and you could also get a green hand soap (like cucumber melon) and make that into Frankenstein!  There are so many cute options and depending on your tools and what stickers/soaps are available to you, you can totally customize this project to what works for you!
Simple, cute and functional!
Be sure to check out all of my DIY decorated holiday soaps!  There is one for every occasion!