At the last minute I decided I wanted needed a Halloween Bunting Banner.  And by last minute I mean, while trying to clean my house for Michael's birthday party, plan the party menu, plan the rest of the weekend meals for all our staying guests, make party decorations, wrangle 2 boys and 2 dogs while Freddy is out of town, laundry, dishes, etc. etc.  But the heart wants what the heart wants…and a bunting banner was apparently it!  Sometimes the my heart is ridiculous!
Either way, it was SUPER fast and easy so it all worked out in the end!  It also gave me a break from cleaning which was much needed!
Without a mantle at our town house, I chose to make two shorter banners for our book shelves.
Items Needed:
Orange Burlap (left over from my Halloween Table Runner)
Black Ribbon
Black Paint
Alphabet Stencils
Stencil Brush or Foam Brush
Light weight cardboard for pennant pattern
I started by using a Tuna Helper box as my cardboard for a pennant template.  That handy little helper hand guy is useful for more than a one pot dinner
Next I traced the pattern and cut out 8 pennants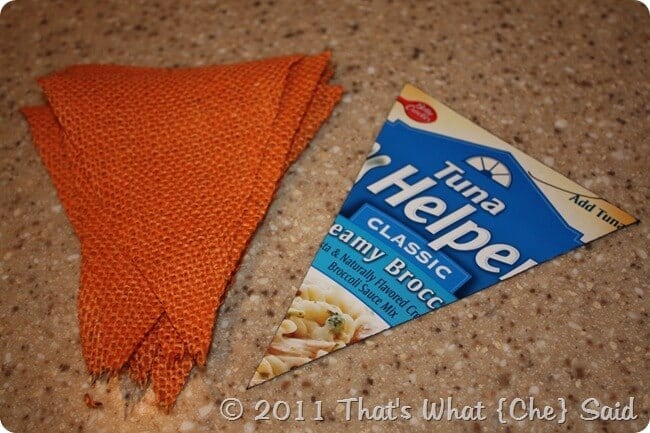 Using my Alphabet Stencils, I stenciled the letters for "BOO!" and "EEK!"  If you do not have stencils you can use my contact paper stencil idea or use the cardboard for your stencil.  Since each word re-uses a letter you would only need to make E, K, B, O & !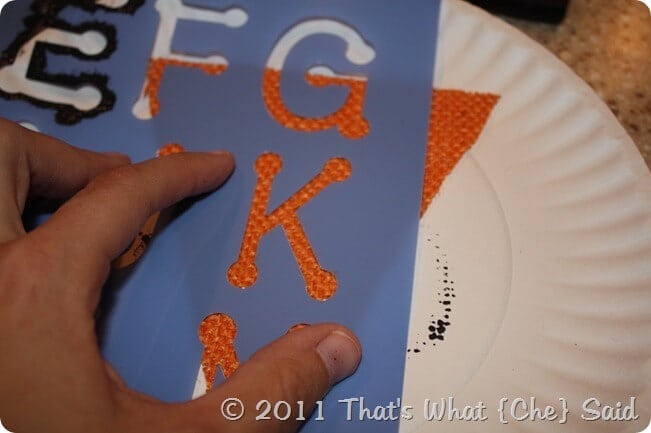 Once dry you can attach your pennants to the ribbon using several different methods.
Using the small clothespins or clips like my Birthday Banner I made for Ryan
Cutting slits in the corners of the pennants and stringing the ribbon through like my banner for Michael
Hot Gluing the pennants to the ribbon.
I chose to hot glue these guys to make it super fast!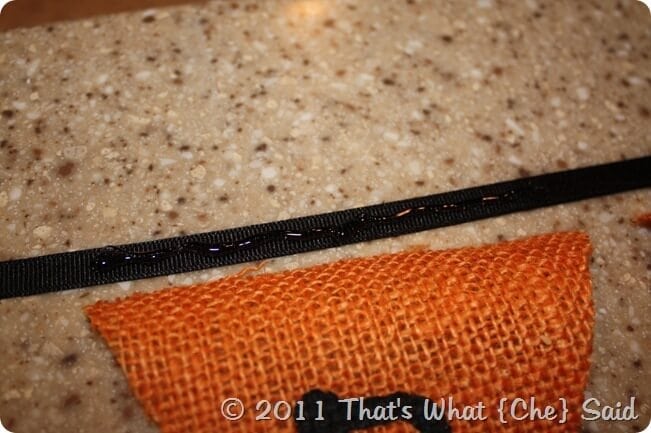 Wah-Lah…two cute bunting banners on my bookshelves that flank our TV.  Adds a great little decoration that was super simple and also reused some of that orange burlap I had from my table runner!
Joining the Hallowee Fun at: