I am loving how versatile these Apothecary Jars are!  Here I have them dressed up as Halloween Apothecary Jars!  So much fun to make them all festive and happy for the holidays!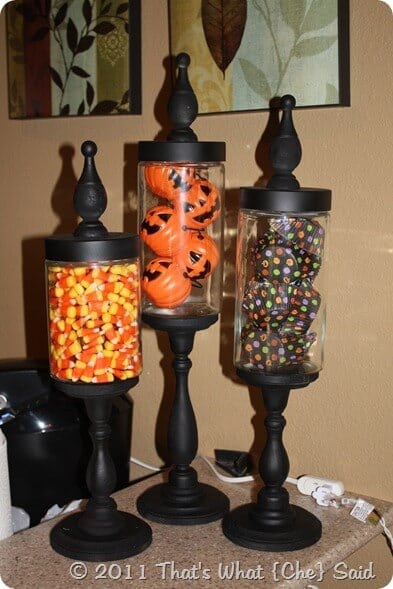 Remember my Apothecary Jars I made a couple months back?  No?  Well then, let me remind you!  Here they are!  Full of School Spirit!
One I filled with Candy Corn, a Halloween staple!  The second I filled with little pumpkin treat containers.  The last one I filled with these cute little Halloween cupcakes wrappers!
Also want to know a trick about filling the candy corn one?  Well I didn't want to have to buy 7 bags of candy in order to fill it and make it look really full.  So I simply inserted a drinking glass upside down to fill the center of the jar and then filled the area outside the drinking glass with the candy corn!  I only used 1 bag and had some left over for snacking!  (now you see my reasoning don't you!)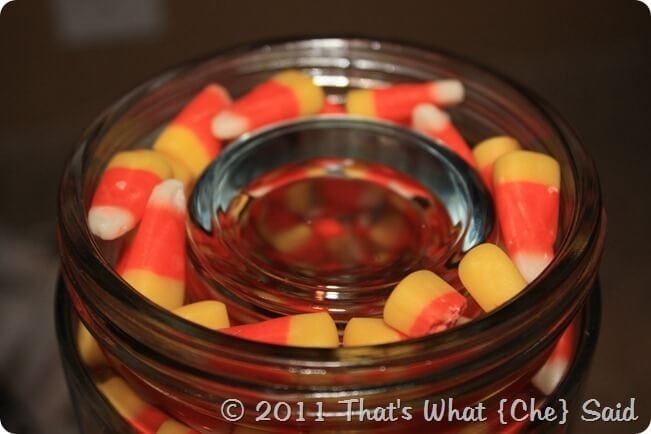 You can use almost anything in the center, I like using glass in a glass container because it's clear and doesn't show!    So there you have them!  Fully of Halloween fun!  I am already thinking up their contents for Turkey Day!  This is the craft project that just keeps on giving!  I like those types!  Now that I have refilled them, they seem all new and exiting again!  I am a simple woman and that makes my day!
Linking up at Today's Creative Blog