I have had these Glitter Christmas Trees made for quite some time!  They are darling and I am totally jumping on the Glitter Tree Bandwagon.  I am not ashamed to be a follower!  I heart these!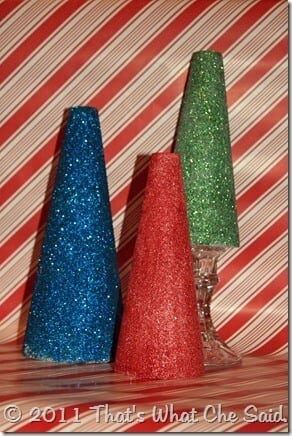 Items Needed:
Styrofoam Cone Shapes (any sizes)
Glitter Paint
Paintbrush
Candlesticks
Removable Glue Dots or Hot Glue Gun/Glue Sticks
Elmer's Glue
Glitter
I did both methods for this idea.  1.  Used glitter paint  2.  Used glue and glitter.
Glitter Paint Method (green & red trees)
I found the Styrofoam cones and the candlesticks at the dollar store!  I used Martha Stewart Glitter Paints I found at Michaels.
Seriously this is so easy…paint the cones with the glitter paint!
I used 2 coats and found if you applied the paint perpendicular motions the height of the once the glitter paint distributed more evenly and you saw less white peeking through.
Once the paint was dry, I used three removable glue dots to secure one of the cones to a candle stick.  You can also use hot glue.
Why did I use removable glue dots you ask?  My reasoning is two-fold.  1:  They are Styrofoam cones which are light weight and being used as decorations on my shelf.  They don't need to be epoxied to the candle sticks!  2.  I don't like to purchase the same thing over and over.  I like to reuse what I have and make my decorations multi-task!  This gives my candle sticks, and cones for that matter a chance to work for me again for a different holiday!  Less to store and Less is more for me!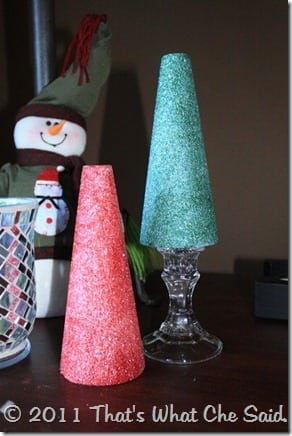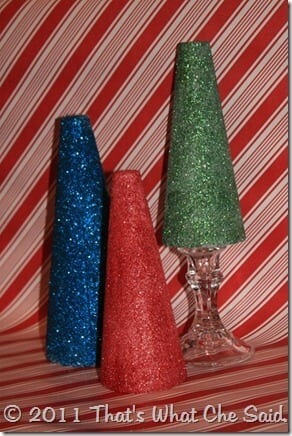 Glue and Glitter Method (blue tree):
Paint on the glue with a paint brush and then dump on the glitter!  Simple (and messy) as that!