Christmas tree décor is practically a staple this time of the year!  These Fringed Burlap Christmas Trees will add the perfect amount of festivity to your holiday decorations!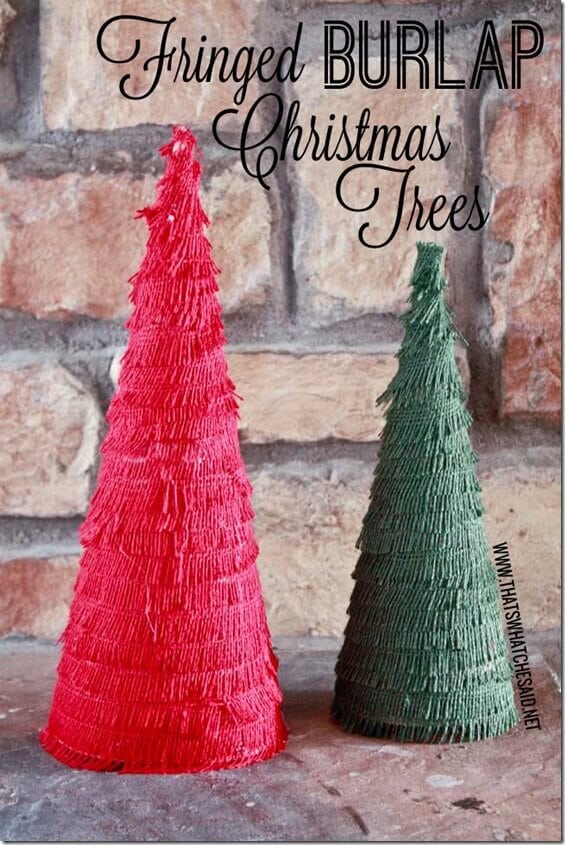 I am absolutely loving how evolved burlap has become, aren't you?  Previously you could only find it in beige and dark beige!  Now you can get it in almost any color and now they have fabulous prints on burlap as well!  Seasonal, polka dots, animal prints, you name it!  I love it!  I love the rich solids like the orange I used for my Halloween Table Runner and these colors of red and green.
I also have a thing with making Christmas Trees for my décor.  Two years ago I made these Glitter Christmas Trees and then last year I made these up-cycled Plastic Spoon Christmas Trees!  I love it when I can up-cycle!  Here is how I made these guys:
Supplies Needed:
Red Burlap (1/4 yard)
Green Burlap (1/4 yard)
Hot Glue/Glue Sticks
Tree Forms.  I used paper mache ones.
Scissors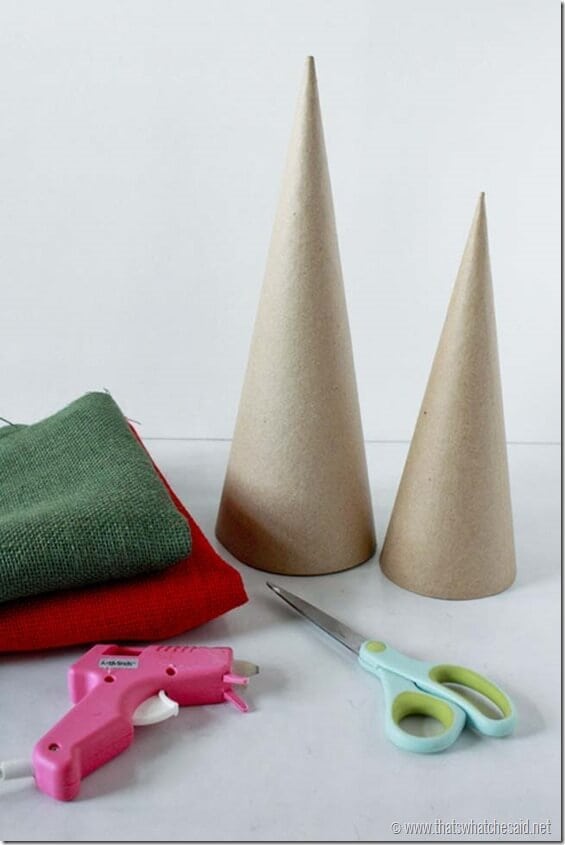 Before we get started, do all know the trick for cutting burlap?  If you find a thread and pull it all the way out, it creates a line that you can cut that will keep the burlap weave from unraveling!  It's awesome!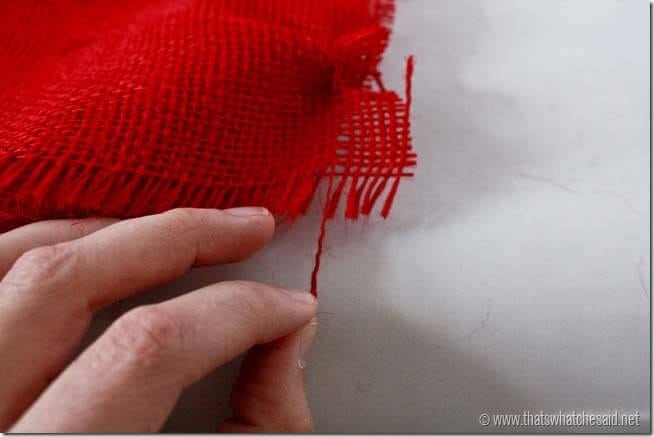 To start out we need to make some burlap fringe ribbon.  To do this I counted out 10-11 strands, then pulled the 12th to create a seam to cut.  I cut that seam the long length of my burlap.  Then I removed the 4 threads on the right edge.  I was left with this: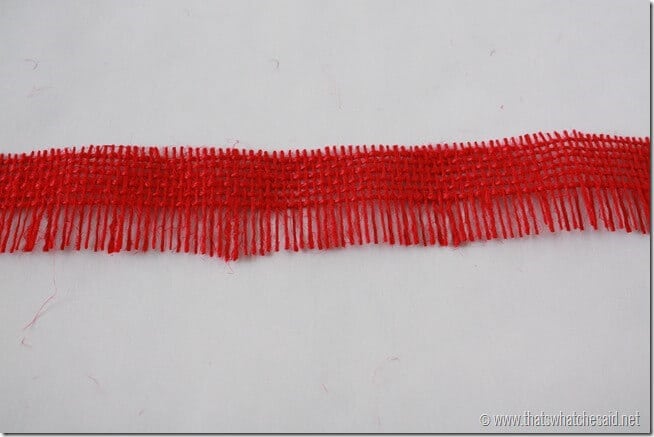 I did this for my red and for my green.  I made about 4-5 long ribbon pieces of each color.  I stared by making the first ring.  I cut it so that the seams meet up perfectly.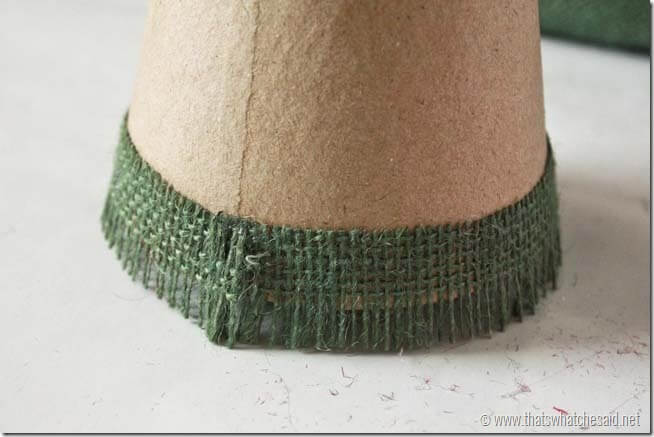 Start your second ring at a slight upward angle.  This will help the "ribbon" lay nicely on your cone as the size decreases as you move up.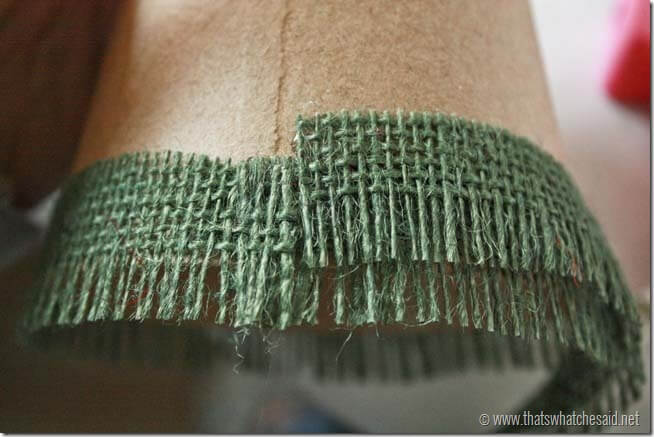 Continue wrapping it up and around until your burlap ribbon ends.  Tack the edge in place with a dot of hot glue.  It's OK if the glue seeps through the burlap as the next layer of fringe will cover it.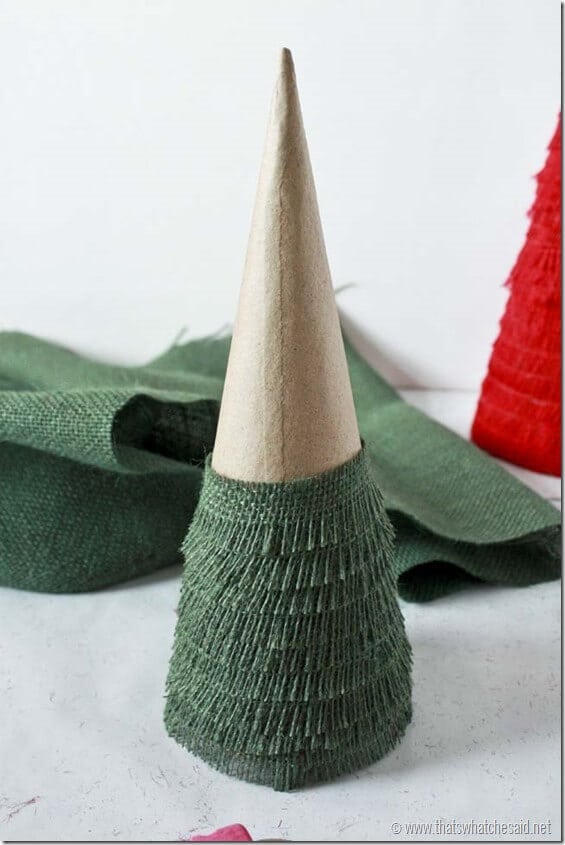 Start again until your entire tree is covered in burlap fringe!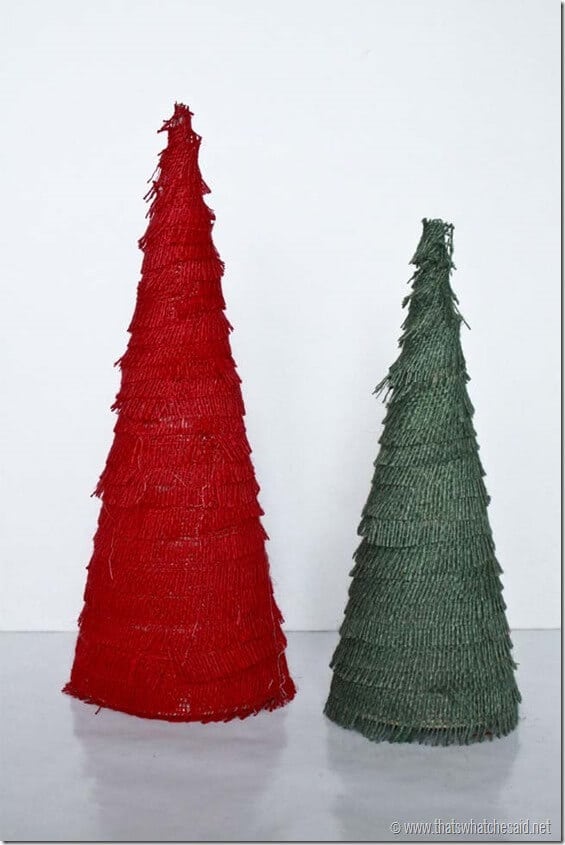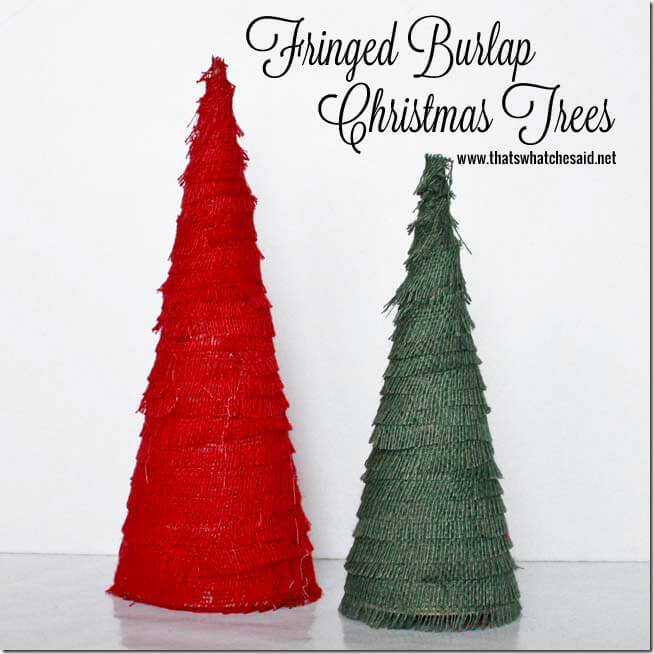 I'd also love for you to stop by R&R Workshop to see her beautiful Christmas Garland! She just made the most darling polka dot gift wrapping paper as well!  Thanks so much Rachel for joining me for the series! 
Don't forget to stop over and see my thrifty decorated Christmas tree from yesterday!  I also a $350 Gift Card Giveaway for YOUR CHOICE to either Michael's or Hobby Lobby!  Last but not least, I have a holiday linky party running all month long where you can link up anything holiday related!